Spend less time managing your product prices and save up to an hour every week with our new Bulk Price Editing Tool.
Select all products whose prices you want to adjust, click on edit price, and add new prices or profit margins to all your chosen items at once. Simple, easy, efficient.
What's New?
Our new tool is accompanied by new features, designed to make your product management experience easier, faster, and more efficient.
Find the products you want to edit in seconds with our new filters. Sort them by the print provider, brand, or other criteria.
Update Price, Profit, or Profit Margin in bulk, like you would for individual listings.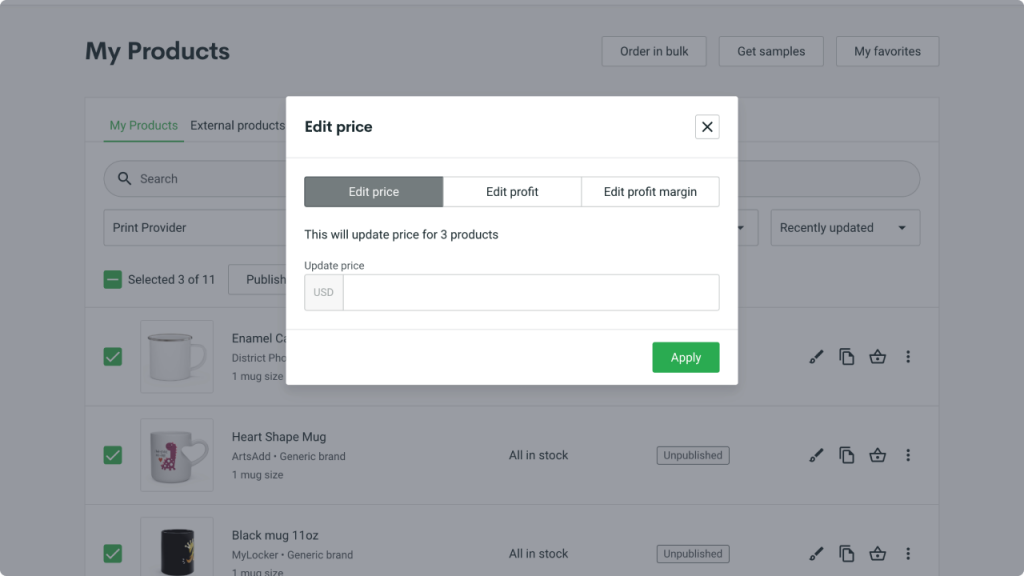 As soon as you approve your changes, you'll see a visual confirmation that your prices have been successfully updated
Note!
You will not be able to choose different prices for product variants (sizes and colors). Prices will be updated for all variants of the selected item. If you want to keep different prices for different variants, we recommend updating your Profit Margin, as it is measured in % and is the same for all variants.
What Stays the Same?
If you prefer changing through your prices one at a time, don't worry, the Bulk Price Editing Tool doesn't change your experience. It just adds options to it. The previous method of editing prices one by one will still be available.
Locate My Products on your Printify account screen, choose the individual items and variants you want to edit, and manually change the price, profit, or profit margin for each one of them.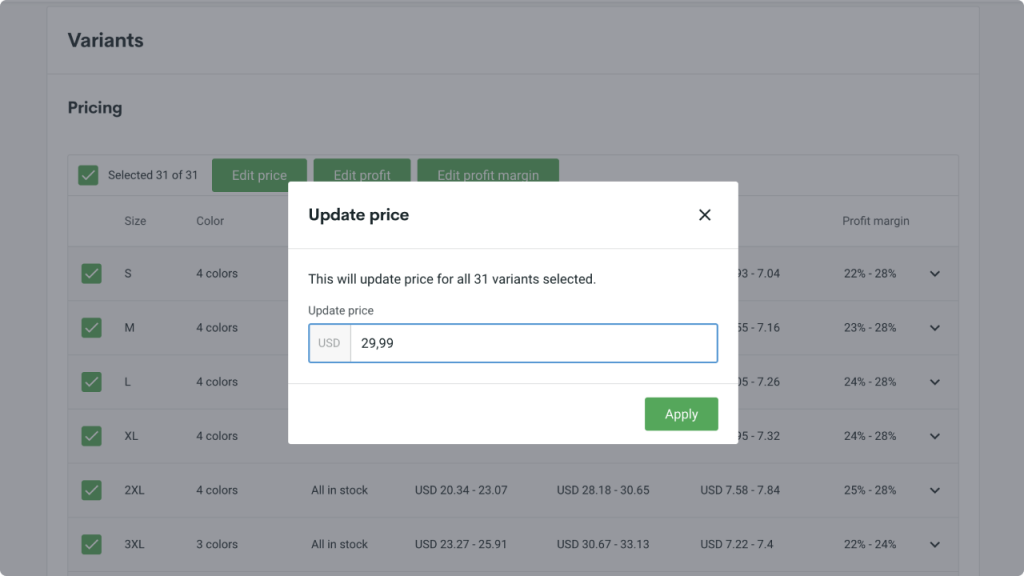 Why Edit Prices In Bulk?
Save Time. Updating your prices in bulk rather than customizing prices one by one will save you time.
Experiment With Prices and Profits. Choosing the right price for your products can be tricky, especially for newcomers. Didn't get the right price on your first try? No worries. Experimenting and changing prices is now easier than ever with our Bulk Price Editing Tool.
Focus on Growing Your Brand. Manually changing every single price can be exhausting, time-consuming, and can lead to mistakes. Save time and focus on growing your business by updating prices in bulk.
Promote Sales with Ease. Got a seasonal promotion or sale coming up? Put multiple items on sale all at once. Create promotions, discounts, and special offers in no time.
Effortless Price Change Updates. When print providers raise or reduce their current prices, updating yours is just as vital to make sure your customers get the same great experience and you don't lose out on profits.
How to Use the Bulk Price Editing Tool
Bulk price editing is a simple process to update your prices, profits, or profit margins with only a few clicks.
Locate your Products. Go to your Printify account and click My Products to see a list of all your created items.
Select your Products. Search by specific criteria, select all, or manually choose your preferred products for a price change.
Upgrade your Prices. Click Edit Price and then choose what to upgrade – price, profit, or profit margin, for your selected products. (The pop-up will tell you how many products will be affected by the price change).
Confirm the Changes. Click Apply and a message will let you know that your prices have been successfully updated.
Publish the Updates. Click the Publish button in the upper-left corner of the page to update product price changes in your store.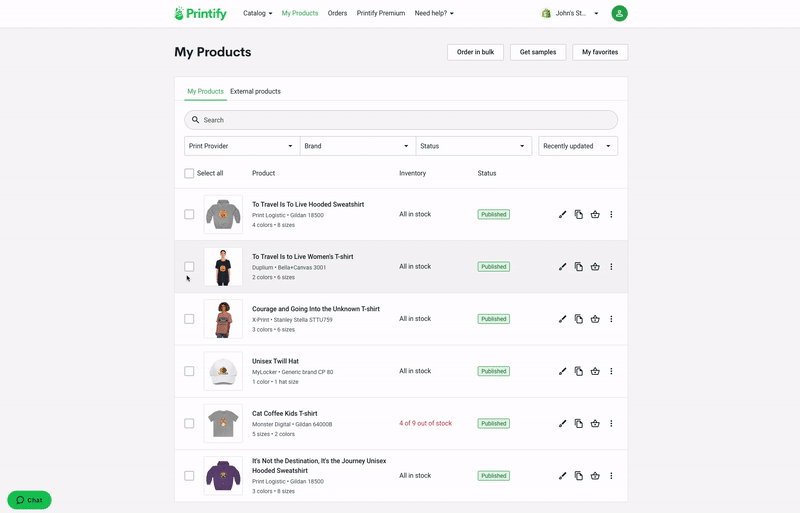 Pricing Your Printify Products
Don't forget that pricing your products is one of the most crucial steps to determining the success of your business.
Price them too high and you will send your customers straight to competitors offering a better deal on similar items. Price them too low and risk losing profits. The key to success is choosing the correct prices and strategy.
Price your products right to establish yourself as a trustworthy seller with top-quality products and reasonable prices.
What to Consider When Setting a Price
Target Audience. Know your buyer personas and target customers. Who will buy your products? How will they consider your prices? What matters to them?
Costs. Keep in mind all your expenses – both changing and constant. From fixed costs to advertising, platform fees, and other expenses. Cover them all to make a profit.
Competitors. Research the existing market and competitors to see what they offer, their prices, and what products and price range people find acceptable.
Sales Channels. Deciding on where to sell your products will affect your costs, traffic, and marketing efforts. Choose from the best sites to sell online for success.
Pricing Strategies. Browse various pricing strategies and pick the best one that fits your business and vision. Find a list with explanations and examples here.
Summing Up
Merchant success is our success, so we really treasure your feedback and experience with our platform, offers, and processes. That's why we made our new bulk price edit tool – to help you save time and effort, allowing you to focus more on growing your business and audience.
Your ideas and suggestions for improvements are always welcome and appreciated. And in return – our Blog, YouTube channel, Help Center, and customer support agents are here to provide you with help, advice, guidance, and tips, 24/7. We play to win together! Strive for success with Printify.
Make It Happen Today!
The post Introducing – Our Brand New Bulk Price Editing Tool appeared first on Printify.
Please follow and like us: