Mark your calendars, cat enthusiasts!
August 8th is just around the corner, honoring the purr-fect companionship between humans and their furry friends on International Cat Day. Save the date and join the celebration with cat owners worldwide. Raise awareness and earn a profit, selling one kitty product at a time.
To celebrate this special day, let's take a walk through the history of International Cat Day, look at some fun ideas on how to spend it, and check out popular pet products to promote for every furry feline friend and their human.
History of International Cat Day
Ancient Egyptians believed cats to be godlike and divine, a mindset every cat carries to this day.
The history of the majestic feline creature is fascinating and takes place all around the world. From independent wildcats in the East to snobby, purring pets in the South. Let's look at the timeline and some paw-some facts that led to the big decision to declare a special day for our feline friends.
10,000 BC – The Beginning of It All
The Near East was the first to domesticate wildcats, and scientists believe it first began around 12,000 years ago.
7,000 BC – The Oldest Known Pet Cat
French archeologists found human and cat remains buried in Cyprus, indicating that this could be one of the first pet cats known to mankind.
3,000 BC – Cats Allowed Indoors
Around this time, the Ancient Egyptians started to allow their feline friends to come inside to keep mice and other unwelcome rodents at bay.
1919 – Felix the Cat Takes the World by Storm
The world's first animated film star was created – Felix the cat. Coming in the form of a family-friendly short film, "Feline Follies".
The debut of a comic with a feline, which later becomes an epitome of domesticated cats – comfy, cozy, lazy royalties.
1997 – A Cat Becomes Mayor
Stubbs becomes the mayor of a small town in Alaska. Purr-haps the most beloved mayor to this day. His ruling is fair, honest, and citizen-friendly.
2002 – The Culmination by International Fund for Animal Welfare
Reacting to all the cat history and significant events highlighting the importance of our feline companions, the International Fund for Animal Welfare declares August 8th as International Cat Day to raise awareness and educate people on the importance of adoption, protection, and care for cats worldwide.
International Cat Day Celebration Ideas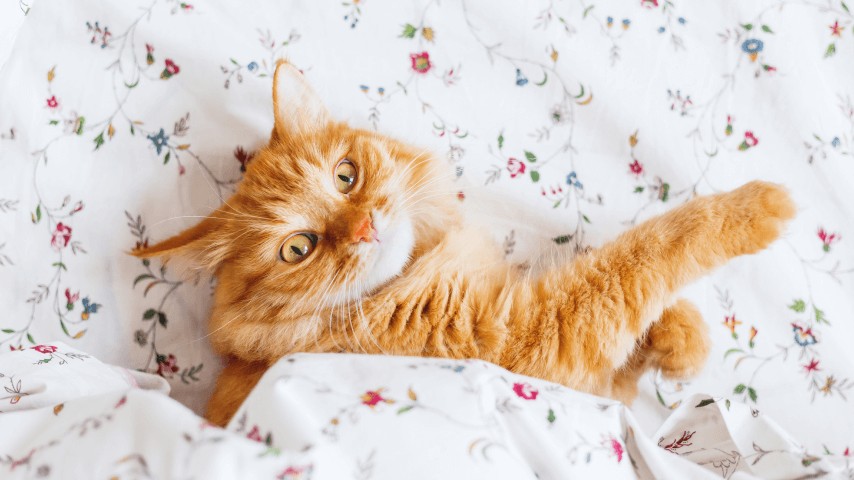 From an International Cat Day party to making the world a better place by adopting a kitty, donating, sharing advice, life stories, or raising awareness. You can celebrate International Cat Day and contribute to the cause in many ways.
Adopt a Cat
What better way to celebrate International Cat Day than by getting a precious fur baby yourself? Cats are fun and entertaining pets that are proven to be good companions, improving our mental health. Cats can lower stress and anxiety levels and create a bond that will last a lifetime. However, be educated and make a responsible decision before you choose the fun life of a cat owner.
Help Out a Local Shelter
Becoming a volunteer or donor can help animal shelters care for stray cats and dogs. Even if for a day, you can make many lives better and warm little hearts by contributing your time, resources, love, and affection. Bond with the kitties on World Cat Day and celebrate the institutions contributing to their wellbeing.
Donate to a Cat Charity
Search for local or global cat charities and celebrate International Cat Day by helping countries protect and care for their cats. Many charities are created to help with vet appointments, food supplies, housing, and other important causes. Join any of them and celebrate the joy that cats bring into the world.
Spend the Day With Your Cat
If you already have a paw-some companion, save the date and spend International Cat Day the best way possible – with your furry friend. From snuggles, walks, and mani-pedis to epic gifts and a royal feast. Celebrate World Cat Day by pampering your cat from head to tail. After all, this day is all about them.
Visit the Big Cats at the Zoo
What would International Cat Day be without the ones who started it all? Don't forget about the big cats and kittens at the zoo, who are the ultimate ancestors of the domesticated fur balls that this day was created for. Visit the zoo with kids, friends, and family and educate them and yourself on how to protect and help cats around the world.
Create and Sell Cat-Themed Products
Adding cat-themed designs to a selection of products will boost your sales and profits and help you raise awareness. Promote International Cat Day designs and donate part of the profits to cat charities, shelters, or other helpful organizations. The POD world is your oyster.
Top 10 Products to Sell for International Cat Day
While nothing beats a new cat toy or a delicious treat to end their perfect day, there are many useful and fun products to add to your online store. From a practical cat carrier to a comfy mat, don't miss your chance to claim your space in the market with exclusive cat-themed merchandise.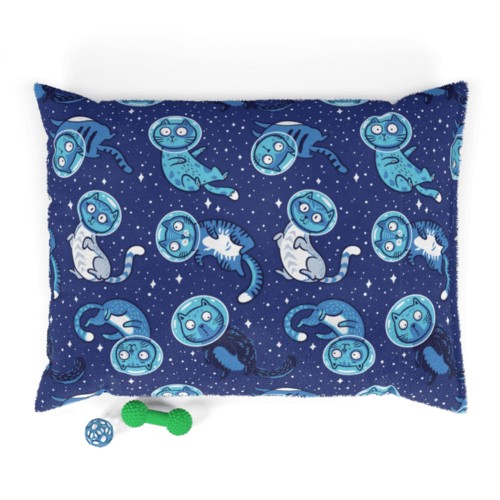 Cats spend 70% of their lives sleeping. With that number in mind, a comfy and soft bed is precisely what every cat needs to cushion their mice-filled dreams. Customize our polyester – cotton blend pet bed and promote International Cat Day sales with the best comfort and unique designs.
Indoor-use only
Removable cover
Shape-retaining insert
Front-side print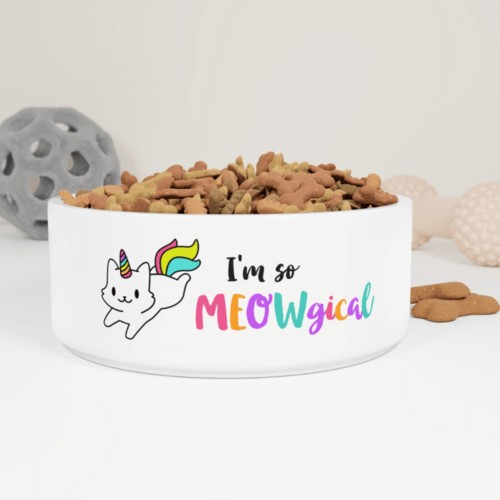 Spruce up the feeding time with custom bowls for cat owners who want to add a bit of personality to their pet gear. Our white ceramic pet bowls are long-lasting, practical, and made for vibrant designs – perfect for all the kibble connoisseurs of the world.
Dishwasher safe
Microwave safe
Front-side print
Glazed finish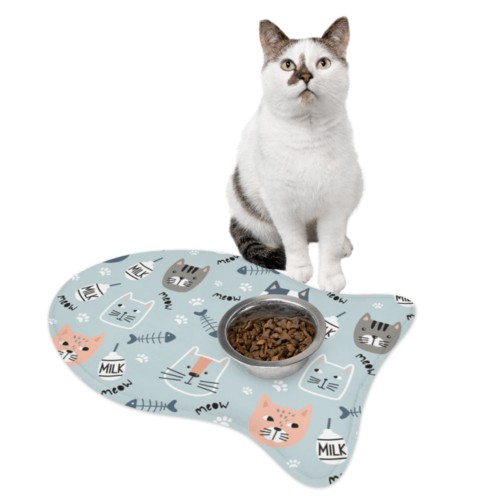 Pair your personalized cat bowls with custom feeding mats for the International Cat Day feast of 2022. Even a feeding mat can be part of the kitchen decor with bright and fun designs. Add personalized patterns and charm all cats with a fine dining experience with your custom feeding mats.
Anti-slip
One side print
Bone/Fish shape
Strong and durable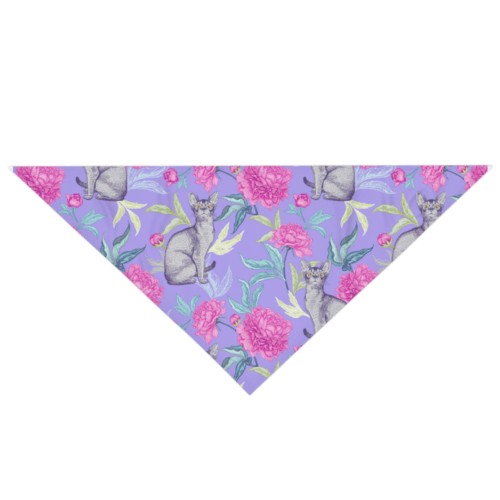 Welcome International Cat Day in style with custom cat bandanas. This is your chance to bless the world of pet attire with unique cat-themed designs, from paw prints to fishbones or a meaningful message. Spread the word on cats and their issues worldwide with custom bandanas for our furry friends.
One side print
100% polyester
Hemmed edges
One size (25″ × 12″)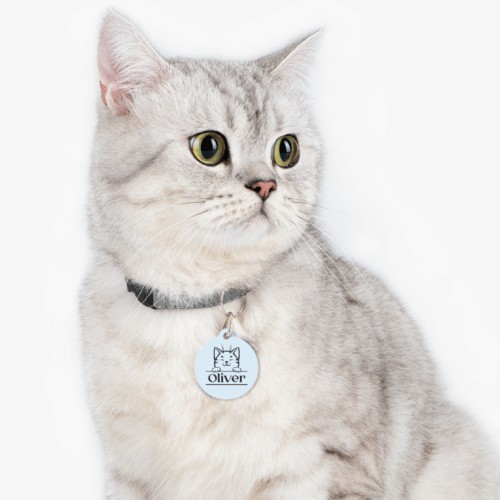 Pet owners' biggest nightmare is losing their precious kitty or pooch without a trace. Luckily, our product catalog offers something that will ease their worries and provide a solution for cats who like to roam around and explore – a custom tag. Personalized tags will safeguard important information in style, ensuring every pair of whiskers is safe and sound.
Print on both sides
Metal clip included
White coated metal
Although International Cat Day celebrates cats in all their glory, you can save this date to promote merchandise for cats and their humans. In gratitude for improving their health and keeping company, cat lovers and supporters will gladly dress themselves and their surroundings in cat-themed designs.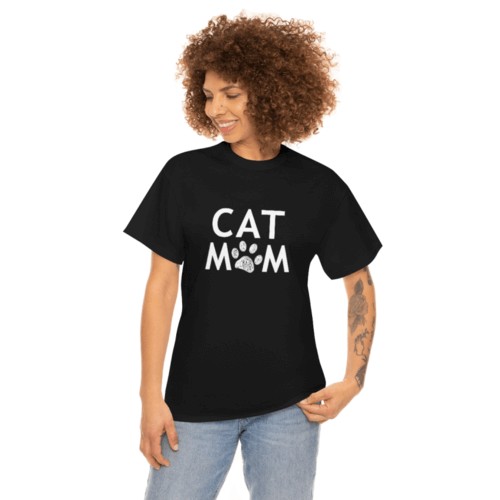 What would an International Cat Day be without custom cat t-shirts? The evergreen piece of apparel is a must-have in every online store and wardrobe, being comfy, stylish, and practical. Paired with just about everything, our bestsellers will be the perfect cat-themed addition to your custom designs.
Popular brands
Soft materials
All-over-print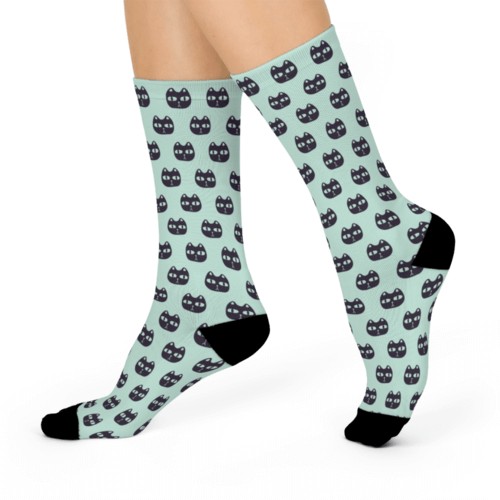 Socks are becoming the go-to accessories for those who want to express themselves, their personalities, interests, and style. Support International Cat Day and its cause by promoting creative cat-themed socks. From powerful messages to hiss-terical designs, create cat socks for every cat enthusiast.
Different lengths
All-over print
Sublimation and DTG prints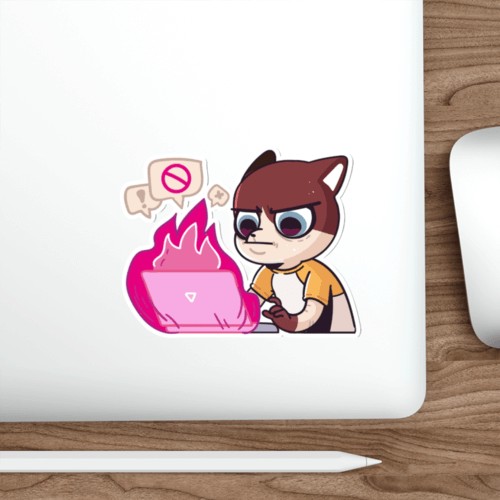 Promote International Cat Day in all its glory, spread awareness, or simply delight all cat lovers and enthusiasts with custom cat stickers. These custom babies with sticky cats and related designs will practically sell themselves, being perfect for different surfaces, long-lasting, and suitable for indoor and outdoor use.
Water-resistant
Different types of stickers
Eco-friendly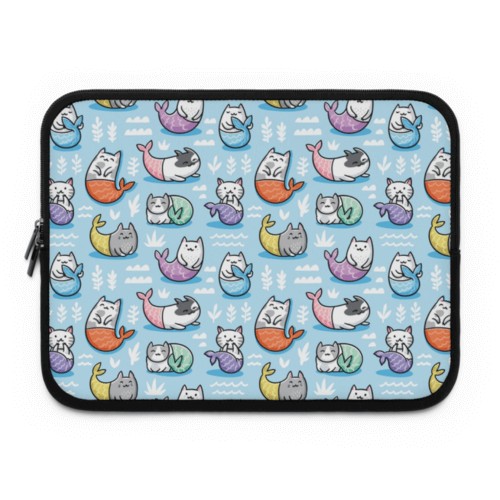 All cats love to sleep on warm surfaces. Our laptops often being one of them. Provide protection for the gadgets and a stylish mattress for the kitties simultaneously by promoting custom laptop sleeves with cat-themed designs.
Made of smooth neoprene
Water-resistant
Front-side print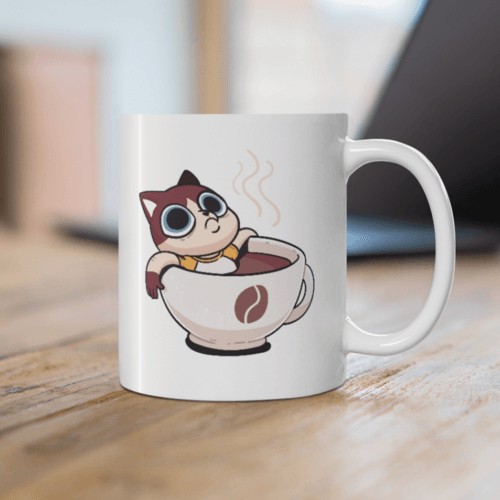 People who have or like cats will appreciate a custom mug with a pretty design made to honor the majestic beauty these feline creatures possess. From a daily cup of coffee to a beverage of any kind, mugs are one of the most evergreen products used worldwide.
Various shapes and sizes
Different print areas
Durable materials
Sell Cat Merchandise with Printify
100% Free – We're Not Kitten Around!
No up-front investments or start-up costs. Sell cat-themed merchandise with full transparency and no risks.
700+ Products For Your Purr-ty Designs
In addition to the products mentioned above, our catalog offers everything from apparel and accessories to puzzles, games, and home decor.
Global Fulfillment Paw-sibilities
Fulfill and ship orders worldwide. From European countries and China to Australia and the US. Deliver your cat merchandise around the globe.
Start Designing Cat Products Right Meow
Design and sell custom products for cats and their humans worldwide, celebrating International Cat Day. Spread awareness, earn a profit, and hug a cat. Life is simple with Printify.
Make It Happen Today!
The post International Cat Day – Top 10 Trending Products to Sell Online appeared first on Printify.
Please follow and like us: