Ride the nostalgic trend and create custom tie dye shirts in minutes with print-on-demand solutions! It's time to spice up your wardrobe or upgrade your store's collection with a fun tie-dye shirt that represents everything fun about the 60s.
Design your own custom tie dye shirts
Front-and-back designs
Let your creativity run wild by printing on both sides of your tie-dye shirts, not just the front.
No minimums
Create or sell as many personalized tie-dye shirts as you want, no minimum purchase quantity required – ever.
100% Pre-shrunk cotton
Get your groove on with the smoothest fabric there is – preshrunk cotton. All our custom tie-dye t-shirts are made 100% with preshrunk cotton for total comfort.
Meet our custom tie dye shirts
There's nothing more timeless than classic tie-dye custom shirts. Popular in the 60s and 70s, these whimsical tees are having a major comeback today. Design a custom tie-dye shirt for yourself, create a gift to commemorate a special occasion, or enhance your store's online collection with a hip t-shirt so your customers know you're keeping up with the latest trends.
Spiral tie-dye tee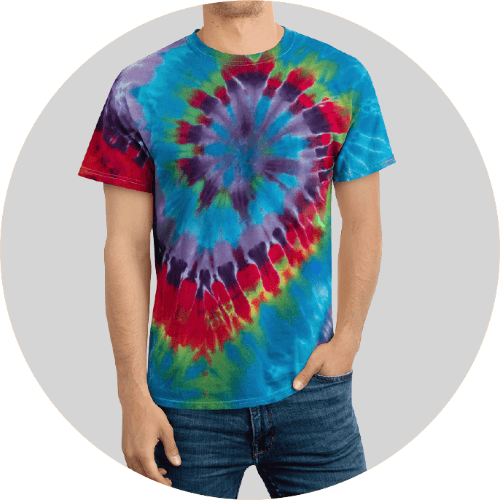 A classic 60s-inspired, tie-dye, spiral design. Available in bold colors for a great statement piece or a pastel palette for a summery shirt. By far one of the most popular tie-dye patterns to go with.
Cyclone tie-dye tee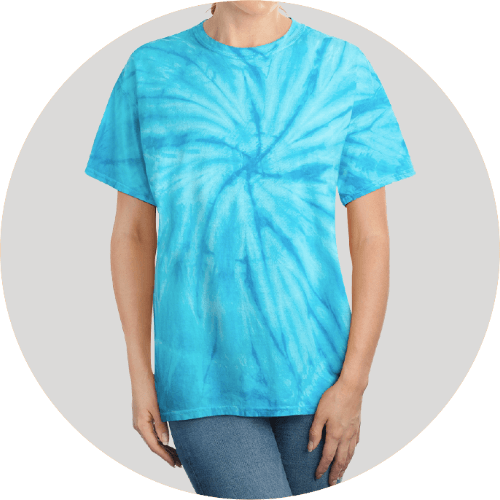 The cyclone was (and still is) one of the grooviest tie-dye design patterns to hit our store. Our cyclone tie-dye tee shirt is available in four color combinations – including the classic blue tie-dye t-shirt design. You couldn't look any more remarkable than wearing our cyclone tie-dye t-shirt.
Crystal tie-dye tee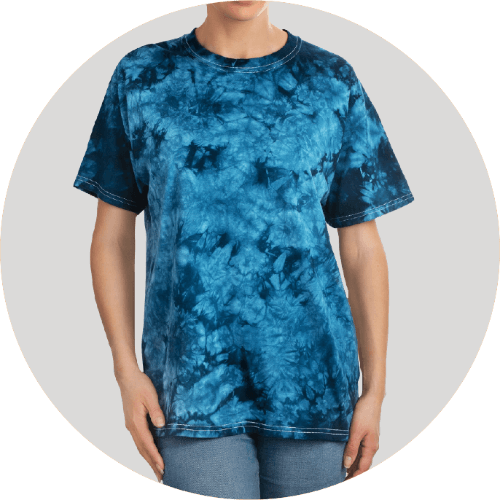 A tie-dye pattern that comes straight out of the 60s, survived the 90s, and is now back for more. Our crystal tie-dye t-shirt is grungy, acid, and the perfect background for slogans or logos. Available in two colors that help your creativity run wild.
3 reasons to love our custom tie dye tee shirts
Our Print Providers use the latest tech for consistently brilliant results. Whether you want to use slogans, or create far-out designs, your tie-dye custom t-shirt will look absolutely radical in any case.
Unique, breathable, cozy
Made from specially spun cotton fibers that offer absolute comfort and style. Add to the mix their classic fit, and our custom tie dye shirts pass the "comfiest daily choice" challenge with flying colors.
Shoulder-to-shoulder tape
Forget about stretchy shirts. Twill tape covering the shoulders and neck seams stabilizes the back of our custom tie dye shirts to prevent stretching and help them maintain their original shape.
Double-needle sleeve and neck hems
All of our shirts are sewn around the edges with double stitching to make them long-lasting, durable, and resistant to wear and tear.
Custom tie dye shirts – no minimums
With Printify, you don't have to worry about order minimums. Whether you only need one , a few dozen, or a thousand custom tie dye shirts- our no-minimum policy has you covered. Plus, you can create your designs with our easy-to-use Mockup Generator. Whether you're designing a personalized tie-dye shirt for a special occasion or a thousand custom shirts for your store or brand, we'll handle it.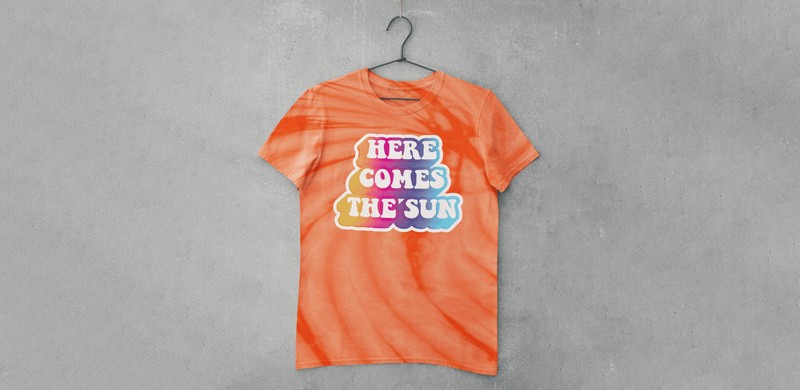 Print on Demand means that you have cost-effective solutions
by your side to help you start creating custom tie dye shirts without worrying about things like inventory. Forget about dealing with out-of-stock issues and minimum-quantity orders. Print on Demand is based on sales: Only when a customer places an order, things start to get moving. When that happens, we smoothly handle everything in the back-end for you, so that you can focus on marketing and growing your business.
When you work with Printify, all your custom tie dye shirts are drop-shipped to your customer's door with no heavy lifting involved on your end. With this method you can focus on creating unique designs, getting your brand out there, and finding your target audience while we take care of all the little details.
Create your own merch for free!
Ideas for tie dye t-shirt designs
Think of our tie-dye shirts as a blank canvas – there's nothing you can't add to our custom t-shirts. The beauty of custom tie dye shirts is that you can create any motif, style, or idea you can think of and be all-inclusive: From women's tie-dye t-shirts to men's, and from custom tie-dye girls shirts to boys' tie-dyes – the sky's the limit.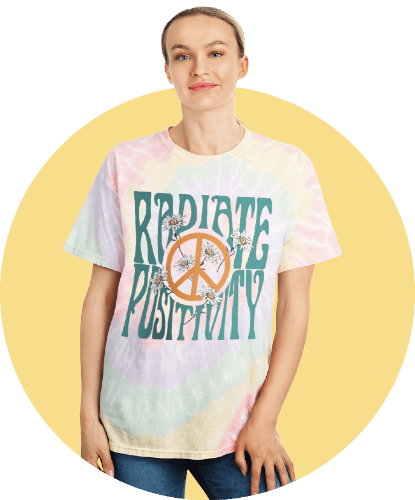 Inspirational t-shirts
Have an inspirational quote you can't get out of your head? Create a design with those words and share it with the world. If someone has a quote or phrase they'll definitely love seeing their favorite quote on their custom-made tie-dye shirts.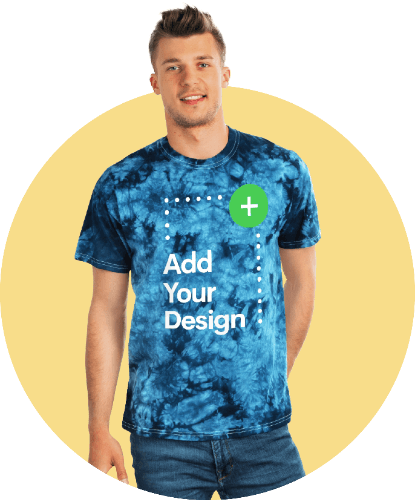 Custom tie dye shirts for brands
Got a brand? A logo? A slogan? Then it's high time you created a custom branded tie-dye shirt. Perfect to create some buzz around your business, boost employee morale, and create fun custom shirt ideas for your customers.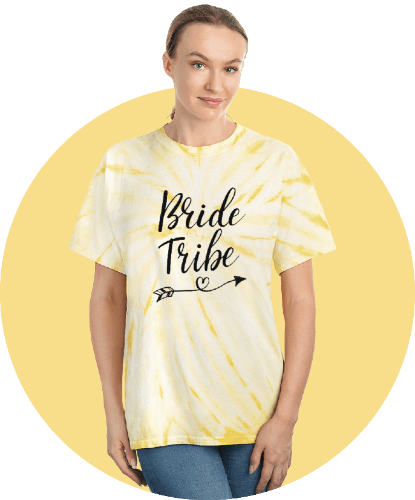 Bachelorette parties
Bachelorette parties are a fun and exciting event before things get official for life. Create cheap custom tie-dye t-shirts that can double as a cute gift for the bridesmaids. With these, everyone will be ready for the festivities.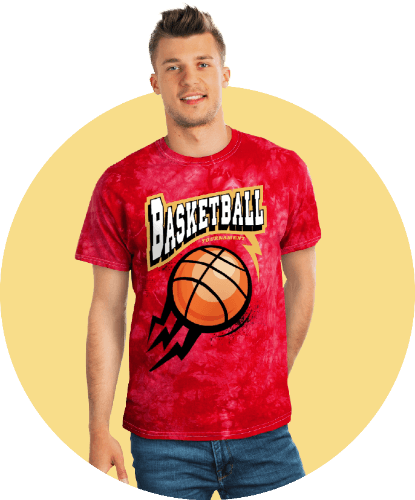 Team spirit t-shirts
Everyone loves to root for their sports team. Why not do it in style? Custom printed tie-dye t-shirts give a unique spin on the classic sports shirt designs you'll find out there.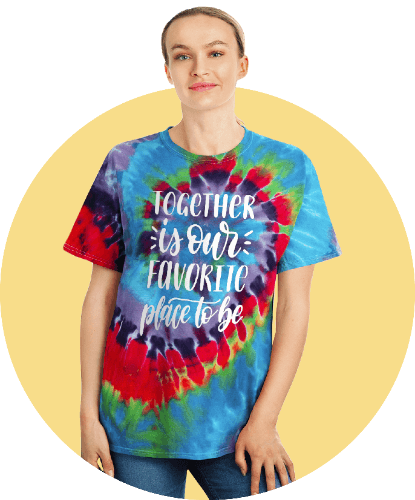 Family sets
A family trip or a family reunion is the perfect excuse to get matching t-shirts. Custom tie dye shirts for kids are an adorable way to celebrate the family. Besides, from the youngest to the oldest, who doesn't love tie-dye t-shirts?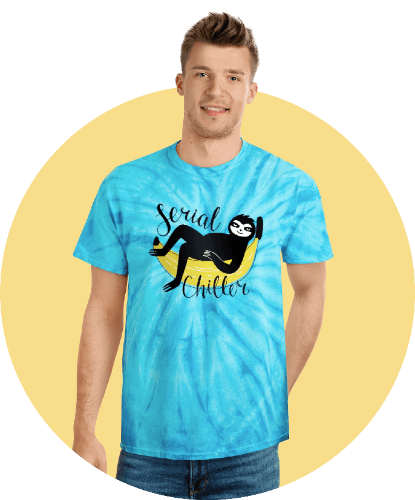 Vacation t-shirts
For any family planning a yearly vacation, a custom t-shirt can be an excellent way to remember the occasion. Custom tie dye shirts are perfect for summer vacations, cruises, and adventure park excursions with family and friends. A wonderful way to keep something from the trip that people can wear and cherish forever.
Sell Custom tie dye shirts wholesale
You don't need to create an overly elaborated design to start selling custom tie dye shirts online. Printify's tie-dye shirts are as beautiful as they come. Available in three different styles and washes, you can sell them as they are and they will still be a great addition to your online store.
Create your own merch for free!
How to make tie dye t-shirts?
If you've ever wondered how to make custom Gildan tie dye t shirts online, it has never been easier. Just follow the steps below, and you'll be enjoying your own custom tie dye shirt before you know it.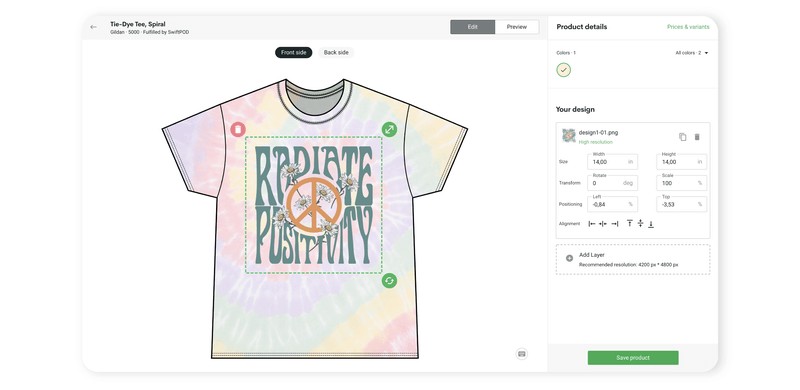 Step 1
This part is easy. From the Printify catalog, choose the tie-dye t-shirt style you want to start designing and simply click on "Start Designing" to head into our Mockup Generator.
Step 2
Have some fun using our Mockup Generator.
Here you can apply your designs to your custom tie dye shirts with our user-friendly design editor. You can easily upload artwork, pictures, or logos. To do that, drag and drop your design onto our designated printing area or upload your creations straight from your Dropbox and Google Drive accounts.
Then, play around with your design until you're happy.
Once you finish your design, you can click on "preview" to see a real-life preview of how your design will look printed on the product. Plus, you can use those pictures in your online store, for marketing purposes, or to send a preview to friends and family.
Hint: Creative juices running a bit dry? No worries. We're also integrated with Shutterstock, so you can seamlessly choose from millions of photos to complete your creations.
Step 3
If this is your first time working with a supplier or a print provider, we recommend you order a sample to get a feel for your products.
Once you make sure everything is perfect, you can order your shirt, or put your tie-dye t-shirts for sale with a single click. Printify seamlessly integrates with Shopify, Etsy, Wix, WooCommerce and more platforms for your convenience.
Why choose Printify for custom tie-dye shirt printing?
Trusted by 300k+ merchants
Don't take our word for it. Over 300k merchants worldwide trust Printify with their business. Be part of this amazing community of creators and designers. At Printify, we're always highlighting and celebrating our merchants in our blog.
300+ Blank merch products
More than custom tie dye shirts, you can choose from over 300+ products in our ever-growing products catalog. Quickly add new products to your online store to keep growing your catalog and reach more people.
Seamless integrations
Your Printify account seamlessly connects with the major e-commerce platforms, including Shopify, Etsy, eBay, Wix, and many more. Seamlessly import your designs from your account to your storefront in a few clicks.
Always free
Printify is and will always be free. All you have to do is sign up with your email. We're here to help you capitalize on your creativity with the least amount of effort on your end.
Prestige mockup generator
Design all your products with ease and see amazing, realistic mockups before you place any orders. Publish them straight to your online store or share them on social media to create more buzz around your products.
Get ready to design your own custom tie dye shirts
Now that you're inspired, you've seen the benefits, and you see how easy it is to start designing your own products, it's time to get started. Getting your custom tie dye shirts cheap is now the easy part, now you only have to put your own spin on an already favorite design and start selling. Thankfully, Printify is here to handle all the rest, as you focus on growing your brand.
When things are that easy,
why not give them a try?
The post Custom Tie Dye Shirts appeared first on Printify.
Please follow and like us: