After a prolonged absence, travel is back on the agenda — and so are travel accessories! Market research indicates that "pent-up demand" for travel continues to drive high sales in this sector.
Savvy Printify sellers are making the most of this vacation-related excitement to launch new ranges of customized travel products. If you're looking for a slice of the action but you need a little inspiration to get started, read on for ideas.
Pouches, suitcases, pet travel accessories – we got it all!
Choose the items your customers would love and start customizing your products today. Customization is a growing trend that people are willing to pay more for, so it makes perfect business sense to do so.
Remember, thanks to Printify's print-on-demand model, you can start a business selling custom products with no upfront investment required.
Here, you'll find 20 must-have travel accessories to add to your online store as well as some design inspiration for each. These items are sure to attract interest this summer — and beyond! After all, we have some lost time to make up for when it comes to holidays…
Travel accessories, the basics – Pouches and bags
Travel accessories have to be practical as well as aesthetically pleasing: we want to store our items safely and stylishly when we're on holiday! This is where the Printify range of pouches and bags comes in.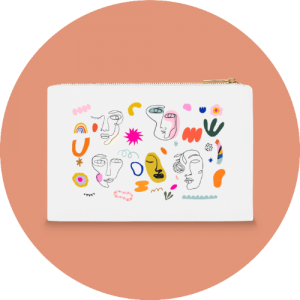 This cotton canvas cosmetic bag with a glamorous gold zipper has plenty of customization potential. It's spacious enough to contain all those travel makeup essentials, too.
You could add a funky abstract print to this product and accelerate its appeal to your audience. Art-inspired, conceptual designs are very much on-trend.
Ok, so the make-up is packed… what next? Accessories, of course!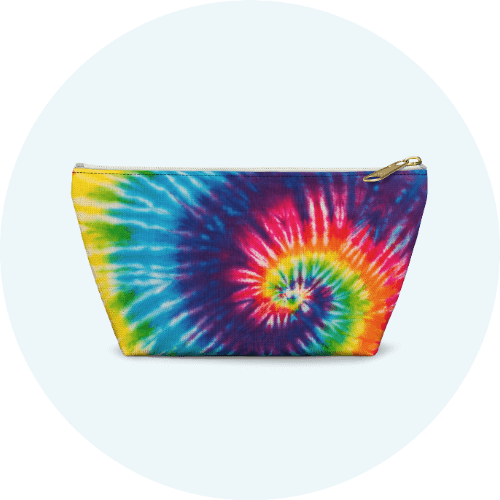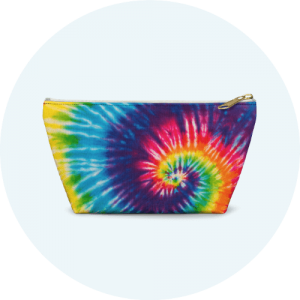 We have a range of accessory pouches available on the Printify store, like this, which is polyester and laminated inside, and this, which comes in a range of sizes.
These versatile products can be used for jewelry or travel toiletry essentials alike. Why not take advantage of the ongoing tie-dye trend and add a hippie-inspired print to your accessory pouches? It's supposedly another summer of love, baby! Our travel accessories should reflect that.
When you're on vacation, you need an easy way to carry your sunscreen, sunglasses, travel guide, phone charger, and other everyday essentials.
However, you don't want to be weighed down as you explore.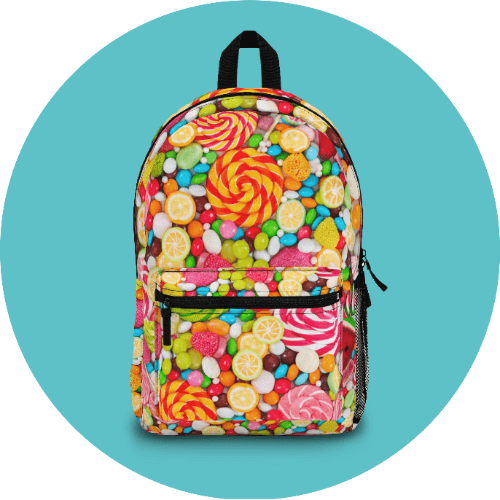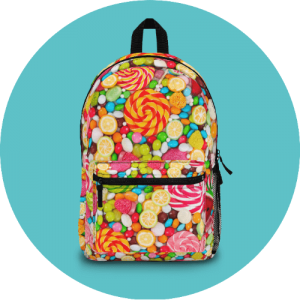 Cater to your customers by adding a custom backpack to your store. This lightweight storage solution has adjustable straps, making it very comfortable to carry all backpacking travel essentials.
A tropical print featuring palm trees and pineapples would make it festive and fabulous.
Backpacks are available in all kinds of designs these days, so feel free to choose something a little eccentric. You might find customers have an appetite for food-themed prints based on sushi or sweets, for example. Yum!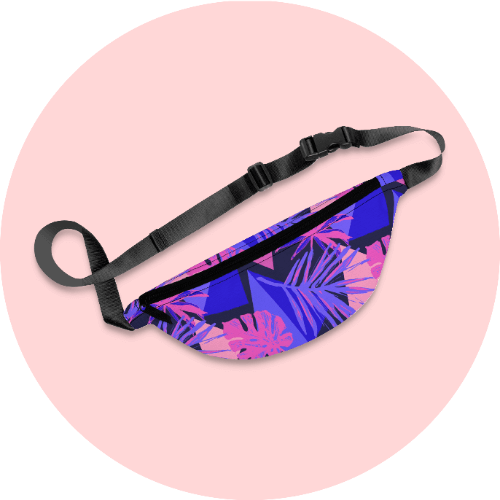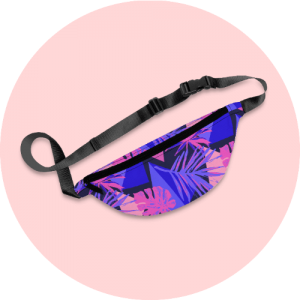 For those who travel even lighter than a backpack, a fanny pack is an ideal solution. Printify has the ideal model available for your store: it's adjustable and even has internal divisions to keep items organized.
Fanny packs have a fun, 90s feel, so why not lean into that? Remember, 90s prints used bold colors and geometric shapes to awesome effect. Think Will Smith's shirts in The Fresh Prince of Bel-Air.
You could design the perfect product for chillin out, maxin, and relaxin all cool…
When it comes to travel accessories, luggage is a major growth market at the moment.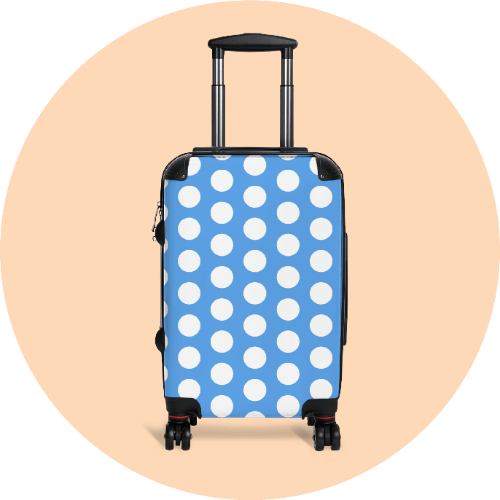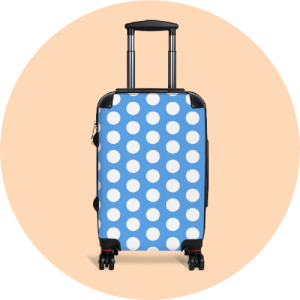 Don't miss out on this opportunity to sell a cabin suitcase! Printify's model has four double-wheels with a 360° swivel — it's ideally suited to that last-minute dash across the departures lounge.
Retro prints make for cool travel accessories. You could add classic 50s polka dots to give this product a kitschy charm. That way, your customers can travel back in time as they travel around the world!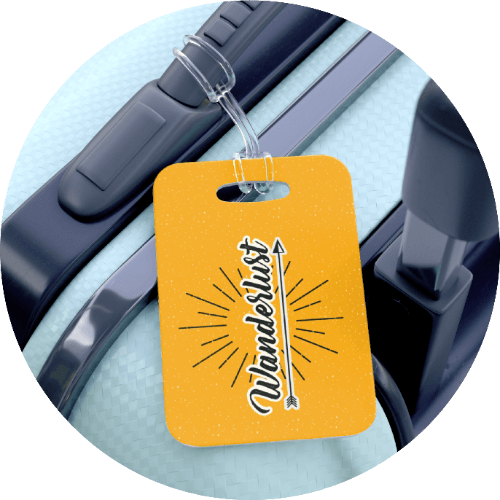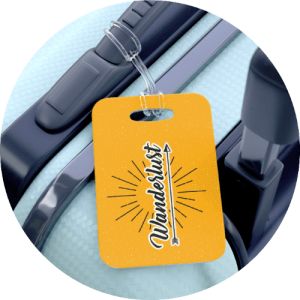 If they're checking in their luggage instead, you could sell them a beautiful bag tag — one that they can identify from across the baggage carousel. Since this item is used to differentiate luggage, it's loaded with customization potential.
A travel-themed slogan like "wanderlust" or an inspirational quote such as "not all those who wander are lost" will probably be popular with pilgrim souls.
Bright, vibrant colors will appeal to trendy travelers, whereas chic neutrals and metallic tones will add elegance to an otherwise simple bag tag.
Create your own
print on demand success!
Handy travel accessories
What's on your travel essentials checklist?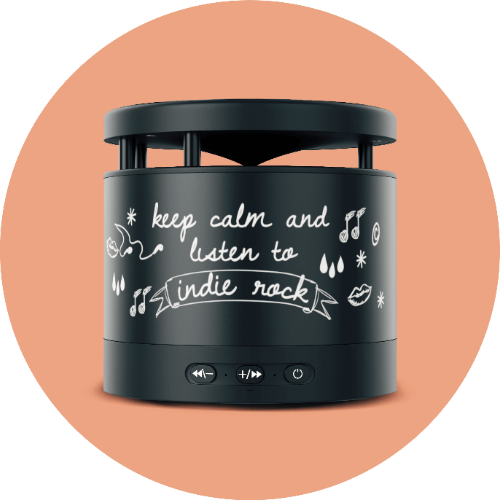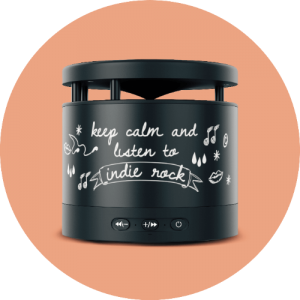 I know what should be: this metal Bluetooth Speaker and wireless charging pad. When it comes to tech travel accessories, they don't come more convenient than this!
It's easily transported and easily charged, but it still provides premium sound quality! That makes it perfect for soundtracking beach barbecues or getting a pool party started. All your customers will need is their playlist.
The coolest thing is that this product can be customized. It would make sense to take inspiration from music for this product and give your customers a cool new way to boast about their preferences.
A speaker that said "keep calm and listen to indie rock" would undoubtedly attract hipsters. Techno-heads would surely love to see "too blessed to be stressed (and techno obsessed)" emblazoned on an item like this.
The speaker is small but powerful, making it one of the best travel-size products around for music lovers.
Other tech items also deserve attention. Where would we be without our trusty cellphone on vacation? We need those digital maps to navigate ourselves and those social media platforms to share our experiences!
That means we need to keep our phones protected using specially designed travel accessories.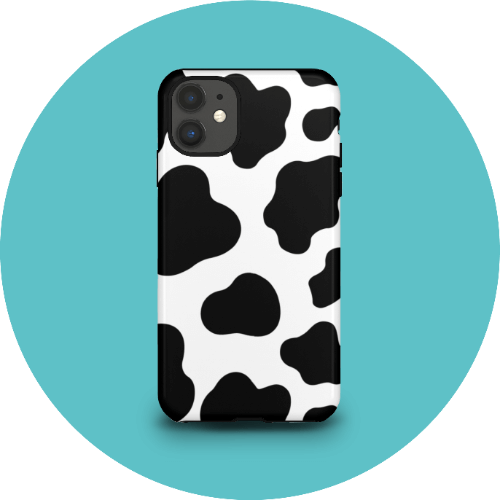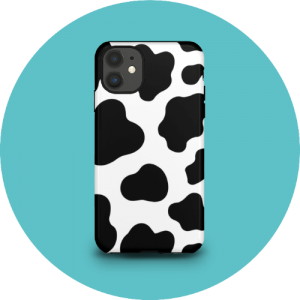 This tough case should do the trick. It's durable and UV-protected: perfect for use in sunny spots.
Useful travel accessories can still have style, you know? You could up the cool factor of this case by adding an on-trend animal or camouflage print. Moooove over leopard print, cow print has been unexpectedly dominating catwalks and social media feeds lately.
Don't worry if you're avoiding dairy, though. Wildcats will always be in style!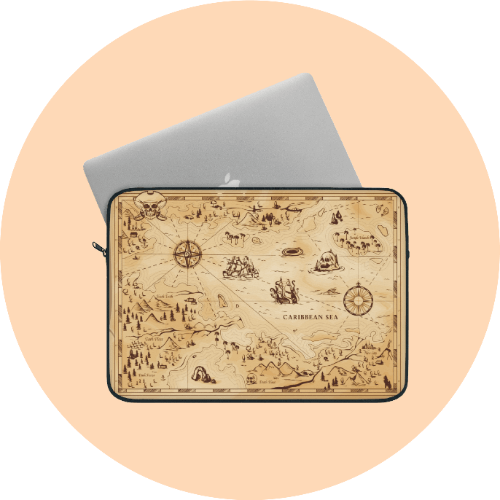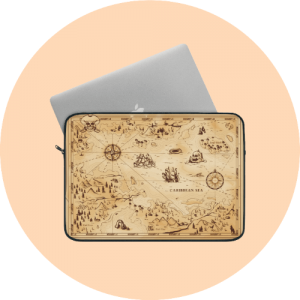 You could also add animal print to this laptop sleeve. Many of us work remotely these days, which means we might choose to take our computer on vacation with us. A wacky design will make working-from-holiday feel much more fun.
People who live and work all over the world are often referred to as digital nomads. This concept could inspire a custom design, too. For example, you could incorporate a map or a suitcase illustration.
Speaking of suitcases, do you remember old-school suitcases covered in travel stickers? Maybe you've only seen them in black and white movies. That's when travel was very exclusive and travel accessories were really swanky…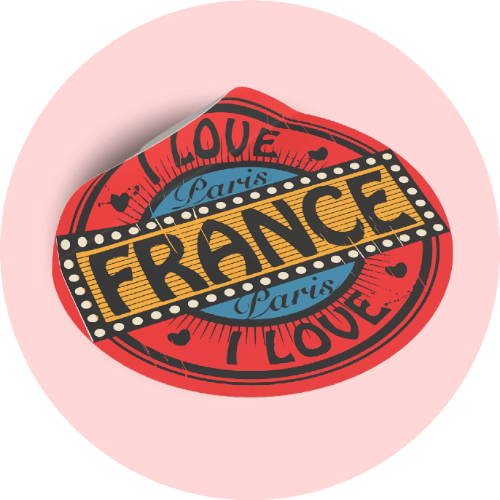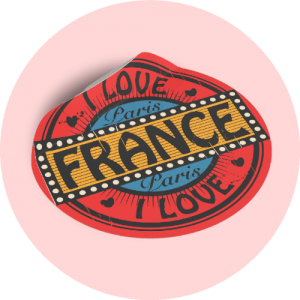 A great idea would be to bring back this super-cool tradition by designing your own custom round vinyl sticker. They make amazing travel luggage accessories. If you designed one for every hot travel location, they could even become collector's items.
Alternatively, you could brand them with quotations about vacations. "Tis the season for a suntan" would make a silly but sassy sticker!
Clothing travel accessories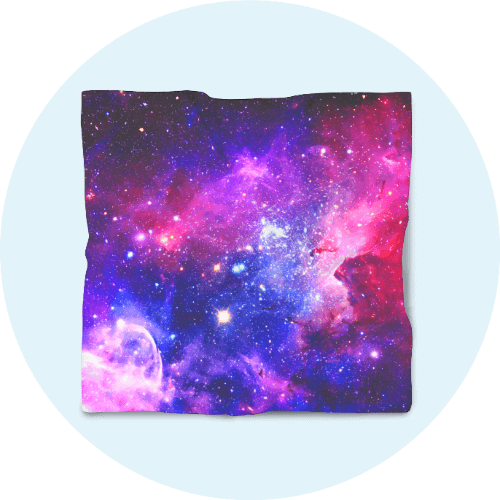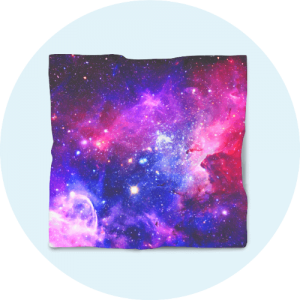 If your customer base seeks chic travel accessories, you can cater to their desires with this poly scarf. A custom print will put a modern twist on this Old Hollywood-style staple.
How will you make this product unique? You could add florals — they never go out of fashion. Alternatively, you could look to the sky: starry prints or even astrological-inspired designs would enhance this scarf's potential.
We may be enjoying greater freedoms now, but the new normal still comes with its own travel accessories: face masks. Since we must wear them, we might as well make them cute!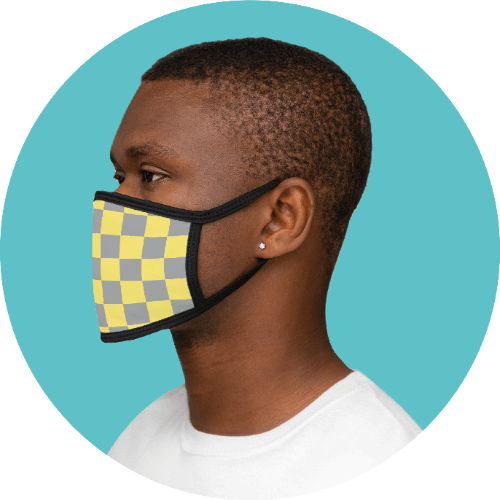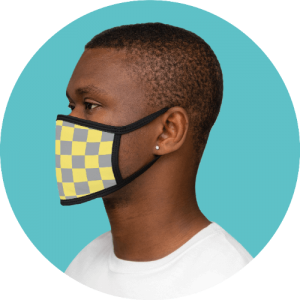 Thankfully, this mixed-fabric face mask is the ideal canvas for a custom design. You could transform it into a cutting-edge accessory by using Pantone's colors for 2021: ultimate grey and illuminating yellow.
Create your own
print on demand success!
Hydration travel accessories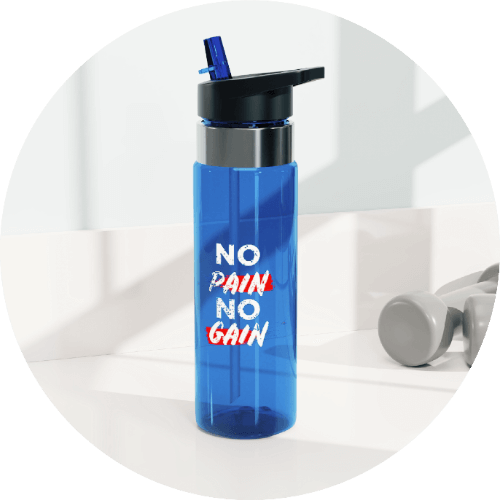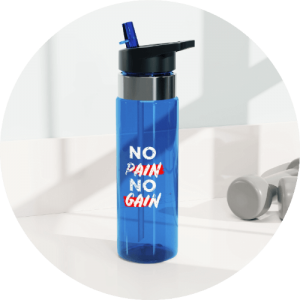 One of the most obvious travel essentials is a water bottle. This Kensington Tritan sports bottle is available in the Printify catalog. It's lightweight and durable, ideal to take on a journey!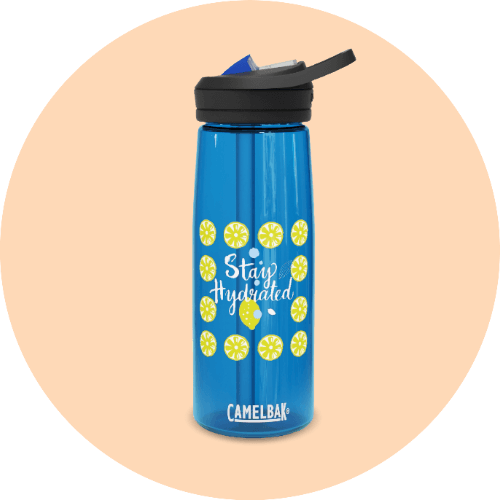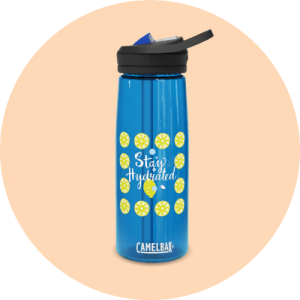 Looking for something a little more sizeable to offer your customers? This CamelBak Eddy water bottle comes in a 25oz option too. A sturdy, substantial water bottle is one of the motorcycle camping essentials people take on a trip, so you could design a fun biker design.
Since so many people make hydration one of their daily goals at the moment, you could encourage them to make their target with a motivational message like "stay hydrated!" This is especially relevant if they're headed to hotter climes with their cool new travel accessories.
Of course, not everybody does seek the sun when they go on holiday!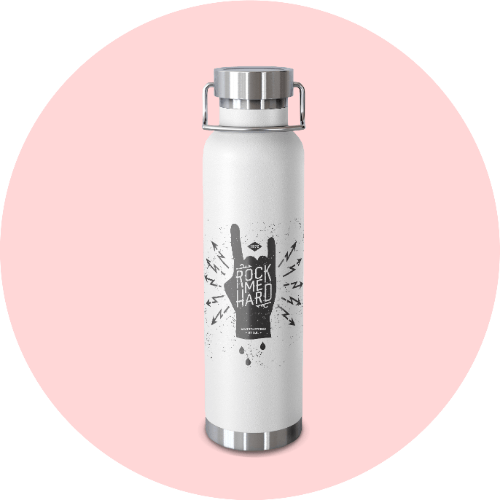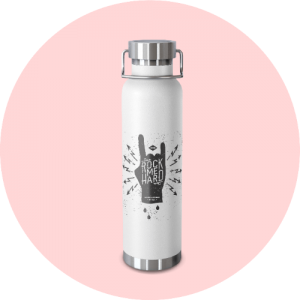 For those who need a warm drink while they're on the go, you could offer this vacuum insulated bottle with a custom design.
Spill-proof bottles like these make ideal car travel accessories. Whether your customer is on their daily commute or enjoying a rock'n'roll road trip, they can stay cozy and caffeinated using this product. They'll love it!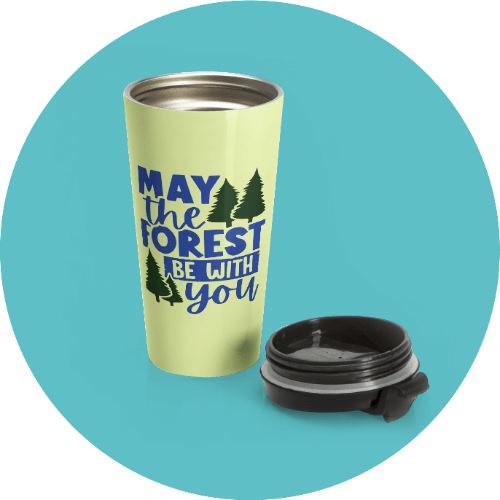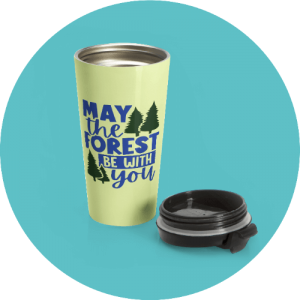 A stainless steel travel mug would also do the trick. It's smaller, and some people are happy to sacrifice the size of their coffee order to enjoy the convenience of travel-size products.
People who use refillable bottles and mugs are doing something positive for the environment, and they often like to share their values with the world. A catchy, eco-friendly message like "there is no planet B" or "may the forest be with you" might catch their attention.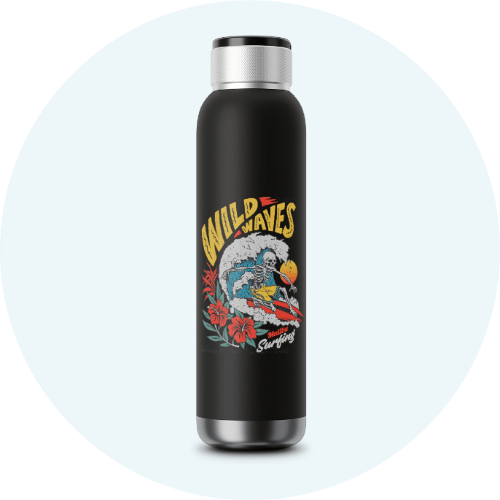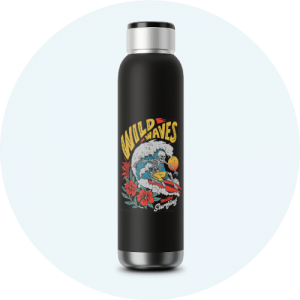 For customers that are heading to the beach or up a mountain, what could be a better buy than this Soundwave Copper Vacuum Audio Bottle? Believe it or not, this water bottle has a built-in Bluetooth speaker!
The only way this could make a more perfect gift is if it came with a custom design…
That's where you come in. You could always target this product at specific groups like surfers or hikers. A psychedelic theme and a surf-related slogan or even a stunning mountain scene would work well.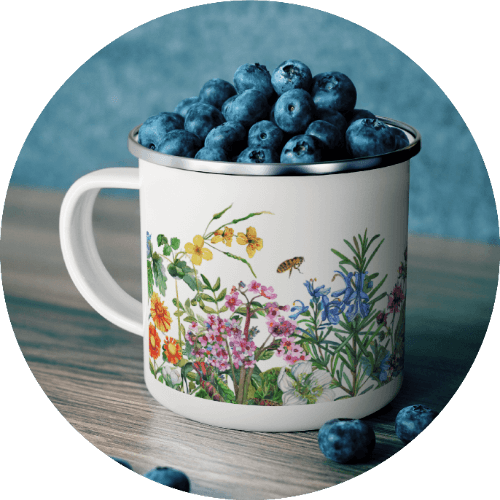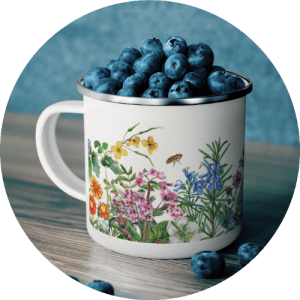 Would you like to target outdoorsy-types with your online store's travel accessories?
Then you simply have to add this enamel camping mug to your range of products.
Make this item even more Instagrammable with the right custom design. Since those who buy it will definitely be into nature, you might choose to spruce it up with a hip botanical design. You could even incorporate animals!
Travel accessories for pets
Travel accessories for women? Check! You already have a cosmetic bag and a poly scarf in your store for glamorous girls. Travel accessories for men? Check! Gadget-obsessed guys will love the tech accessories you've added.
So, what's missing? Well, accessories for pets, of course! They like to go on vacation, too. And they also need travel accessories.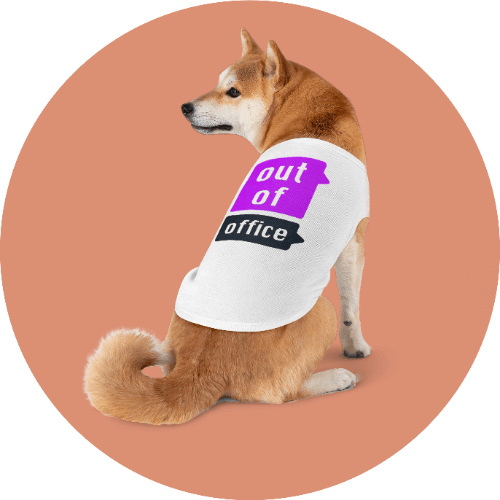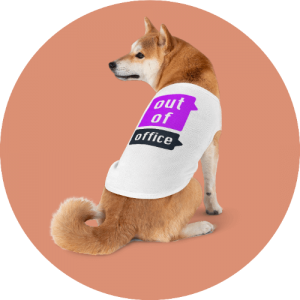 Surely the only thing cuter than a dog is a dog in its own tank top? From funny slogans that inspire relaxation to cute designs that speak to your dog's personality – the possibilities are endless.
An "out of office!" print is bound to get some big laughs from your customers.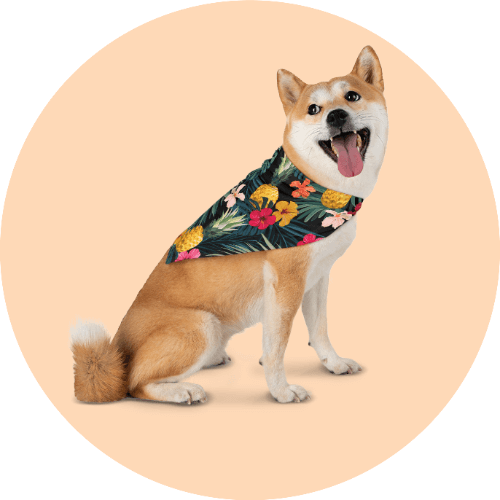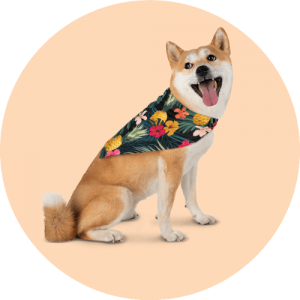 Another option when it comes to dog travel accessories is a pet bandana. The potential for creative designs is really limitless when it comes to this product…
You could use this product to make a canine version of the classic Hawaiian shirt. All you'd need is a colorful custom design!
Start your online store with Printify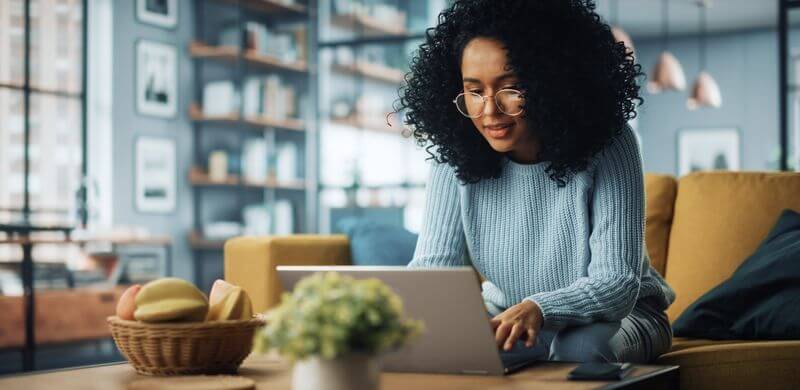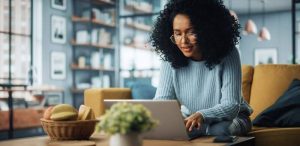 Travel is at the forefront of many people's minds right now, so it's the perfect moment to launch a range based on travel. Printify has an extensive catalog to choose from, including the best travel accessories around.
Our print-on-demand model means there's no charge to design and add as many travel accessories as you want to your online store. That means you could begin your online business today and start selling straight away!
Our system makes it easy, too. Our intuitive designed tool means that the customization process couldn't be more straightforward. You can also preview items before you add them to your store.
Why worry about fulfilling orders when you can choose one of our reputable providers to handle that for you? They'll print and ship your products straight to your customers, saving you the stress.
Create your own
print on demand success!
The post 20 Print-on-Demand travel accessories for your online store appeared first on Printify.
Please follow and like us: