You want the finest for your online store and are now taking the first steps to dropship with WooCommerce.
It's time to tackle the technical side and pick the right plugin to find dropshipping suppliers and connect them to the eCommerce platform.
It can be a bit daunting to pick the right WooCommerce dropshipping plugin that delivers the functions you need and integrates with the suppliers you want. So we handpicked eight of the best ones, considering suppliers, locations, and quality.
In This Article:
Dropshipping With WooCommerce
Perhaps you still doubt whether dropshipping is worth it, or some steps in the process aren't clear. Let's go over the basic concepts in this quick WooCommerce dropshipping guide.
Defining Dropshipping
Dropshipping is a low-risk business method. The merchant acts as an intermediary between manufacturers or wholesalers and final consumers and doesn't need to handle the product, inventory, and shipping.
A Checklist, Resources, and Links for Dropshipping With WooCommerce
Use the following list as a step-by-step guide when setting up your dropshipping store:
Identify your niche and target audience – who are the buyers of your products? Who should you target? You can use tools like Google Trends to get information about demographics.
Write a business plan – decide how to target your niche and create a marketing strategy. Include all possible costs – software, domains, accounts, plans, plugins, and extensions. WooCommerce doesn't require paying for a plan, but depending on your case, you'll need to pay for hosting, themes, or plugins.
Get reliable partners to provide the desired dropshipping products and logistics and sign up wherever necessary. That includes dropshipping suppliers, POD providers, and online store builders. You've already settled for a WooCommerce dropshipping store, so consider POD with Printify to sell custom products.
Install WordPress and WooCommerce and build your WooCommerce dropshipping store. You'll need a domain and a WordPress.org account. Some hosting providers automatically install WordPress. See more on how to set up WooCommerce for dropshipping here.
Define shipping details like rules and profiles if needed. Printify integration with WooCommerce automatizes this step, but that can change depending on the dropshipping supplier.
Create customized products if you use POD or import products from dropshipping suppliers. Edit what's needed keeping an eye on SEO – descriptions, tags, alt-text in pictures. If needed, resize and edit the product images. Don't forget to calculate your prices and assign specific shipping methods if necessary.
Publish the dropshipping website and advertise it.
8 Best WooCommerce Dropshipping Plugins to Use for Your Online Business
Follow this curated list of the best WooCommerce dropshipping plugins. You'll find services for creating POD customized products, like Printify, or for importing them from popular dropshipping suppliers like AliExpress, Alibaba, Amazon, eBay, or Walmart.
For your convenience, we've also selected the best options for connecting dropshipping stores to local suppliers in the US, EU, and the UK.
You can manage all the WooCommerce plugins from the WordPress dashboard. Some of the best dropshipping plugins are installed automatically.
Printify is a POD platform. Instead of holding facilities and warehouses, Printify connects merchants to a vast network of print providers worldwide, selected and ranked according to quality, variety of products, and fulfillment time.
As a POD service, Printify offers the possibility to customize and brand your WooCommerce dropshipping store products, adding an edge compared to other options and suppliers.
Main features
Unlimited products in all plans.
Wide selection of customizable, quality products – a catalog with over 700 customizable products, from apparel and mugs to car accessories and pet supplies.
An extensive network of quality suppliers – Products are printed and shipped from print providers worldwide, offering better fulfillment times and shipping costs. We remove underperforming print providers from the catalog.
Ease of use – From the Mockup Generator to integrating with WooCommerce, Printify is easy to use. The Mockup Generator allows you to apply designs, customize, and visualize products quickly.
Geographic automatic routing – If a print provider runs out of stock, this feature makes it possible to automatically switch to the closest and most similar one, ensuring the order will be fulfilled.
Exceptional customer support – Printify offers stellar 24/7 customer-focused merchant support.
Pricing
Free – five stores per account
Premium–$24.99 per month (billed annually), ten stores per account, plus up to a 20% discount on all products.
Enterprise – for merchants with 10,000+ orders a day. Custom pricing, unlimited stores per account, and up to a 20% discount on all products.
Start Making Money Today!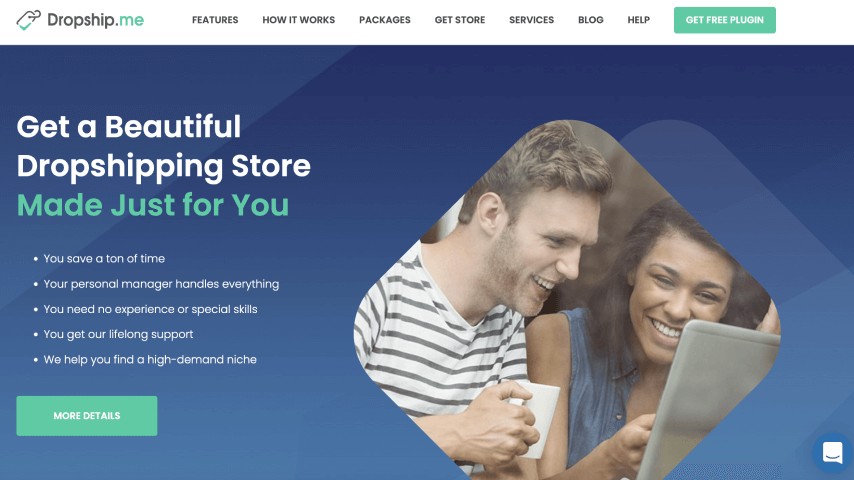 DropshipMe offers a freemium WordPress dropshipping plugin, several eCommerce and marketing apps, and a premium subscription to create a WooCommerce store, from niche research and SEO optimization to implementation and hosting.
The WooCommerce plugin imports curated products from AliExpress with the one-click import button but doesn't integrate or sync the eCommerce store in real-time.
DropshipMe reduces the research time, helping to find quality dropshipping suppliers and narrowing the search to the best products. In addition, DropshipMe guarantees good product descriptions in English.
The plugin makes it easy to edit product details before integrating and publishing them in the WooCommerce dropshipping store.
Other Features
Over 50,000 handpicked products from selected suppliers in AliExpress.
Price recommendations.
Import real customer reviews.
Lifetime 24/7 customer support.
Pricing
Up to 50 product imports – free
110 product imports – a one-time payment of $29.
700 product imports – a one-time payment of $119.
1,500 product imports – a one-time payment of $199.
Customized eCommerce stores – one-time payment from $299 to $899 plus one year of hosting by $48.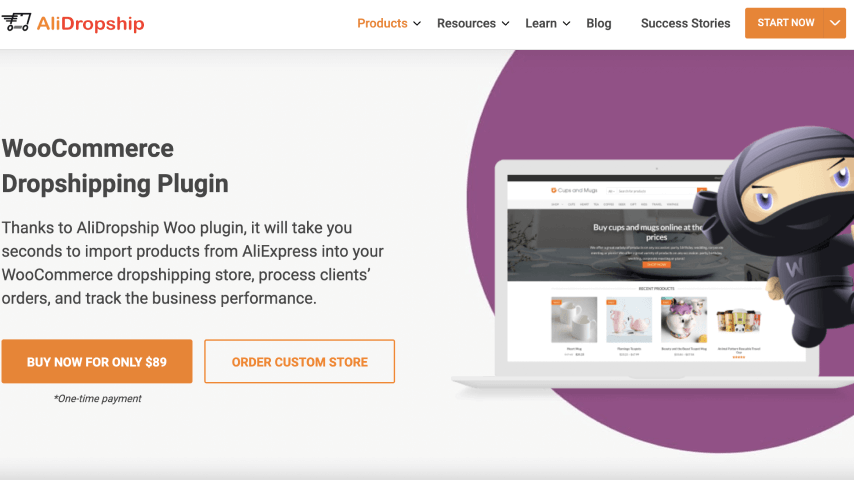 AliDropship is a feature-rich WooCommerce dropshipping plugin designed for AliExpress dropshipping.
It can be used with WooCommerce, or as a stand-alone plugin on a WordPress site.
The plugin imports products with a Chrome extension, which also works as a bulk import tool.
There's no limit to the number of imported dropshipping products and no additional fees as the number increases. Furthermore, merchants receive an 8% cash-back commission per sale made through the plugin.
AliDropship automates all the dropshipping processes, tracking the orders and sending notifications to the customers.
It works with ePacket, allowing fast shipping and tracking of products sent from China and Hong Kong worldwide.
Other Features
Built-in image editor.
Pricing automation for applying pre-determined formulas to product prices automatically.
Lifetime free updates and support.
Fully compatible with WooCommerce themes.
Pricing
Customized store building – one down payment from $299 to $899 plus one year of hosting for $48.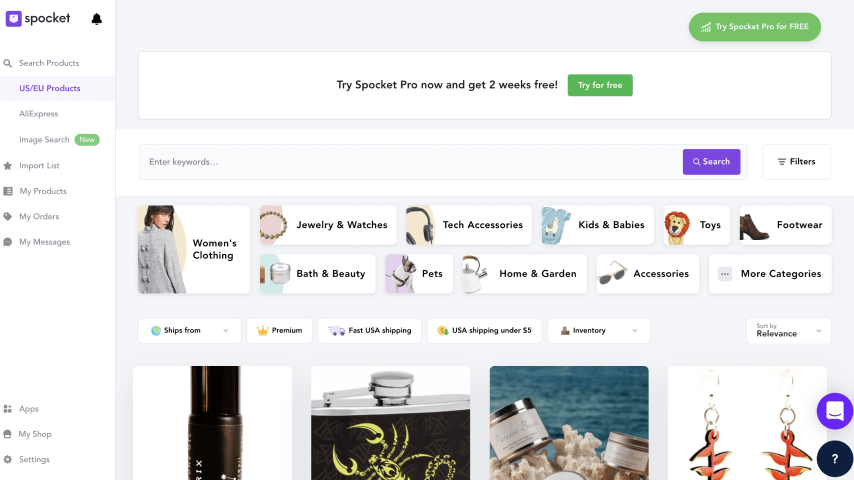 Spocket is a plugin focused on dropshipping suppliers from the US, EU, and the UK.
It's possible to import quality products from AliExpress by installing the free AliScrapper Chrome extension. Alibaba integration is also possible through an app.
The plugin gives access to over 10,000 products, and its paid Unicorn plan allows you to request products not already in Spocket. While there are several US and UK suppliers, many don't ship worldwide, and EU options would be recommended.
Filtering offers basic features like shipping destinations, cost, suppliers, and bestsellers.
Spocket offers reasonable rates to merchants, but since it's expensive and limited compared to other WooCommerce dropshipping plugins, it would only be profitable with a large number of sales.
Moreover, the plugin is recommended for merchants interested in emphasizing local suppliers or distancing their brands from Made in China labels.
Other Features
24/7 chat support.
Reasonable rates and profit margins.
Besides WooCommerce, Spocket connects with Shopify, BigCommerce, Wix, Squarespace, Ecwid, Square Online, and Felex.
Edge on internal markets in the US, UK, and EU.
Pricing
Starter – $12 billed monthly and up to 25 products.
Pro – $49 billed monthly, $24 per month if billed annually at $288. 250 products + 25 premium products.
Empire – $99 billed monthly, $57 per month if billed annually at $684. 10,000 products + 10,000 premium products.
Unicorn – $299 billed monthly, $79 per month if billed annually for $948. 10,000 products + 10,000 premium products, bulk checkout, and supplier sourcing.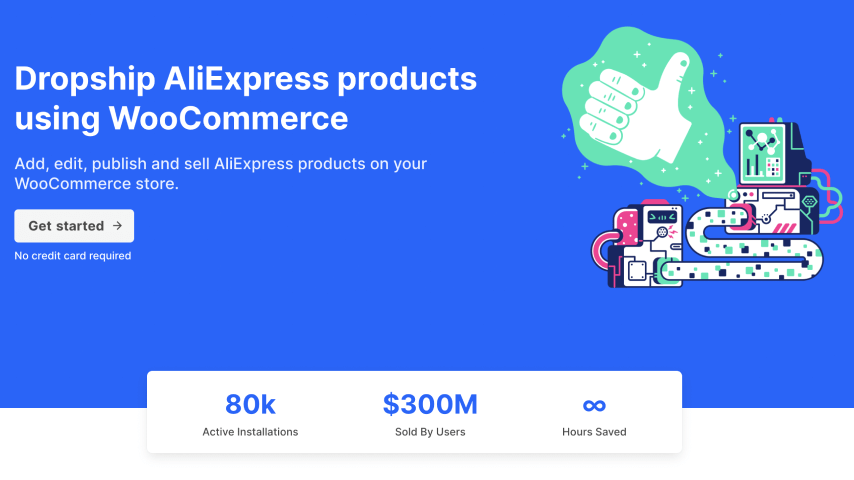 WooDropship is an affordable and straightforward WooCommerce dropshipping plugin. It works similarly to the other options available, but unlike AliDropship, it can be used only with WooCommerce installed.
Its Chrome extension allows importing AliExpress products while browsing and keeps them synced with the eCommerce store.
The dropshipping plugin offers several customization options and allows total control over the products, including titles, descriptions, prices, and product variations. A built-in editor allows customizing product photos.
Other Features
An unlimited number of products.
Unlimited orders.
Automatic order fulfillment.
Pricing
One-time payment of $49.
Customized store building – under consultation, starting from $199.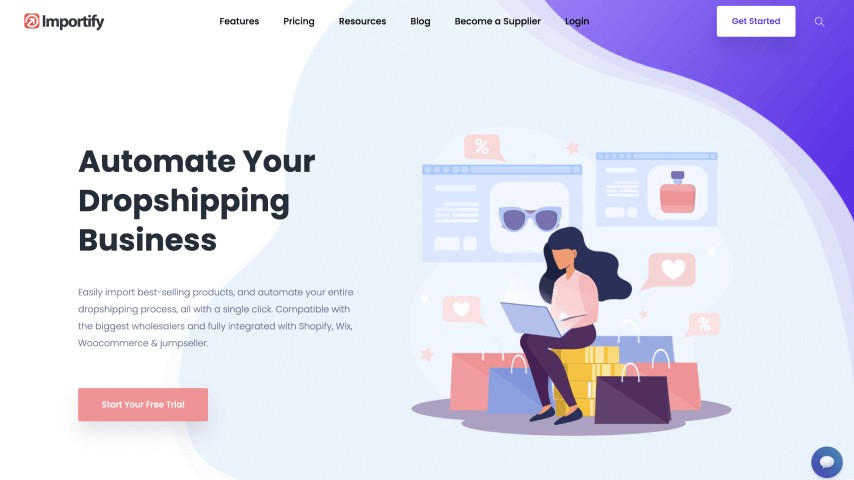 Importify is an affordable and quality option for WooCommerce dropshippers willing to go beyond AliExpress suppliers. The premium subscription service automates the dropshipping process, from adding products to shipping.
It allows importing unlimited products from more than 30 sources in addition to AliExpress and Alibaba, including Amazon, Walmart, Etsy, DHgate, Gearbest, Lazada, Shopee, Banggood, Taobao, and 1688.
Importify is a reliable tool to expand your network of dropshipping suppliers and sell products worldwide.
The Amazon importer function is available on the Premium and Gold plans, while semi-automatic order fulfillment for Aliexpress, Amazon, and DHgate is available only on the Gold plan.
Still, at a monthly $37.95, the most advanced Importify plan is more affordable than basic plans from other plugins offering less.
Other Features
Product research on Shopify stores for detecting bestsellers and trends.
Customization of products and pricing rules.
Easy replacement of suppliers and management of products on different platforms simultaneously.
Product auto-assignment to collections.
Chrome extension and one-click product import.
24/7 customer support via email.
Pricing
Basic – $14.95 monthly
Premium – $27.95 monthly
Gold – $37.95 monthly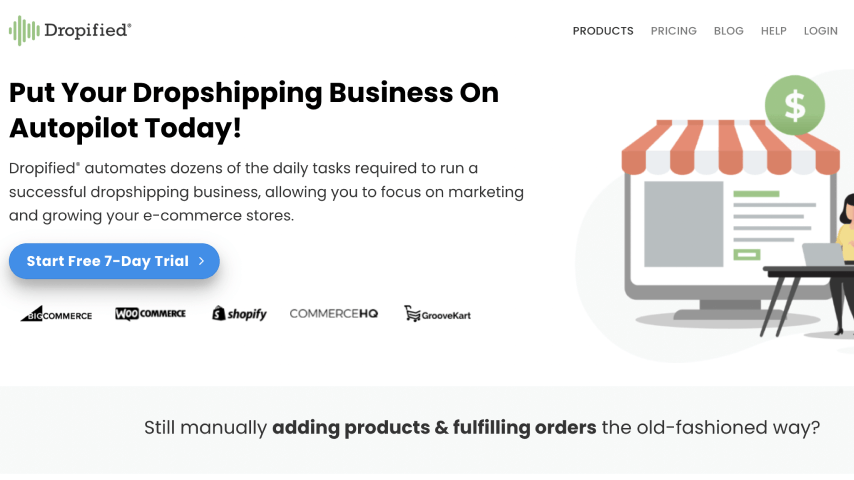 Dropified is another quality service offering a feature-rich WordPress dropshipping plugin under a monthly subscription.
Its refined search tools allow you to import curated products from popular WooCommerce dropshipping suppliers like Alibaba, AliExpress, Amazon, Costco, or even from a local dropshipping supplier.
The subscription allows selling products in the Facebook Marketplace and includes a 60-day eCommerce training and marketing tools.
Dropified is slightly more expensive than other options from our list but offers solid features worth considering while building your WooCommerce dropshipping business.
Other Features
Unlimited products and user accounts.
Automatic tracking and synchronization of products and shipping.
Youzign image studio.
Marketing and research suites, including an Ad Design studio.
Import real product reviews directly from AliExpress products.
Cash-back program with Admitad and no transaction fees.
Customer support with a promised response time of four minutes.
Pricing
Retro plan – $47 monthly, $39.17 per month if paid annually. Up to 25 stores.
Additional stores per consulting, up to $197 monthly.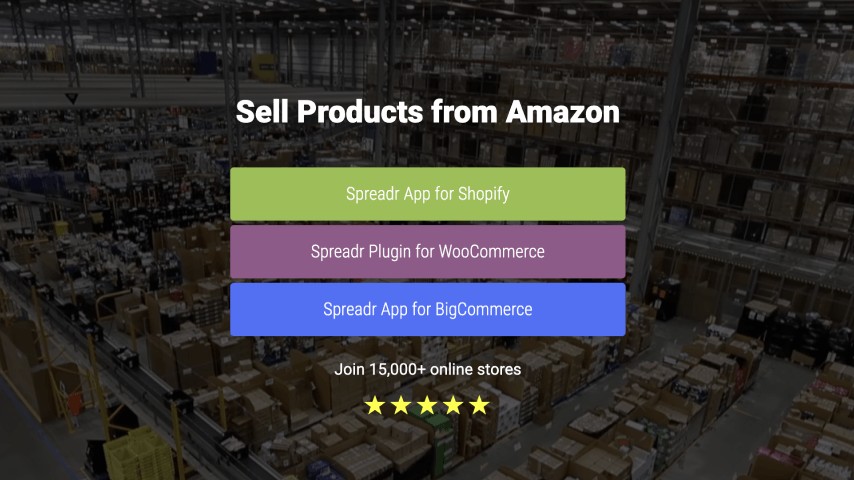 Spreadr is a premium plugin specialized in dropshipping with Amazon. The developers also offer plugins for connecting other eCommerce platforms.
The WooCommerce dropshipping plugin implements full integration with Amazon and requires an Amazon affiliate ID. It's possible to import affiliate products for dropshipping or create affiliate sites.
With all functionalities available in the $12 Pro plan, Spreadr is a very affordable solution for those interested in the Amazon ecosystem.
The plugin doesn't import products from AliExpress or other dropshipping suppliers but delivers what it promises – a professional and solid Amazon solution.
Installing the plugin may require technical expertise, as it must be downloaded and installed manually.
Other Features
Unlimited product import and bulk import tool.
Real indexable product pages and raw Amazon affiliate links.
Setup of pricing rules.
Merchants keep 100% of the commissions.
The following features are available in all plans, except the Basic:
Auto-sync products.
Geo-localization.
Analytics.
Amazon customer reviews.
Pricing
Basic – $6. No auto-sync products.
Pro – $12. Auto-sync of 1,000 products.
Gold – $20. Auto-sync of 3,000 products.
Super – $35. Auto-sync of 10,000 products.
Jumbo – $60. Auto-sync of 50,000 products.
Why Is It a Good Idea to Start Dropshipping?
In addition to the benefits you already know, consider the following factors to keep you motivated:
Flexibility and Freedom
The dropshipping business model allows you to work and manage a store from anywhere, anytime. It also makes it possible to partner with several manufacturers and suppliers.
Solid Tools and Developed Ecosystem
There are now more and better tools for dropshipping than ever. Automating and simplifying all dropshipping steps with consistency and flexibility is possible.
Outsourcing products from wholesale suppliers, POD for merch customization, payment options, shipping automation, marketing – all website builders and eCommerce suites, especially WooCommerce, offer plugins or apps for managing everything without hassle.
Increased Dependency on Smartphones, Social Networks, and eCommerce Among All Ages
Mobile devices and social network usage have grown even among the older generations. An individual's time on social media has increased to more than two hours daily.
All age groups are dependent on mobile devices for tackling everyday tasks, including shopping, which increases demand, reach, and success chances for dropshipping services.
Leveling the Odds
eCommerce with dropshipping is available to anyone, regardless of income, social group, gender, religion, or ethnicity.
You don't need supporters or a huge upfront investment to begin. The business method makes it possible to overcome traditional limitations and profit, whoever you are.
Wrapping Up
Dropshipping with WooCommerce is the smarter way to profit with eCommerce, allying one of the best platforms to the effectiveness of the dropshipping business model.
You've been acquainted with WordPress dropshipping plugins and can find quality suppliers worldwide and connect them with your eCommerce store.
Now it's up to you. Choose which one is the best WooCommerce dropshipping plugin for your store and start earning passive income.
Start Making Money Today!
The post Top 8 WooCommerce Dropshipping Tools to Use in 2022 appeared first on Printify.