We're getting closer to longer and warmer days, which means it's time to get your summer item designs in order! Packing your catalog with equal parts of trendy and evergreen products will ensure a steady trickle of sales throughout the season. The 15 best products to sell in the summer season are… drumroll please!
Products in high demand right now
For summer 2021, you can start off by picking some (or all!) of the items from our top-selling summer products to kick off your best season yet.
This sleeveless, summer-ready tank top from Bella+Canvas can easily become your seasonal bestseller. From hitting the gym to casually enjoy a walk in the park, these tank tops are a versatile wardrobe must. With the right color and a feel-good design, this tank can become your store's hottest summer product.
If you want to appeal specifically to men, we highly recommend our men's ultra cotton tank top by Gildan – a combo of both comfort and style.
For women, we cannot recommend enough the Bella+Canvas 8803 flowy scoop muscle tank, a tank top that was simply born for hot summer days.
Next up in our list is a summer item that is a certified beach essential; the beach towel. This soft towel lends itself beautifully to colorful, vivid designs. Leveraging the latest trends and colors gives it the potential to become an irresistible, sales-boosting addition to any store.
Love 'em or hate 'em but we simply cannot live in summer without them. One of the most popular trending summer items to sell, the flip-flops is a great upsell tool with the right unisex designs. It's also a wardrobe centerpiece for newlyweds, and free-spirited beach revelers.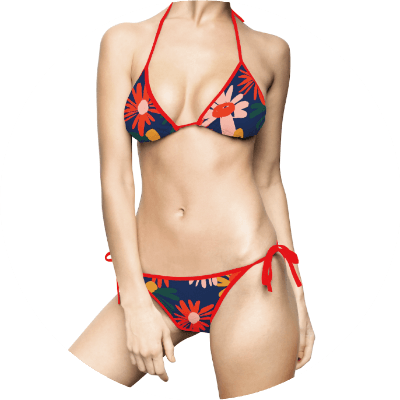 Of course, no "Products that Sell the Most" list would be complete without women's bikini swimsuits. A staple in women's summer clothing roster, these two-piece swimsuits can accommodate all-over-prints along with your brand's logo. This summer essential can be rocked by the pool or turn heads by the sea- either way, it's a must-have for your summer product catalog.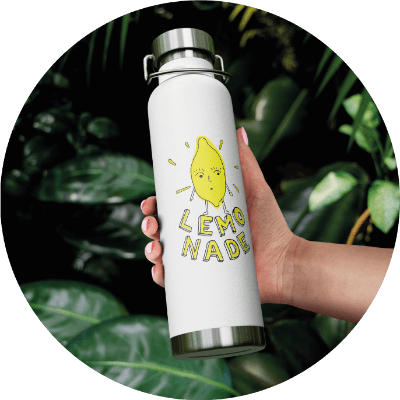 A rising star among summer products that sell the most is the insulated water bottle. With hydration being on the top of our to-do list, funky water bottle designs are a great hit with all ages. This 22 Oz stainless steel bottle is not only good for the planet but with the right design, which could be excellent for your revenue too.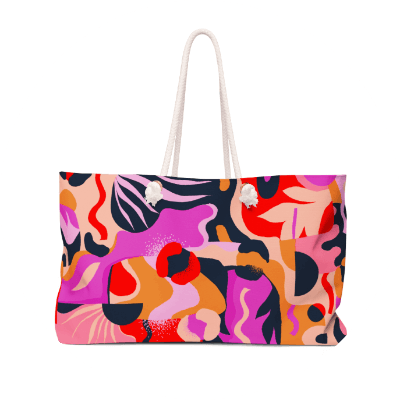 No beach getaway is complete without the right bag to carry your summer products. Next up in our summer best-sellers is the weekender bag; A chic, spacious bag that can accommodate all-over-prints and brand logos. Looking like a tote's larger, cooler cousin, this weekender bag will become an instant-hit with your audience. All you need to do is place your cool designs & hit publish!
For years, fanny packs have been hugely under-appreciated because of their nerdy looks, but they are finally receiving their well-deserved respect and admiration. Especially, if you can have complete artistic freedom and customize your brand new fanny pack to match your t-shirts, leggings and more!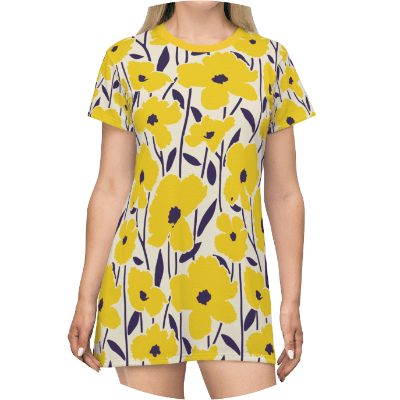 These effortless summer dresses are one of the most demanding products – every year, without fail. Go formal or take a more laidback approach, either way, t-shirt dresses are here to stay. Perfect for brunch with friends or enjoying the long summer nights, there is a style for every occasion. Get creative with the all-over-print design and give your store the ultimate summer vibe.
A must-have summer accessory, from a day at the beach to keeping it low-key during your grocery shopping, a twill hat could be the final part of your summer outfit. Practical and fashionable, we like that combination. These summer hats' charm lies with the fact that they are embroidered with your custom designs – not just printed. This gives it an amazing feel of authenticity and extra value that will never go underappreciated.
Spiral notebooks could be that underdog of a summer product that performs majestically for your store, should you set it up ahead of time. The reason for this pick is of course the "Back to School" period when all students and parents are stocking up in school supplies. Having print providers for this notebook in both the USA and the EU, also allows you to target both continents at the same time, and increase your profitability.
Custom T-shirts are the bread and butter of summer clothing and within our catalog you can find a multitude of AOP t-shirt options. These 100% polyester cut & sew tees are the perfect choice for both men and women as they are highly versatile, breathable and absolutely comfortable. Of course, with their all-over-print capability, these tees lend themselves perfectly to large, vivid summer designs with vibrant colors.
The backpacker's delight. No camping trip or weekend escape to the beach can be complete without an enamel mug. Making its way into our best-summer-products-to-sell list of 2021, enamel mugs are a versatile, all-year round best-seller. This lightweight stainless steel camping mug can accommodate 12 oz of your finest pick-me-up juice and features rounded corners with a c-handle. An all-in-all adventurer's must-have for both winter and summer.
Custom wine tumblers are a summer essential for adults who love their wine just how they like their mood after a long summer day; chilled. With a double-insulated stainless steel build, this tumbler will keep 12 Oz your finest Chardonnay refreshingly cool. Place your own, full-color printing, and watch adults rave over your products.
And the award for cutest summer product to sell goes of course to our pet bandana. This super soft-spun polyester bandana is a pet-owner favorite. Available in a 25" by 12" size, you can place your pet-friendly designs and help pet papas and mamas express their pet's personality.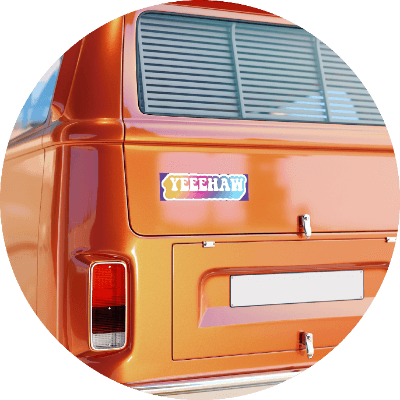 People simply love expressing themselves. From funny slogans and flags to supporting various causes or being proud parents – there's a bumper sticker for everything under the sun. These stickers are highly resilient and can resist sunlight, scratching, and water damage; pair that with their low production cost and it's a foolproof summer product to sell.
Found what you were looking for?
How to determine the price of your summer products?
When determining the price of your summer items, you should consider a number of important factors. First of all, study the market and figure out what your competitors are charging for similar products – a quick browse on Etsy or eBay will give you a pretty accurate range for every product.
Then you should also think about whether you want to cost your products based on the value customers attach to them or based on the costs to produce them – the stronger your brand, the higher perception of the value will be. Another obvious aspect to consider is costs – make sure you work out all direct and indirect costs related to getting the product on the catalog.
This can involve design costs, shipping, marketing and so on. Finally, keep a close eye on the market. Sometimes, merchants can get away with charging much higher prices for emerging trends or time-sensitive products, such as potential Father's Day gifts or seasonal merchandise.
How to keep your finger on the fashion pulse?
Stay ahead of the curve
Summer brings easy-going vibes and the burning desire to pack your wardrobe with colors and designs that instantly spark joy. But how can you know what's trendy and what's so "yesteryear"?
By keeping an eye on what the influencers, Instagrammers, and fashion giants are posting on their feeds. The greatest inspiration can be found online if you know where to look, and we've got the inside scoop.
Instagram
This is a treasure trove of inspiration because that's exactly where your customers hang out, like, and watch their favorite fashion icons present the latest trends. You can't go wrong by following a few influencers, fashion brands and magazines to get the latest scoop on what's hot.
Summer hashtags to follow and use:
#springsummer2021
#summer2021
#summerstyle
#summeroutfit
#summervibes
#summerdress
#summer2021
#summergoals
#springwatch
#springfashion
#springoutfit
Make sure to also have a look at what your competitors are doing. The best way to stay ahead is by being in the know. So get yourself online, and keep an eye on what colors and designs are getting the most likes.
Hottest Summer Trends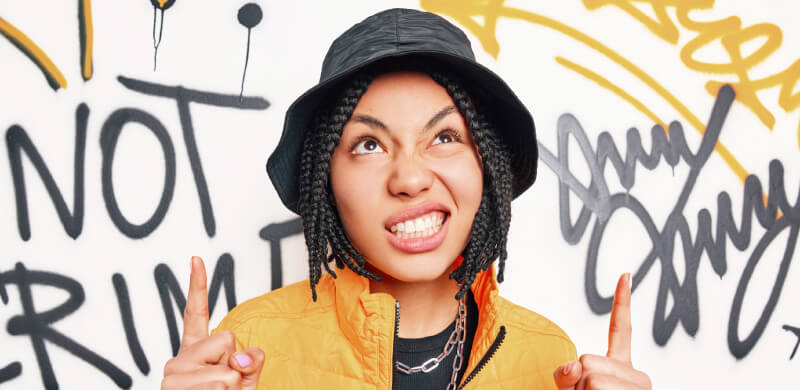 Color guide for 2021 – hope & togetherness after the storm
With this year being the emotional equivalent of a rollercoaster ride, it's no wonder that the "Pantone Institute 2021 Color of the Year" is meant to represent Hope & Stability. The "Illuminating Yellow" (13-0647) and the "Ultimate Gray" (17-5104) signify the sunshine that breaks free from dreary clouds.
While only a forecast of trends to come, these choices ring true across catwalks and real life, with bright yellow hues starring this year's runways. The list of colors continues with grounded entries like Sky Blue, Pumpkin Orange, Mint Green, Buttercream, Hot Pink, and Cherry Red – almost a natural continuation – or rather expansion – of the earthy Terracotta reds that reigned supreme in last year's season.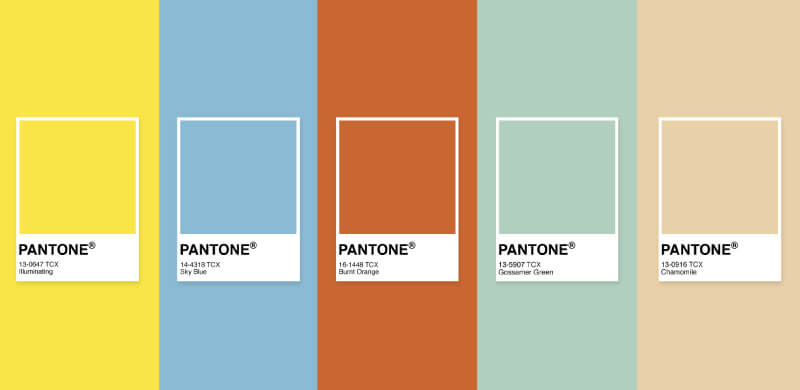 From the 80s onto the 90s – GenZ's Y2K Aesthetic
Of course, a surefire way to get noticed by GenZ, is to follow their journey from the 80s on to the 90s.
2020 was all about retro-fueled A E S T H E T I C S that drew from the unmistaken vintage flair of the 80s. Vaporwave, as it later became known, started as a joke – purposefully bad memes that mocked everything 80s – and slowly gained popularity as it seeped into mainstream culture. Influencing music, fashion, and influencers, this fashion craze appealed to teens who were quick to adopt it and turn it into a global phenomenon.
Naturally, just like the 80s were followed by the 90s, the Vaporwave movement is now slowly being replaced by the Y2K wave. Named after the world's probably biggest conspiracy hoax, the Y2K bug, this wave draws from the bubblegum aesthetic of the late 90s – think Aqua's Barbie Girl, Shaggy, Dr. Dre, NSYNC, Britney, or Aguilera.
What does this practically mean for you? It means that Generation Z will soon be running on chunky sneakers, black platform slides, low-waist wide jeans, chrome jackets, bandanas, pleated skirts, baby tees, and velour tracksuits – our advice? Make it comfy, make it chrome, make it pink, or futuristic.
Still not sure? Just ask yourself whether that fashion item would be Spice Girl Approved.
On the honorable-mention side of things, do not forget about Goth, Acid House, and tie-die.
These anti-conformist, DIY trends still thrive among a small yet highly devoted fan base that would pay much more to get their hands on niche products.
It's all-natural. Abstract floral motifs take the charge this season with tie-dye, acid house, animal skin, and abstract paint patterns following up. That is of course amazing news for merchants because it means you can customize shirts, dresses, swimsuits, and tote bags with easy-to-make designs.
Unleash your vectors and drop shadows to create designs of branches, flowers, plants, or roses and you simply can do no wrong. Opting for lush floral patterns, skin-like textures that draw from cultural heritages, tropical flora or exotic botanicals is the way to go. Add the still lingering Retro Bloom movement that includes slogans and graphic designs, and you have a recipe for success in your hand.
The great thing about the aforementioned trends is that they're really easy to design and to also apply on multiple products. Whether it's towels, t-shirts, flip-flops, tote bags, or sundresses it's all easy as long as you keep it fresh.
Remember, summer is all about openness and having a good time – also, flamingos are still a thing.

Marketing Tips
Prep in advance
Like with any seasonal marketing strategy, you should start early. Get to know what people are searching for and when with Google Trends. Check out Keyword Planner to find the summer products that sell the most, and use that to inform your tags, titles and product descriptions.
Tap into summer holidays
We might not be able to attend festivals any time soon, but people do like to celebrate in small circles during key summer holidays. Be it Independence Day on the 4th of July, Father's Day, Summer Break, First Day of School in September – there's a lot of promotions you can implement to help your customers celebrate.
Social proof your designs
Stay active on social media, especially on Instagram. People shop with their eyes, and if they see your products on happy smiling customers they'll be more likely to buy.
In fact, 70% of customers will trust a recommendation from someone they don't know, so get engaging with your audience.
Key takeaways?
Rule number one is to keep your eyes peeled for emerging summer trends and start preparing early. Whether you're relying on Instagram influencers and fashion magazines to find those new hot trends for you or feel comfortable designing your own concepts based on popular themes (colors, characters, typography, etc), building your summer product catalog long before the festival season opens is the only way to stay ahead of the curve.
And finally, keep in mind that the best strategy for maintaining steady sales throughout summer is to offer both trendy as well as essential summer items. So that even though we can't go to festivals, we can find a decent tank top to wear on a sunny day.
Make it happen today!
The post Top 15 summer products to sell in 2021 appeared first on Printify.
Please follow and like us: