All successful Shopify stores have one thing in common – as soon as the storefront loads, it leaves a great first impression. Usually, it takes around 0.05 seconds for people to decide whether they like a site or not.
With a variety of stores to choose from, people will pick the one that has a uniquely designed Shopify website, provides a smooth customer experience, and earns their trust with a powerful yet subtle marketing strategy.
Whenever you're building a store, you're also building a brand. Start with your digital storefront if you want your brand identity to stand out from the crowd.
In this article, we'll look at successful Shopify stores, explore what makes them great and how they turn visitors into loyal customers.
With the help of this information, you'll gain inspiration to build your own Shopify store that attracts potential customers, guides them through your store, and makes you money.
Shopify Success Stories: Examples, Ideas, and Inspiration
With the worldwide retail eCommerce sales forecast to reach 7.4 trillion U.S. dollars by 2025, selling online is a big business. Without a doubt, Shopify plays an important part in all of it.
Sure, there is a lot of growth, demand, and opportunity, but how do you stand out among the competition? Well, the first step is to identify the most successful Shopify stores and learn from their experience.
A myriad of factors can influence whether a Shopify store is successful. Nevertheless, what works for one online store may not work for another – it's important to understand your target audience, ascertain their preferences, and tailor the store to their liking.
After exploring these Shopify store examples, you'll gain insight into how design, features, and marketing efforts contribute to their success, so you can build, or improve, your own Shopify store to gain more customers, boost sales, and skyrocket your profits.
Start Your Own Print-On-Demand Business Today!
Cettire is an eCommerce store that positions itself as the go-to destination for luxury fashion.
They sell clothing and accessories for men, women, and children. Cettire offers a wide variety of world-renowned brands, including Prada, Gucci, Saint Laurent, Valentino, and many others.
What makes this a great Shopify store example?
Seamless customer experience. Easy to navigate, fully responsive, and neatly designed.
Stunning imagery. With high-quality product images, Cettire leaves a professional impression.
Free shipping. If the order exceeds $250, Cettire ships your orders free of charge.
With carefully selected products, popular brands, and professional product pages, their website makes shopping a pleasant experience rather than a chore. In short, it's one of the best Shopify store examples around.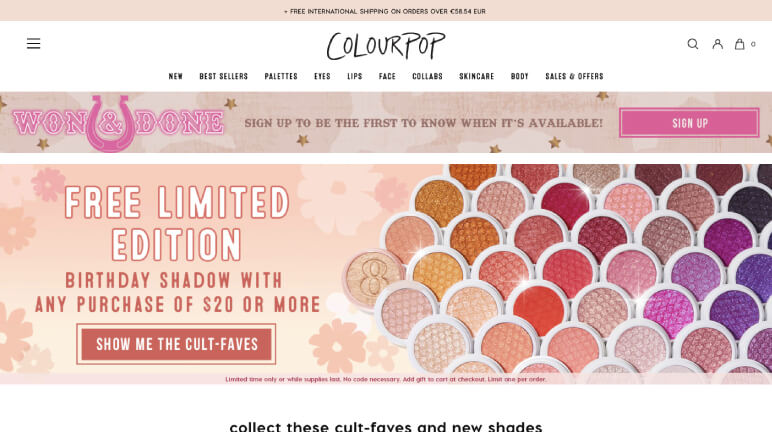 ColourPop is a beauty and makeup brand that was born, raised, and made with love, in California. The company is 100% fur baby friendly, bunny approved, and cruelty-free – they pride themselves on testing their products on people, not animals.
The company sells a wide variety of high-quality, ahead-of-trend cosmetic products at affordable prices.
What makes this a great Shopify store example?
Social proof. By harnessing the power of social media and collaborating with Youtube and Instagram influencers, Colourpop has cultivated quite a following.
Shopify Plus. To make sure their eCommerce store is always performing, the company has invested in Shopify Plus, which offers unlimited bandwidth and more.
Cozy-colored store. With bright colors, informative product pages, and neat product thumbnails, their Shopify store leaves a stunning and professional first impression.
Colourpop is one of the most popular Shopify stores on the internet. Although plenty more could be said, its design and success speak for themselves.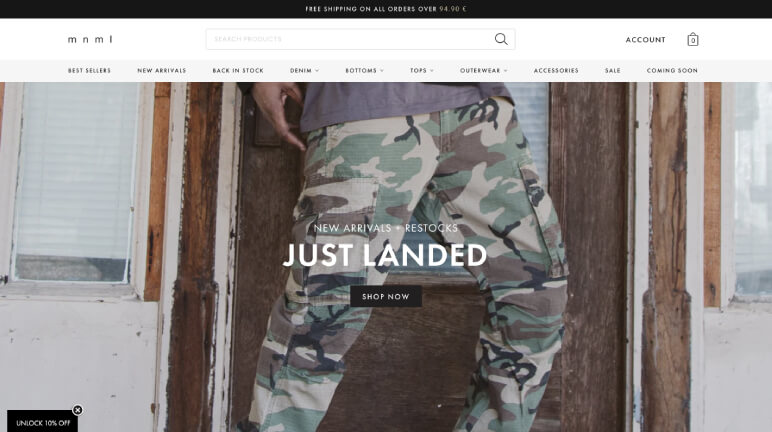 Mnml is an online-only clothing company. By doing so, they avoid large markups that are associated with traditional retail. They have quickly become one of the most recognizable brands in streetwear fashion.
They offer a wide array of products with progressive designs – t-shirts, hoodies, outerwear, accessories, and more.
Mnml has built a neatly organized store that's perfect for selling a wide range of products. In short, it's one of the best online stores for clothing.
Make Your Own Custom Clothing Today!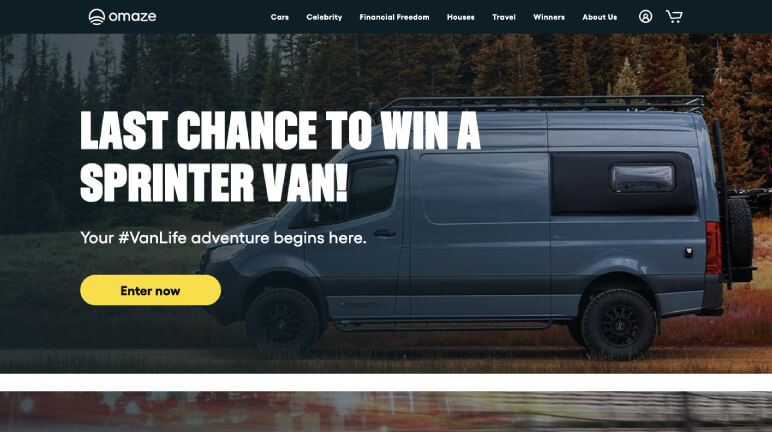 Omaze is a privately owned, for-profit fundraising company that partners with charities in various fundraising events. Since its launch in 2012, the company has raised over $130 million for over 350 charities.
They offer the chance to win big prizes while empowering world-changing nonprofit organizations.
Let's see what makes their Shopify store great.
Beautiful imagery. Their Shopify store is filled with professional, high-resolution images of their prizes, enticing customers to explore every corner of their website.
Orderly design. With a neatly laid-out design, the site welcomes visitors with exciting, life-changing prizes, encouraging them to dream big.
Social proof. The bottom of the homepage features trust badges from Wall Street Journal, Fast Company, Los Angeles Times, and People, emphasizing its reputation for excellence.
Unlike other Shopify stores, which sell common and widespread products, Omaze offers something absolutely different, unique, and special.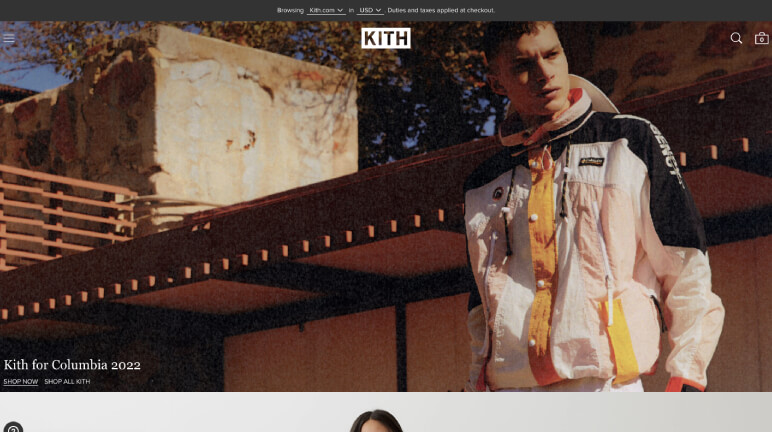 Kith is a popular eCommerce brand that offers some of the finest clothing. With seven brick-and-mortar locations, the company has always pushed the boundaries to deliver a unique customer experience and give them more than what they pay for.
They sell stylish clothing for men, women, and children.
Their website is modern and simple, filled with high-quality product images and discrete menus. With a special "Content" section, Kith masterfully showcases its brand value by featuring lookbooks, interviews, and campaigns.
As one of the top Shopify stores, Kith is an excellent example worthy of your attention.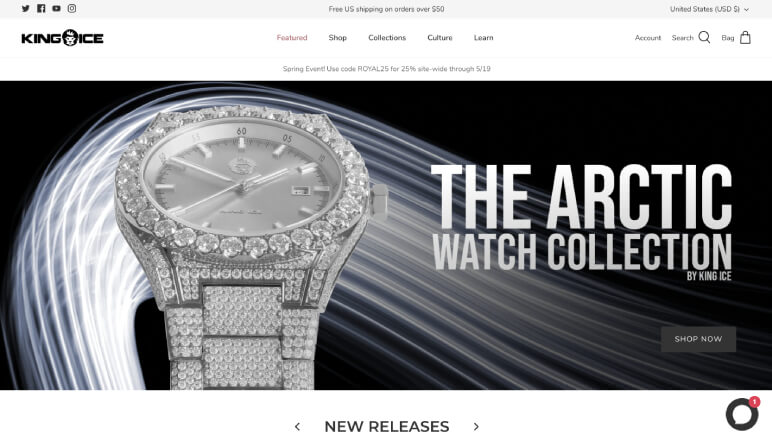 King Ice is a Shopify store that specializes exclusively in hip-hop and rap jewelry inspired by urban culture.
They sell a wide variety of hip-hop accessories – streetwear jewelry, chains, bling earrings, bracelets, pendants, watches, and more.
What makes this Shopify store a good example?
Well-defined niche. By choosing a very specific niche, King Ice has become one of the best Shopify stores for hip-hop jewelry.
Modern design. With a well-thought-out design, high-quality images, and excellent product descriptions, it's easy to see why their store has gained so much popularity.
Social proof. With Snoop Dogg as a staunch supporter since 2012, partnerships with Sony Playstation, and Microsoft Xbox, social proof is not a problem for King Ice.
In short, it's one of the best Shopify stores for rappers and hip-hop enthusiasts looking to update their bling.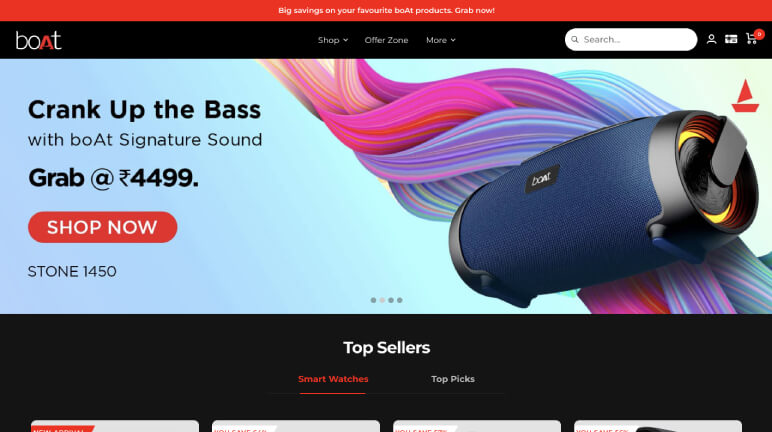 boAt Lifestyle is a consumer electronics brand started in 2016 that creates aesthetically pleasing products.
The company sells a wide range of wireless earphones, earbuds, headphones, smart watches, mobile accessories, and home audio systems.
With its uncluttered interface, the company has done everything to provide a smooth customer experience. boAt Lifestyle's website is highly responsive, orderly designed, and easy to navigate via various collections with thumbnail images.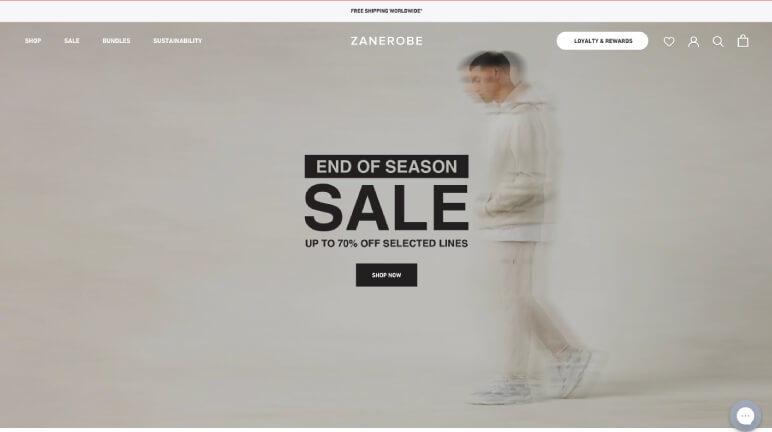 ZANEROBE is a company with a passion for men's fashion and streetwear. The company's not swayed by short-run trends and offers products designed with longevity in mind.
They sell a wide variety of t-shirts, sweaters, shorts, joggers, jackets, and various accessories.
Why is this Shopify store such a big deal?
Professional imagery. In web design, imagery is the first thing customers notice. With a variety of professional images, ZANEROBE leaves a great first impression.
Free of clutter. With an orderly design, following the principles of less is more, the company's store is visually appealing, easy to navigate, and neatly organized.
Excellent customer service. By putting their customers first, their brand has become a true eCommerce success story.
When it comes to appearance, customer satisfaction, and quality, ZANEROBE is one of the top Shopify stores you should definitely check out.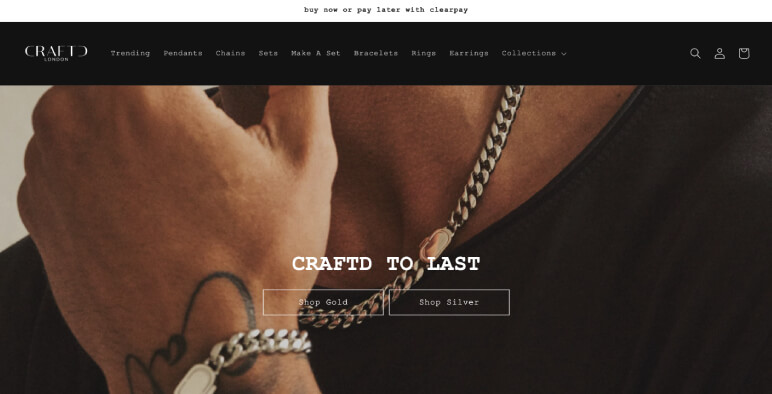 With quality at the heart of their business, CRAFTD is a premium jewelry brand that sells pieces built to last. With customers from all over the world, their online store has gained quite some popularity.
They offer a wide variety of rings, chains, earrings, pendants, and bracelets in distinct designs that stand out from the competition.
Their Shopify site features a minimalist vibe, only showcasing three collections – "New In", "Shop Gold", "Shop Silver" – and some trending products.
With a dedicated section for customer reviews and user-generated content, it's clear that CRAFTD truly cares about the quality of its products.
By offering a lifetime guarantee on their jewelry, the company continues to persuade customers from all over the world to buy from them.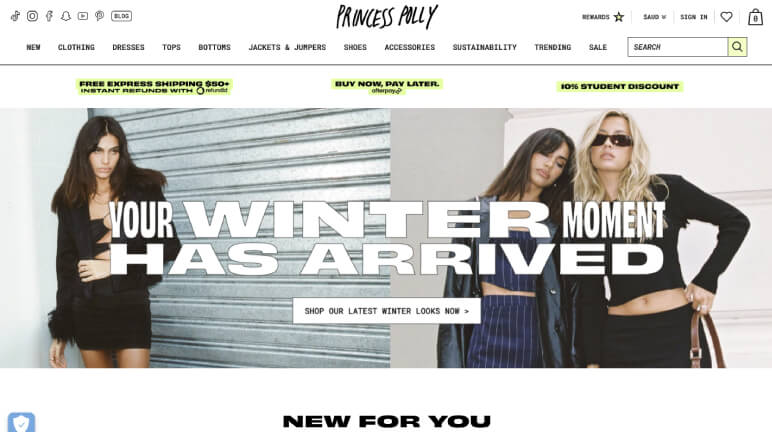 Princess Polly is an online store that's consistent in delivering fashionable, celebrity-worthy, and Instagram-ready clothes. With new styles added several times a week, it's clear to see why their Shopify site is so popular.
They sell a wide array of on-trend dresses, tops, jackets, jumpers, and other apparel.
Princess Polly is an inspiration for aspiring entrepreneurs with larger budgets, creating a good example of how to organize and offer a wide range of different products.
Neatly organized. With the help of sticky navigation, visitors can easily access different collections and explore their bestsellers through well-curated image galleries.
Shop by influencer. By leveraging the power of influencer marketing and user-generated content, Princess Polly encourages its customers to shop the look of influencers showcased on their homepage.
Customer reviews. The customer reviews under their products shows that they care about their customer's opinion.
In short, it's one of the best Shopify stores for fashion-conscious consumers looking to update their wardrobe, fill it with new colors, and keep it looking fresh.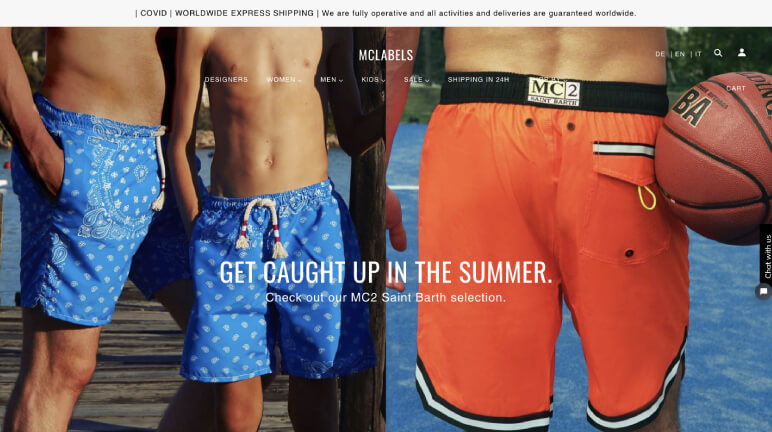 MCLabels is one of the most successful online retailers of men's and women's luxury fashion. They showcase up-and-coming designers alongside already established careers.
They offer a wide variety of must-have designer clothes, shoes, bags, and accessories for men, women, and children.
Their Shopify site features a minimalist vibe with high-quality images showcasing their products. With its well-thought-out design, its online store is highly responsive, allowing seamless browsing on a mobile device.
As a top Shopify store, MCLabels is an excellent example of how to build a professional-looking website that's easy to navigate and provides a smooth browsing experience.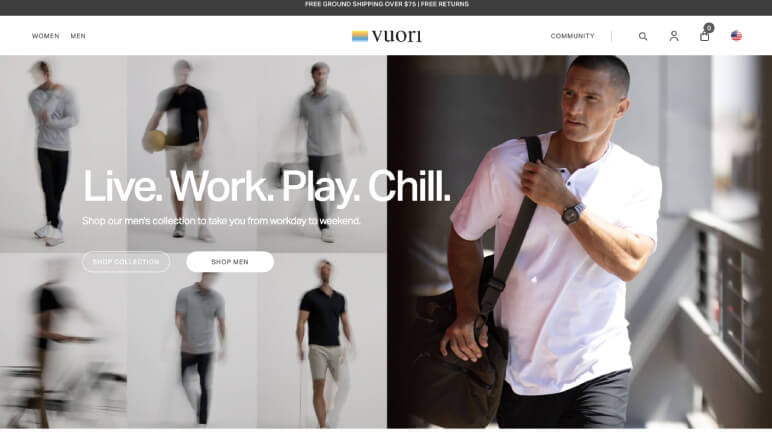 Vuori Clothing is an active lifestyle brand. Their apparel is built to move in, specifically designed for performance.
They sell a wide variety of fitness apparel and clothing – short sleeve tees, tank tops, hoodies, shorts, and various accessories – inspired by the California lifestyle.
Wealth of content. The site features high-quality photography, well-crafted product descriptions, and an array of product collections.
Shop by activity. A very simple yet extremely efficient way to categorize products. Choose between "Training", "Running", "Swim", "Yoga", and "Travel".
Minimalistic design. By avoiding clutter, their Shopify store makes sure that visitors focus only on the most important thing – their high-quality products.
With several physical stores across the United States, Vuori's online store mirrors their minimalistic yet elegant design, capturing potential customers' attention from the very first glimpse.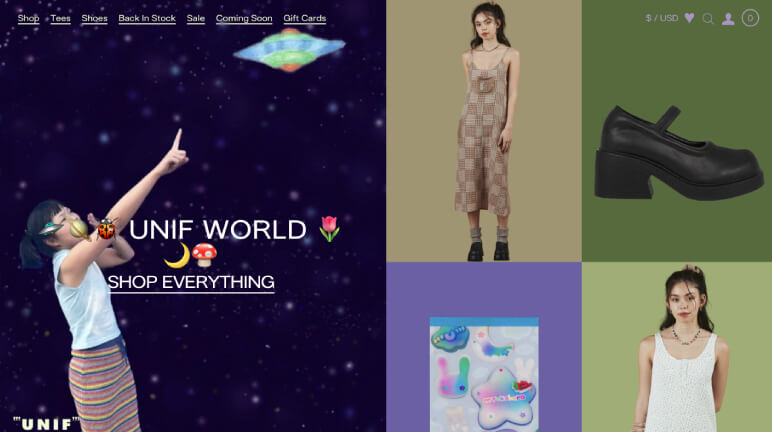 Although there are many successful Shopify stores selling clothing, UNIF stands out due to its unique style and concept – they offer streetwear pieces inspired by trends from the 90s.
They sell a wide range of tops, dresses, sweaters, jackets, shoes, and various accessories.
Their Shopify store's website reinforces the brand's 90s style, displaying their products with beautiful imagery as soon as the site loads.
With a design that's easy to navigate, fully responsive, and neatly organized, UNIF allows their visitors to quickly find what they are looking for.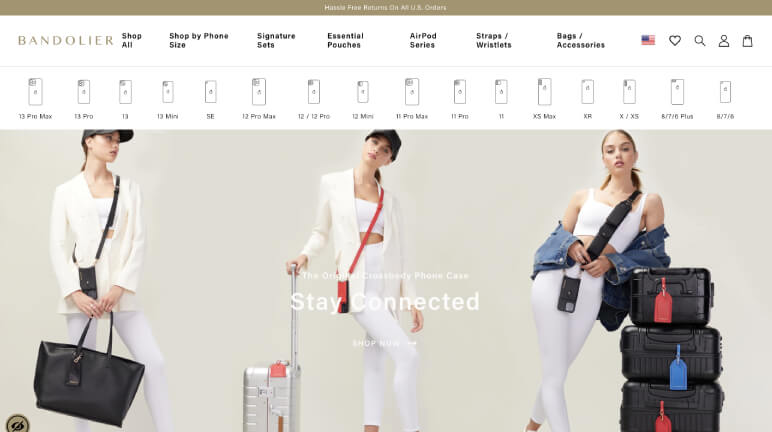 Bandolier is a brand that specializes in luxury, cross-body phone cases, featuring additional pockets for credit cards and cash.
They offer a wide variety of original phone cases and accessories for various models of iPhones.
By focusing on details, Bandolier has become one of the most successful stores around.
Neatly designed. With a well-thought-out layout and navigational structure, their website leaves a stunning first impression. Their storefront is simple, functional, and visually appealing.
Shop by iPhone size. By displaying the iPhone sizes on the top of the homepage, visitors can quickly find the right product for their smartphone.
High-quality images. The store features high-resolution product photography, allowing potential customers to explore their products in detail.
Over the years, a large number of businesses have gained success using the Shopify platform, and Bandolier is one of them.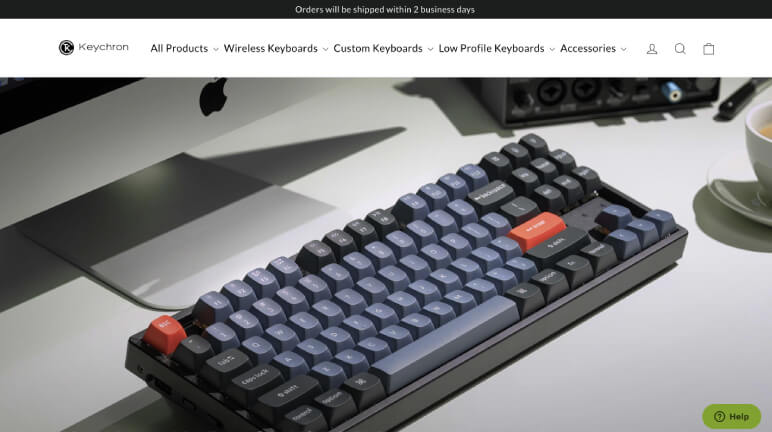 Keychron is a brand formed in 2017 by a group of designers, marketers, and production experts with a shared passion for keyboards. With extensive experience in the field, the group dedicated themselves to creating the most sophisticated mechanical keyboards.
They sell a wide variety of mechanical keyboards, mice, and other accessories.
With minimalism in mind, their Shopify shop is easy on the eyes and helps visitors to quickly find what they are searching for.
If you're looking for inspirational eCommerce websites, Keychron is definitely worth exploring.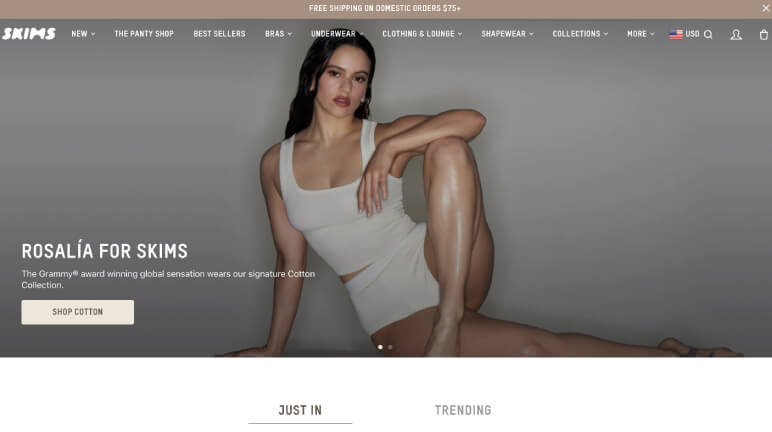 SKIMS is a shapewear brand that creates the next generation underwear. With a goal to consistently innovate, the company is setting new standards and providing size-inclusive solutions.
They sell a wide variety of underwear, loungewear, and shapewear.
With its uncluttered interface, slide-down menus, and a full-width banner image leading to its Instagram feed, SKIMS has done everything to provide a great customer experience.
Professional design. Their website is built with a sleek design – the layout is clear and on-point, adding to its professional feel.
Easy navigation. With the help of sticky navigation, customers can quickly access different categories and explore bestsellers.
Fully responsive. Whether you're browsing on a desktop, smartphone, or tablet, the store displays well.
With its clear navigation, unique style, and consistent color theme, the Shopify website makes shopping a smooth, effortless, and enjoyable experience.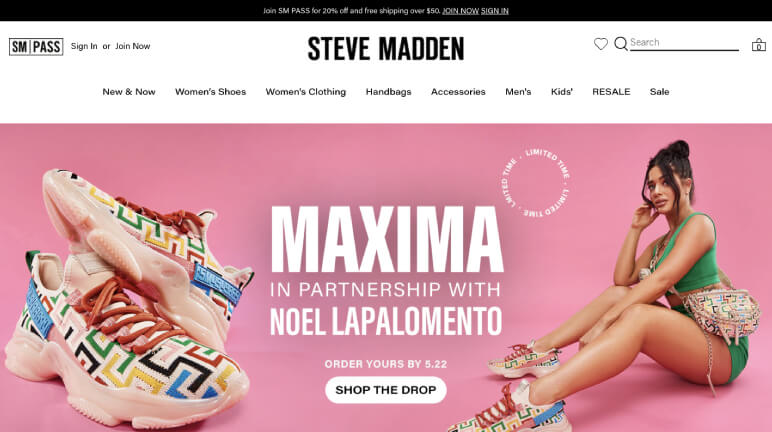 Steve Madden is a lifestyle company and one of the most successful Shopify stores in the world.
They sell a wide variety of shoes, handbags, apparel, and other accessories that are colorful, fresh, and trendy.
Their neatly designed Shopify website is modern, easy to navigate, and mobile-friendly. As soon as the Shopify shop loads, it begins to showcase the latest collections and products with beautiful imagery.
Steve Madden is one of the best eCommerce stores on the internet. By embedding an Instagram feed, the company's homepage provides plenty of shopping ideas for potential customers.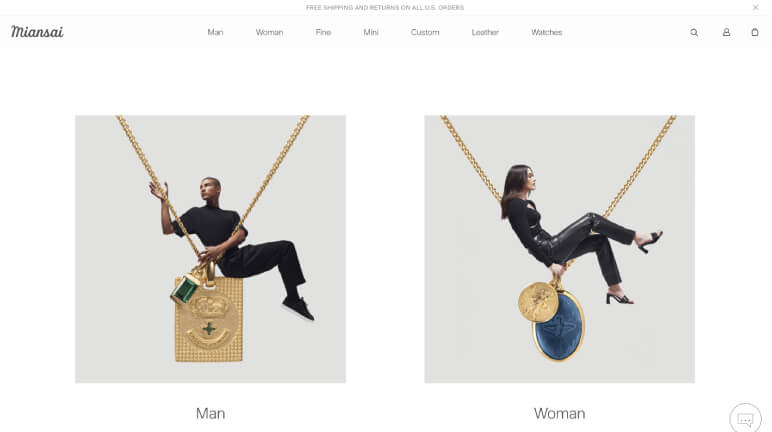 Miansai is a successful brand that specializes in high-end jewelry. With a team of 30 in-house artisans, their products are meticulously crafted from the highest quality materials.
They sell a wide array of jewelry for both men and women.
Miansai is an outstanding example of one of the best Shopify sites.
Orderly arranged. With ample white space, their store avoids clutter and allows visitors to focus on the most important thing – their stunning jewelry.
Easy to browse. With a well-thought-out navigational structure, their Shopify site is easy to navigate, allowing customers to find everything they need without having to hunt for it.
Fully responsive design. Their Shopify store works well on desktops, smartphones, and tablets.
Miansai has built an impressive store that's uncluttered, inviting, and elegant in its simplicity. Along with striking imagery, it allows their products to do the talking, making it one of the most successful Shopify stores around.
Start Your Shopify Adventure With Printify
With a little bit of time, anyone can set up their own business on Shopify's eCommerce platform.
If you want to increase your Shopify success rate and stand above the crowd, finding high-quality products and a trustworthy supplier is vital. Whatever your ambitions are, we're here to help.
Printify is a print-on-demand and dropshipping platform that smoothly integrates with Shopify, enabling anyone to design and sell unique products.
By choosing Printify, you don't have to worry about anything – we do all the work for you. After you make a sale, we print, package, and ship directly to your customers' doorstep.
100% Free
Anyone can sign up and use our print-on-demand platform for free. There are no up-front costs.
Wide Array of Products
The Printify Catalog has more than 700 high-quality products at an affordable price that you can customize however you wish.
Worldwide Delivery
With an extensive network of more than 70 thoroughly-vetted print providers, orders will reach your customers quickly.
Easy-to-Use Design Tools
Printify's Mockup Generator is a powerful tool that allows you to easily create unique products with just a few clicks.
24/7 Merchant Support
Whenever you have a question, let us know – our support teams are always standing by to assist you with whatever you need.
Take a look at some of our print-on-demand success stories. With a little bit of help, patience, and preparation, you can join their ranks, too.
Start Your Own Print-On-Demand Business Today!
Frequently Asked Questions
How to start a successful Shopify store?
Printify offers a seamless Shopify integration, enabling you to start an eCommerce business simply by completing a few steps:
Want to see how it all works? Click here.
Take a look at our article to learn more about how to start a successful Shopify store, including how to choose a plan, register a domain, pick a theme, and much more.
What are Shopify alternatives?
When starting an eCommerce business, it's vital to carefully choose a platform that's right for you.
You can go with:
With an abundance of options to choose from, it all comes down to researching, comparing, and choosing what suits your business needs the best. If you'd like to learn more about Shopify alternatives, our in-depth article explores exactly that.
Are there general principles when designing an eCommerce website?
Although there is no "right way" to build a Shopify store, there are a few things store owners should keep in mind.
Valuable content. When designing, focus on your customers' needs. Whether it's free shipping or a special offer, the content must capture their attention.
Easy navigation. The navigational flow should be seamless and the purchase path – clear. Simplicity is key.
Beautiful imagery. If you want the potential customer to stick around, make sure your Shopify store looks good.
A Few Closing Thoughts
As we conclude our list of the most successful Shopify stores, we hope that these eCommerce businesses gave you some valuable insights, empowering you to build your own store that drives traffic, wins sales, and grows your revenue.
When starting an eCommerce business, keep the following in mind.
Build a great user interface. Pay attention to your Shopify store's visual appearance, functionality, features, and structure.
Provide excellent customer experience. Deliver outstanding customer service, create a fully responsive design, and build high-quality product pages.
A powerful marketing strategy allows you to sell seamlessly. Use social media, influencer, content, and email marketing to build trust and increase sales.
With the right approach, some patience, and a little bit of inspiration, anyone can create an engaging browsing experience that will encourage customers to explore every corner of the site and buy whatever it is you are selling.
What's your favorite Shopify store? Did we miss some successful Shopify stores that should be on our list? We'd love to hear from you in the comments below.
Start Your Own Print-On-Demand Business Today!
The post The Most Successful Shopify Stores and Their Lessons appeared first on Printify.
Please follow and like us: