Baby clothing has gone from being seen as one of life's simple necessities to becoming a global phenomenon with the rise of custom kid's clothes.
Once upon a time, the global demand for baby clothing was a small fraction of overall retail sales. Today, custom baby clothing is one of the fastest expanding and most important clothing sectors, with an extensive and varied range of products being produced for newborns, toddlers, and young babies.
From affordable low-cost, discounted products to top luxury brands, more and more brands enter the market to cater to consumers' insatiable demand.
In this post, we look at:
The latest types of personalized baby outfits and designs to get you inspired
The latest trends in the baby apparel market
The reasons why you should be selling custom baby clothes
How to do basic product research to get your store up and running
The best materials to work with when making custom baby clothes
How to make your own custom baby clothes
Popular types of personalized baby outfits
Baby clothing has come a long way since it consisted of little more than hand-me-down clothes and items of necessity. Today, with ever-greater consumer choice, there's a whole new range of personalized baby clothing products, catering to every imaginable taste. Simply put, when it comes to customized baby clothes, the sky is the limit.
Bodysuits
Perhaps the most essential item of baby clothes parents must stock up on. Custom newborn baby bodysuits are available in short-sleeves and long-sleeves for comfort and adaptability. Bodysuits allow for flexibility and comfort as babies grow and gain mobility, plus they're designed to help parents change diapers with a snap closure at the bottom. They also double as baby sleepwear, so there's no need to buy additional items.
Baby bibs
One could say this is more an accessory than a piece of clothing, but with custom baby bibs available in trendy designs, they're also part of a baby's outfit. Cute bibs keep babies looking adorable, while they can enjoy discovering new flavors as they learn how to eat. Parents now can complete their babies' looks by matching their customized baby clothes with custom jerseys or fleece bibs, for cozy looks and spilling protection.
Pullovers
Another rising trend in the custom baby clothes world is pullover fleece hoodies. As babies grow into toddlers, parents look for new clothes that can still offer the same level of comfort and snuggling as baby clothes, but offer more flexibility for kids to move and explore the world around them. Customized pullover fleece hoodies combine all of these elements, while also adding an extra layer of style and trendiness that's impossible to resist.
Hats
When babies are first born, most nurses put a hat on newborns to keep them warm and cozy. But, when you bring babies home, you still want to protect their delicate heads and keep them comfortable, especially if it's chilly. Custom baby hats are the latest trend in the customized baby clothing market, as new designs are coming out that match babies' outfits and styles.
Tees
Babies don't always want to be wrapped in bodysuits and Onesies®. With custom newborn baby clothes becoming more versatile, now you have products like toddler long-sleeve tees or infant tees to create adorable custom baby clothing options. Parents love to mix and match with other items as they play with their babies' styles and personalities.
Honorable mention:
Baby Swaddle Blankets
We simply could not resist adding custom baby minky blankets to our list as they are as cute as they are necessary. Warmth and coziness is of the highest importance when it comes to the cute newcomers of life and this baby blanket has everything in spades – including a fully customizable side that can take on your cutest design ideas.
Found what you were looking for?
What are the most popular custom baby clothing designs?
Most of us care about what others think about us and how our children look, whether we want to admit it or not, how we present ourselves to our friends, family, colleagues, and the broader world matters.
We want our babies to look great. If the baby is happy, then we are all happy. We naturally want our children to look stylish. The way our babies are dressed is a reflection of both their personality and ours.
From the weird to the wonderful, there is a whole universe out there of baby clothing designs. Interestingly, custom clothes for babies are starting to follow the latest trends on the fashion market, in general. Creators are looking at trending social movements, the latest movies, and other trends that continue to drive masses when creating custom baby clothing.
Punk Rock baby clothing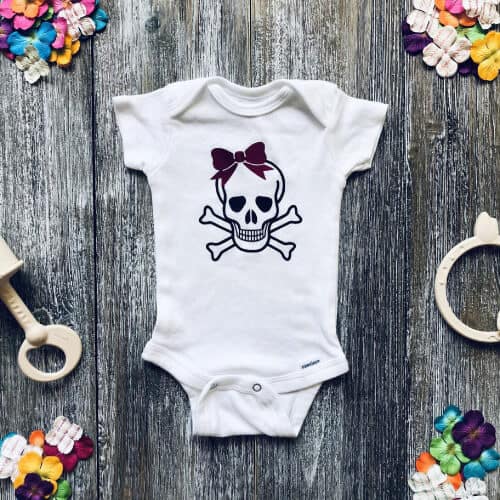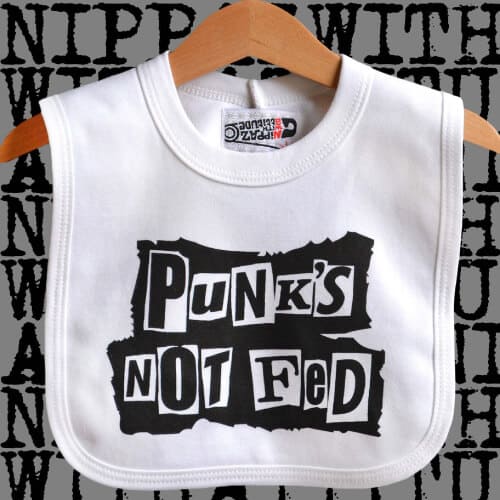 While babies can't skateboard (yet), they can at least wear the style. Punk-inspired fashion is the latest rave in the baby apparel market. Baby skull tee shirts, tattoo-inspired designs, and punk styles contrast clothes that perfectly match adorable babies for some reason, and parents love it.
Funny baby clothing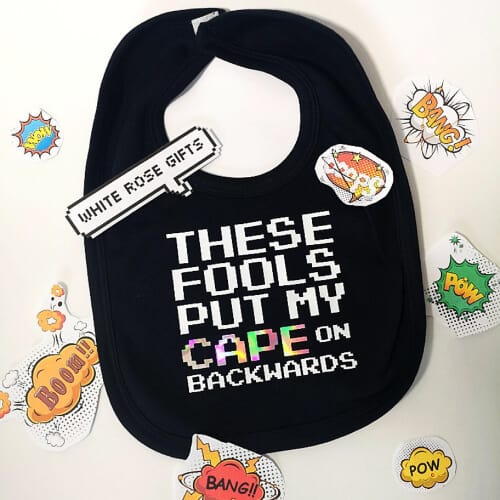 Perhaps the one customized baby clothing item that will always prevail is comedy. Catchy phrases with adorable designs will always bring customers. The same goes for creating genuinely personalized baby outfits that break traditional molds of what baby clothes are expected to look like. When you're creating custom newborn clothing, let your creativity run wild.
Animal themed baby clothing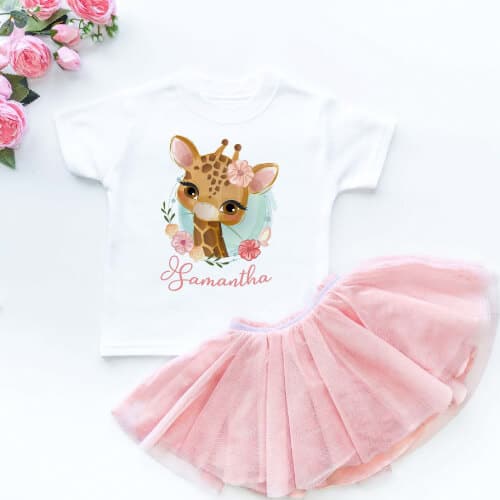 Majestically cute creatures and babies go hand in hand. Kids simply can't get enough of these whimsical beings as these designs speak to their contagious joyfulness. Adding cute animal cartoon characters to your personalized baby shirts can be a great way to attract attention to your store – the key is to keep it creative, fun, and highly colorful.
Cute baby clothing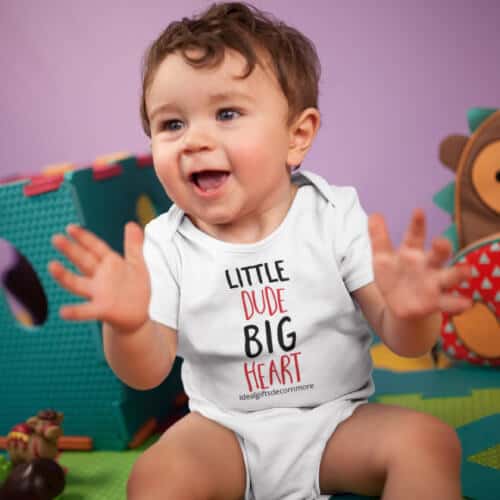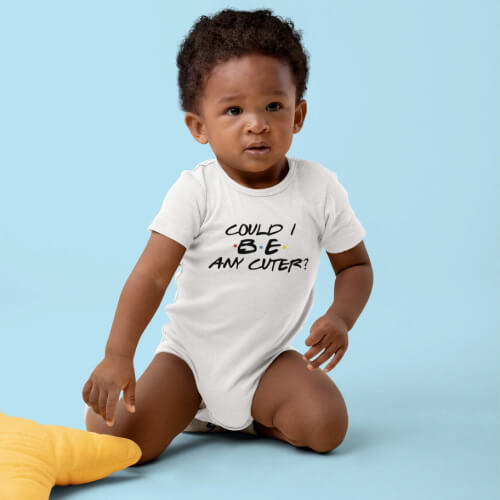 Parents love to show off their kids, after all, it's one of the – if not *the*- most important achievement in their life. Custom baby bodysuits with phrases that point out the baby's cuteness, their character, and their adorable quirks will always be a parent-favorite. Adopting a "proudest parent ever" mindset will help you come up with the right baby catchphrases and designs.
Trends in the custom baby clothing market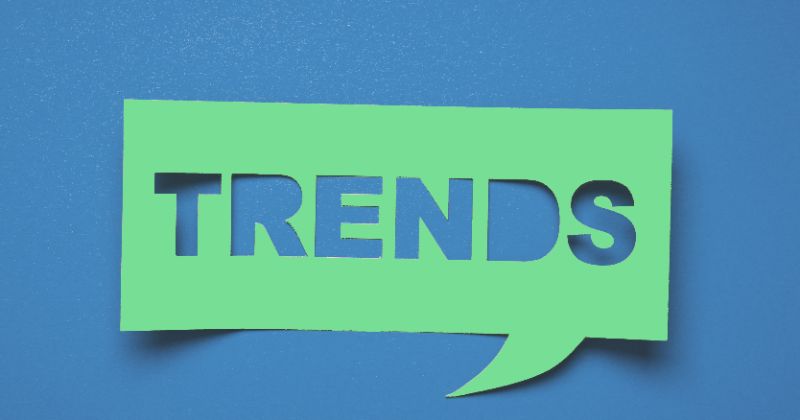 The personalized baby clothes market seems to be a win-win for everyone involved. Modern parents are finally finding the stylish and trendy clothing items they wish for their children. At the same time, family members and friends find thoughtful gift ideas and designs that align with their styles. All in all, it seems the personalized baby clothing market is what everyone was looking for.
Parents want unique, quality, custom kids clothes
Most parents look for baby clothes that are tested for wear and tear. But, a new survey is looking at what are parents looking for when making their children wear purchases:
92% want quality
89% consider durability a top priority
67% look for breathable materials
57% want durable fabrics
47% prefer to buy more fashionable clothes
Gifting custom baby outfits
The trend of gifting, for example, has in recent years contributed to the increase in the sales of baby and infant clothing as grandparents, godparents, uncles, and aunts are also getting in on the act.
Customer expectations are constantly changing, and while many consumers are demanding lower prices, they are also seeking high-quality products with good custom designs. Custom clothes for babies offer the opportunity to gift something that feels a bit more special and carries a more significant meaning.
Alternative baby clothing
Alternative parenting leads to shifting away from how things used to be with our parents' and grandparents' generations. Understandably, this means a significant change in tastes, expectations, and shopping habits.
Increasing awareness about the safety and comfort of the baby will be one of the most significant factors in the market growth in the coming years. Without a doubt, the cotton baby clothing segment will remain the top contender thanks to its inherent softness. About 85% of parents believe cotton is an item of comfortable clothing for their children.
Still, we'll start to see trendy silk baby clothing, as well as eco-friendly custom baby clothing alternatives, which are both growing at a rapid rate.
Gender segmentation
Even though many modern parents are opting for gender-neutral baby clothes, the markets see many newborn boys. The personalized baby boy clothes segment seems to be rising at a faster pace than custom baby girl clothes. However, the wide variety available in personal clothes is expected to continue to expand rapidly.
What are the most popular baby clothing brands?
Top players in the baby clothing market include Converse Kids, Zara, Earthchild, Carters, Benetton, Goodbaby, Dadida, H&M, GAP, and OKAIDI. The list just goes on and on as the big brands (many of which were previously exclusively adult-only brands) compete for their slice of the custom baby clothing pie.
Independent sellers are becoming favorites too
Selling custom baby clothes offers a fantastic opportunity for any fashion entrepreneur or online shop. Online clothing stores specializing in custom baby clothes have become very popular, as they offer customers alternatives to shop-purchased clothes.
As you consider selling personalized baby clothes, consider the market's analysis to find the right prices for your items. Luckily, Printify's on-demand printing system offers suggested retail prices to help with this process.
Why sell personalized baby clothing?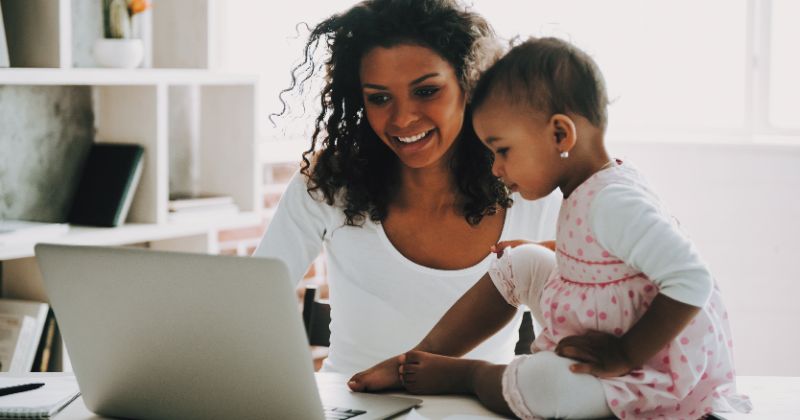 It's a rapidly growing market
Baby clothing is anything designed for children aged 0-36 months. Usually, sizing for baby clothing is divided by age. For example, newborn clothes are 0-3 months, followed by infants 3-6 months and 6-12 months, and then, you have toddlers divided into 12-24 months and 24-36 months.
Back in the day, baby clothes only included one item: bodysuits. But, today, custom infant clothing includes pants, jackets, T-shirts, sweaters, and Onesies®.
Where are baby clothing sales the biggest?
North America is by far the biggest market. In 2021 it held 17% of all global revenue generated in the Baby Apparel market, with almost 7.1 Billion USD in domestic revenue. With the total global revenue at 41 Billion USD for the baby apparel industry, and forecasted annual growth of 9.8% for 2022 (in the US), this is a giant industry in the making, and it's a great time to join while it's not over-saturated.
The global baby apparel market size is expected to reach $207.1 billion by 2026. This market includes baby clothing items like outerwear, sleepwear, socks, tights, Onesies®, and clothes designed for babies.
With the increasing demand for new styles, product innovation to develop new personalized baby clothing styles has become a key success for baby apparel sellers. Interestingly, today's parents are not only focused on easy and comfortable baby clothes but also on a style that goes with the latest fashion trends–something that wasn't key in baby apparel five years ago.
The baby apparel market is becoming so increasingly hot that companies like Nike, Ralph Lauren, Carter's, and even Burberry are jumping on the baby wagon. Consider this an opportunity to profit from the increasing demand for custom baby products.
The personalized baby clothes market is very fluid
There are fantastic opportunities for anyone to sell custom-made baby clothing to a rapidly expanding global market. But remember! The market is a fluid, competitive environment with several different sales channels, including chain stores, branded stores, and, of course, the internet.
E-commerce sales of custom kids' clothes are sky-rocketing
Now more than ever, the online retail market is rising at speeding rates. In 2019 alone, U.S. online retail sales amounted to $365.2 billion, and sales are projected to reach $600 billion in 2024. E-commerce transactions are expected to make up 36% of total fashion retail by the end of 2022, so the sooner you start selling online, the more of this trend you'll be able to capitalize on.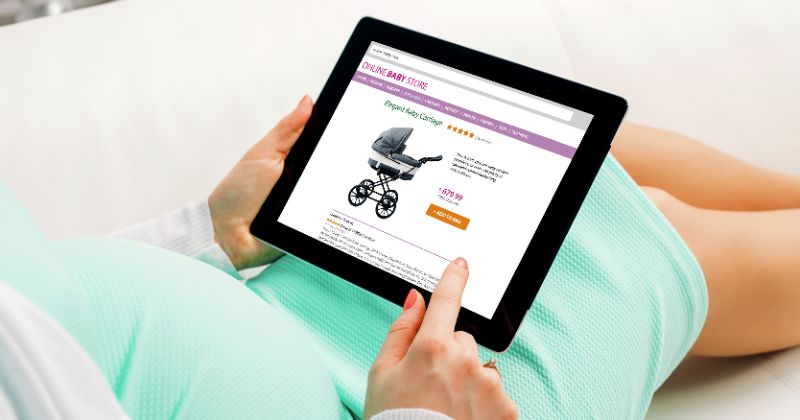 The future is increasingly online
Continuous promotion through e-commerce stores such as Etsy is also helping to grow the demand and sales of custom baby clothes as young (and old) entrepreneurs and startups spot the opportunity to sell them to a global captive market. Some who were quick to move in this market segment, like this Etsy seller, are already seeing huge profits to the tune of almost $200k sales, which goes to show that this market is on the rise – big time.
Fashionable baby clothes are the next big thing
New and modern parents are focused on stylish apparel and cloth wear for their babies, driving demand for custom baby clothing. Increasing kids' fashion shows worldwide are helping parents get more updates about the latest fashion trends for kids.
So long are the days of boring, solid-color baby clothes. Modern parents follow the latest fashion trends, and create unique designs for baby boys and girls; examples feature sports team tees for custom baby boy clothes, or matching dad – daughter t-shirt and bodysuits for personalized baby girl clothes.
Custom baby clothing is big- more babies means more profits
Growing social media influence and fast fashion have strongly impacted the children-wear industry. Modern parents are keen on custom baby clothing choices for their kids and are pushing the high demand for fashionable clothes.
Also, sustainable clothing is being highly promoted worldwide, which is also trending in the baby clothing market. Large retailers are launching organic cotton baby clothing options to meet the increasing demand for eco-friendly custom baby clothes.
Surging birthrates are driving product demand
As we look at the size of the market, it is important to point out other variables that directly affect its growth. For example, scientific advancements like in-vitro fertilization, surrogacy, and reduced infant mortality rates have positively impacted market growth.
Not to mention, infants up to 24 months tend to outgrow their clothes much quicker than teenagers do. Thus this leads to frequent purchases of new clothes from parents, and a fast-growing demand for custom baby outfits.
Greater access to fashion reports
An interesting trend is happening in the custom baby apparel market. Social media challenges like matching mother-baby clothing, baby photoshoots, and even baby influencers further fuel the demand for new-age stylish baby garments.
E-commerce is convenient for parents
Increasing access to apparel and accessories, coupled with the new wave of e-commerce solutions for parents, will accelerate the market expansion. Additionally, the rising number of working women increasing their purchasing power results in a greater demand for personalized baby clothing.
Found what you were looking for?
Families starting later in life
Increasingly, couples choose to start families later and have fewer children than their parents and grandparents did. This might sound like it would lead to less expenditure on things like customized baby clothing. But on the contrary, the fact that couples choose to wait until they are older and more financially stable before having kids means that their budget for children's clothes is significantly bigger than it was in the past.
Waiting means more money for babies (clothes)
The average age for first-time mothers in the U.S. rose from 21 to 26. And this isn't only in the United States; women in other developed countries are waiting too, with the average age for first-time mothers ranging at 29 years old.
Various studies point out that between 60 to 51 percent of women delay childbearing due to not having enough money or earning a higher salary first. Women's share of the purse strings is catching up with men each year; right now, women control 32% of the world's health, with a rate that will accelerate to 7.2% over the next four years. The latest analysis suggests that women are adding $5 trillion to the wealth pool globally every year.
How to conduct basic research & optimization
If you are thinking of selling custom kids' clothes, then here are some very basic steps to guide you in the right direction:
1. Trend research
A way to keep your finger on the pulse is by heading into popular storefronts like Etsy, Amazon, Ebay, or any other e-commerce platform and track down the best-selling options. You can filter by reviews, and check out the units sold – in most platforms you'll be able to see what is selling and get some starting ideas.
We recommend having an Excel sheet where you mark down important things like links to the products, price, design motif/ theme (movie inspired, family inspired etc) and create a list of things that can be useful down the line.
2. How to get insights to what your audience wants
It's also worth going through reviews to see what insights you can distill that may potentially make your product better. For example, you can find details that customers complain about and make sure that your product does not suffer the same deficiencies.
Another great thing you can do while researching is on platforms like Amazon, to check out frequently items bought together. These suggestions usually pop up under the bullet points and can help you create a unique selling point that adds more value to your product, more perceived value to your customer, and an end-offer that is much more preferable in the eyes of your customer.
Another great source of useful details can be bloggers who review the same products against similar competing choices, and even YouTube videos of reviews where you can check out the comment section to find common complaints, or features that were really liked by owners of these products.
3. Keyword research – the proof is in the data
Data-driven decisions are always the best. Utilizing free tools like Google Trends, and Google Keyword Planner, or paid Tools like Ahrefs can get you valuable insights as to what people are searching for when shopping online.
If you are interested in selling on a specific platform e.g. Amazon, we recommend finding platform-specific keyword tools like Merchantwords, or Helium10 – every platform has its own specialized tools that focus on its specific users and habits.
Export your findings on an excel sheet (most if not all keyword tools allow you to do this) and keep them handy. These reports are not only valuable to find your ideal product but also to optimize your product listing later on by using those keywords in your product description.
Choosing the right material for custom baby clothing
As you probably know, babies have extremely sensitive skin that requires special attention. For parents, that means synthetic materials are out of the question. Instead, as you're starting to customize baby clothes on your own, opt for organic materials like cotton, jersey knit, bamboo rayon, and fleece.
Cotton baby clothes
Cotton is one of the most comfortable fabrics around. Not to mention, its hypoallergenic characteristics make it the perfect choice for personalized baby clothes. And, it's ultra-soft so that it won't irritate the baby's skin.
Cotton absorbs moisture to keep babies feeling cool and comfortable. It's also durable and doesn't lose its shape and color easily, a bonus for clothes parents will likely wash often. Check out our Printify Catalog to find top-of-the-line printable baby bodysuits and tees, all made with luxuriously soft cotton.
Jersey knit
Cotton jersey knit is another popular fabric for custom newborn baby clothes. Jersey is soft and breathable, making it great for tees and bodysuits. Another selling point of using jerseys for baby's clothing is that this knit is very stretchy, making your custom garments very comfortable for constantly moving and growing babies.
Fleece
Overall, fleece is known for its warmth, making it the go-to fabric for custom baby outerwear and blankets. But, fleece is exceptionally soft and dries super fast, making it the ultimate material for babies.
Beyond blankets, you can easily find fleece baby bibs because fleece is so easy to wash and it's stain-resistant, so it can handle all the drooling, spitting, and baby messes in the world. And, it just happens to be super soft, so you can gently wipe the food of a baby's face without irritating their skin.
Printify's range of custom baby infant clothing is made with 100% ringspun cotton and cotton jersey, with spun fibers that create a smooth fabric ideal for printing in full color, so your design looks as sharp and vibrant as possible–even after many washes.
Designing your own custom baby clothes
It's as easy as ABC thanks to Printify's Mockup Generator; an easy, intuitive design tool that you can find and use online to create your very own, custom baby outfits. Oh, and it's 100% free.
First, head into the Mockup Generator with the item you want to design. Then load your design from your hard drive, Google Drive, Dropbox archive, or create one from absolute scratch. Once your design is on, hit "preview mode" to see how your art would look like on a mockup product.
Once you're satisfied with your work, you can either order a sample to ensure everything is perfectly printed & aligned, or simply go ahead and publish your personalized baby clothing design directly to your eCommerce platform of choice. Printify offers seamless integration with all the biggest sales channels such as Wix, Bigcommerce, eBay, Etsy, and more.
Ready to create personalized baby clothes?
We've taken you through all the baby clothing history, market analysis, and trends so you can better understand how the baby clothing market operates in the United States and all over the world.
With a massive global market value, the world is your oyster when selling custom baby clothes to customers all over.
On-demand printing services offer a unique opportunity to creators like yourself looking to explore the baby apparel market. Printify's on-demand printing services make selling custom baby clothes more effortless than ever. With an all-in-one solution that helps you find high-quality baby clothing products ready to customize.
Pick an item, customize it, review it using our mockup generator, and start selling. Once you make a sale, we'll do the heavy lifting and ship it directly to your customer while you track everything from your Printify account. Forget about keeping up with inventory, doing all of this by yourself, or stressing about manufacturers.
Do you have questions about how to make personalized baby clothes? Drop them in the comments. We are ready to answer them.
Make it happen today!
The post Custom baby clothes: What's trending? appeared first on Printify.
Please follow and like us: