Choosing a brand name is an important element of launching a business. For many businesses, it is the first step that they take while branding. Branding is the process of giving a personality to your business, and this personality is crucial when it comes to attracting your target audience. That's why your name needs to be fit-for-purpose.
What's in a name?
Your brand name communicates a lot about your business. For example, if your name is playful, a customer's first impression may be that your business is friendly and laid back. That may have a welcoming effect. One-word names that are more conceptual are often perceived as modern and cool, appealing to a trendy crowd.
No matter what your name is, it will send some kind of message. It's best to take some time and send a message that you're proud of. You may even want to perform a little market research, asking people how they respond to different brand names and how effectively those names communicate your vision for your business.
Consider the wider implications of any brand name you choose. You don't want to choose a name that's easily mocked or has an inappropriate double meaning, do you? Words have different connotations across diverse cultures, so it's worth double-checking this before you commit to a name.
Starting to feel overwhelmed by the pressure? Don't worry! In this article, you'll find out what makes a great brand name, and you'll also be introduced to some amazing tools that will help you choose your own.
What makes a great brand name?
YouTube: Brand Master Academy
You may previously have thought that a brand name simply has to sound cool, but now you know that it actually serves an important purpose. That's why, before deciding on a brand name for your business, you should ask yourself the following questions:
Is it simple ?
You want people to talk about your business, so make it as easy as possible for them to do so. If a brand name is impossible to announce, that can have a negative impact on customer engagement. Strange spellings make your brand name difficult to search for. Given the importance of the internet for marketing and commerce, this could put your business at a serious disadvantage.
Is it distinctive ?
To stand out from your competitors, your brand name should be unique. Imagine the scenario: a small town with two nail salons, one called "Nails Inc" and the other called "Nails & Co." How often do you think residents would confuse them in casual conversation? The last thing you want is a positive review being wrongly attributed to a rival business.
Is it memorable ?
A bland brand name can make it hard to hook an audience. After all, our modern business landscape trades on the power of clicks. Ideally, your name should inspire people to stop scrolling. On a practical level, you definitely don't want a situation where a customer struggles to remember your brand name even after a positive encounter with your products.
Is it timeless ?
It's tempting to follow trends in a bid to attract attention, but remember that your brand name is here to stay. The process of rebranding is time-consuming and it can be expensive, so you want a brand name that's built to last. Make sure it isn't based on a reference that will be outdated in a matter of months.
Is it relevant ?
Your brand name doesn't have to be extremely literal but bear in mind that if it's too abstract you may leave potential customers wondering what your business offers. Using the same example of a nail salon as above, "Talons" could sound cooler than something straightforward like "Nail Artists," but it still conveys the focus of the company clearly.
How can I find the perfect brand name?
Branding experts suggest a range of strategies to find the right brand name for your business. Why not give them a try and see if they work well for you?
Research your competition
This might feel like counterintuitive advice; after all, you want to stand out from the crowd, not copy your competitors. However, an analysis of similar companies will soon illuminate what you like and what you don't like about different brand names.
Maybe you'll discover that you hate brand names with puns or that there are already too many one-word business names in your field of interest. This information will inform your own approach to branding.
Make a mindmap of your vision
Have you properly sat down and reflected on the who, what, why, when, where and how of your business? Making a mindmap with these question words as prompts will help you excavate the most important themes underpinning your business idea.
Feel free to get creative! If you're a visual person, you may wish to use images instead and make a collage to reflect your business' personality.
Activities like these can be a great source of brand name inspiration, as they remind you of exactly what makes your business so special and unique.
Brainstorm ideas
Have you properly sat down and reflected on the who, what, why, when, where and how of your business? Making a mindmap with these question words as prompts will help you excavate the most important themes underpinning your business idea.
Feel free to get creative! If you're a visual person, you may wish to use images instead and make a collage to reflect your business' personality.
Activities like these can be a great source of brand name inspiration, as they remind you of exactly what makes your business so special and unique.
What does a brand name generator do?
Don't panic if you're struggling to find the right brand name for your business. It's right that you're taking the decision seriously, and since it's 2021, there is a convenient digital solution available!
Online, you'll find a range of brand name generators. They use amazingly clever algorithms to generate brand name ideas based on the information you provide about your business.
The best part about online brand name generators is that lots of them are completely free to access. However, there are so many available that you may feel a little overwhelmed when it comes to selecting the right one to use.
Rather than waste your time trying out every brand name generator online, you need an objective and thorough review of the options.
And now you have it! Below, you'll find that twelve of the most popular free online brand name generators have been tested and assessed, making your life a lot easier. Your ideal brand name should be just around the corner.
Which is the best brand name generator?
To determine which brand name generators were most effective, an experiment had to be performed.
Each of the twelve generators was tested using the same hypothetical scenario: I am the owner of an upmarket dog grooming business looking for an original and impactful brand name.
So let's find out how the free online brand name generators performed under pressure!
How to use:
First, Namelix asks that you input specific keywords relating to your business. I chose "dog grooming," "pet spa," "puppy," "haircut," and — because this is an upmarket business — "chic."
Next, you're invited to narrow your results by length; however, I kept all options open for maximum results.
The third step is to choose from different name styles. Categories include brandable names, misspellings, and rhyming words. I chose brandable names because this was highlighted as the most popular option.
Results: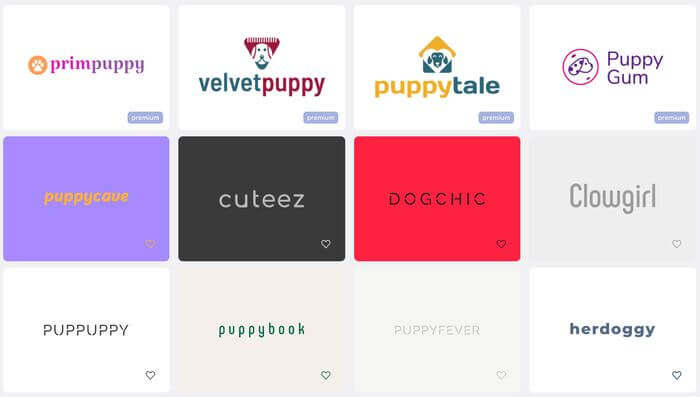 I received pages and pages of results, some more useful and relevant than others. Suggestions like Drugwolf were quite obviously inappropriate; however, I was surprised by how accurately some brand names reflected my keywords.
The best ideas I identified from the list were Primpuppy, Puppy Deluxe, Puppity, and House of Puppies.
Review:
This was a great start! I loved that you could narrow down your options depending on your preferences but that there were still an incredible amount of suggestions offered.
I was particularly impressed with ideas like Puppity that managed to incorporate wordplay and succinctly convey the nature of my hypothetical dog grooming business. Clearly, this algorithm is very clever.
How to use:
Because this generator only allowed for six keywords, I used the same words as above only removing "haircut." There were no further options to limit suggestions, so I was immediately shown my (many) results.
Results: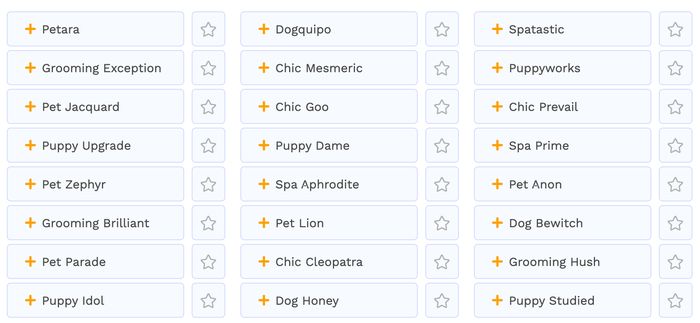 I received countless pages of results; however, it was more obvious this time that a computer had generated them. Not all of them were relevant. "Jaded Chic," for example, failed to communicate the specific nature of my business.
However, when suggestions were good, they were very good! Some of my favorites included "Puppyworks," "Pet Parade " and "Divine Grooming."
Review:
This generator seems to function by combining words associated with your keywords. If you choose your keywords well, you'll undoubtedly discover several viable brand name options. You may have to scroll through a few pages to find them, though!
A cool additional feature of the site is that you can immediately check the domain name availability for any generated suggestion.
How to use:
Instructions for this generator were a little unclear. Instead of prompting me for keywords, it simply said "Enter query."
I added the same five terms that I used for my initial search, separated with commas. Nothing happened. I then typed them without the commas, and this generated results.
Results:

Because I'd written a long search term, I received extremely long brand name suggestions. An example would be "Greatest Pet Grooming Chic Puppy Haircut Pet Spa." It doesn't quite roll off the tongue, does it?
I tried again simply using "chic pet grooming," and my results did improve, but only slightly. Over two pages of results, the best option I could find for my business was "Divine Chic Pet Grooming."
Review:
The algorithm for this generator seems basic. Rather than really understand keywords to combine them and suggest synonyms, it simply adds words to your keyword terms.
How to use:
Because this brand name generator remembered my previous search when it was restricted to six keywords, I believe it uses the same algorithm as Business Name Generator.
Results: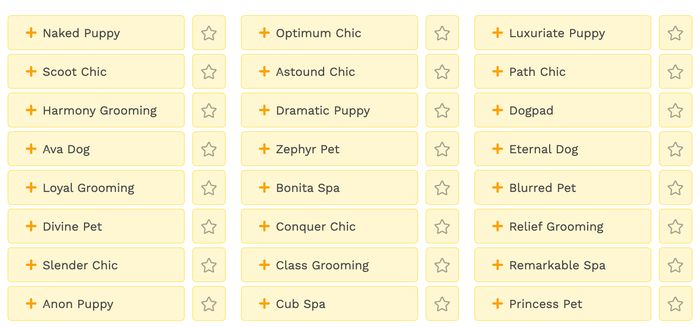 Results were similar to those of my previous search. The best new options I discovered from the first few pages were "Puppyopolis," "Runway Puppy" and "Swank Grooming."
Ideas like "Stately Dog" and "Dramatic Puppy" were full of personality, and they made me laugh.
Review:
Something I appreciated this time that I didn't notice while using Business Name Generator is that both sites allow you to save favorite names as you scroll through them.

This seems like a very helpful feature given the countless pages of results provided!
How to use:
When entering search terms, I usually use commas to separate them. Don't do that while using Oberlo; it includes them in your results.
I was immediately told that 100 potential business names were found using my keywords, which was an oddly specific number.
Results: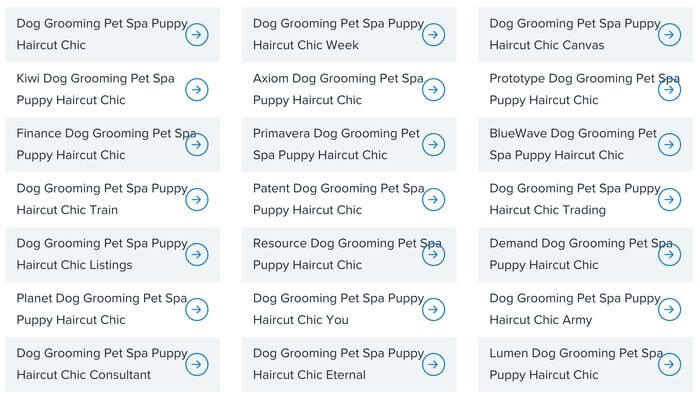 My keywords were featured in the same order in every business name suggested.
Rather than mix them up and look for related terms, this generator simply added words to my search terms. Generally, these words were completely unrelated like renegade, plasma, or emperor.
Brand name ideas included "Commonwealth Dog Grooming" and "Dog Grooming Traffic." The same effect could be achieved by opening any random page of the dictionary!
Review:
Unfortunately, I wasn't able to find many viable brand names using this generator. Even restricting my search terms to simply "dog grooming," I received very obscure suggestions.
How to use:
You're able to limit your results based on the number of letters you prefer, and you can choose whether your search terms appear at the start, in the middle, or at the end of your brand name.
This is another generator where you shouldn't use commas to separate your keywords. The site automatically searches for domain name availability too.
Results: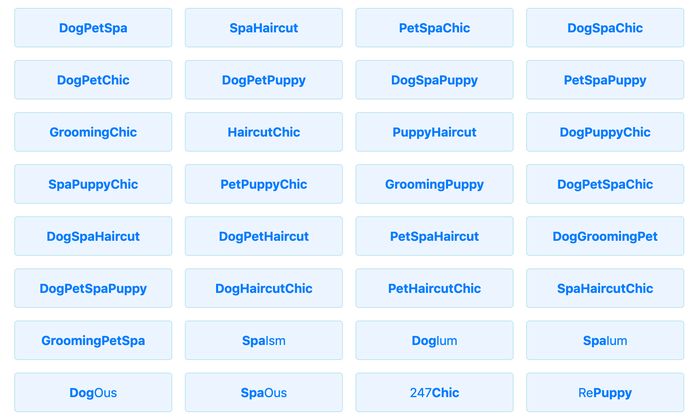 Because this site is focused on domain name availability, all brand name suggestions come in the form of one word.
Typical results I received were "groomingpetpuppy" and "dogspapuppychic."
Review:
Rather than generate new ideas, this site seemed to simply jumble up my own keywords and add words like "best" and "VIP" to the start.
This would be a more useful tool for people who have realized that the domain for their brand name is unavailable. It proposes some close alternatives.
How to use:
Helpfully, this site explains that the generator works best with 2 or 3 keywords separated by a space. I decided to search for "chic dog grooming."
Results: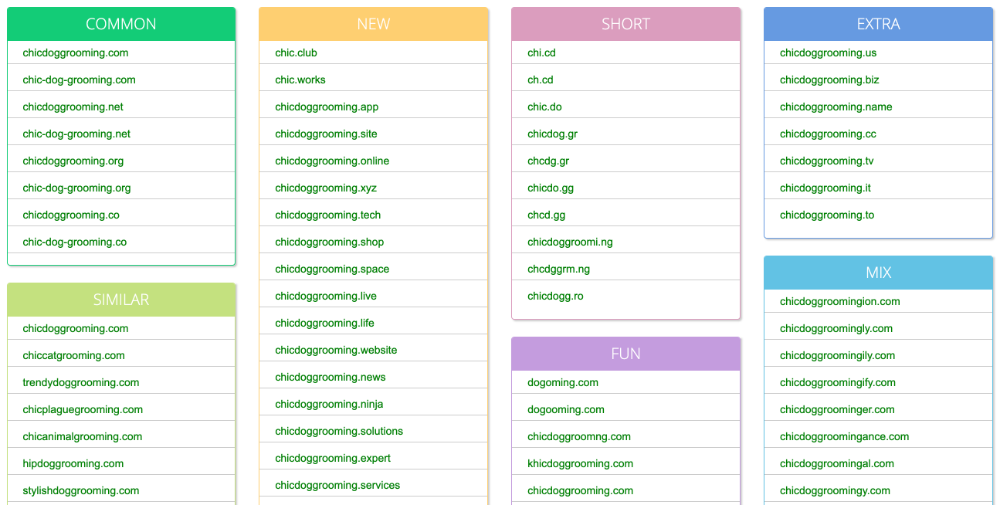 Because this site is more interested in domain name searches than branding, I had to scroll to the "similar" category to find brand name ideas.
There, the best suggestions were "Chic Dog Spa," "Fancy Dog Grooming," and "Flashy Pet Spa." They were serviceable if not particularly groundbreaking suggestions.
Review:
The way this generator works is to find closely related terms to the ones searched for. As a result, it generated inappropriate (but hilarious) ideas like "Elegant Rat Grooming."
It's best used when you're looking to slightly modify a brand name you've already chosen to find a domain name.
How to use:
First, I was asked to select my industry. For the purposes of this experiment, I chose pets. Then, I was asked to input three keywords: I settled on grooming, spa, and haircut.
Lastly, I had to choose a "big idea" related to the emotions I wanted my name to evoke. To convey the upmarket nature of my dog grooming business, "luxury" seemed like the most appropriate option.
Results: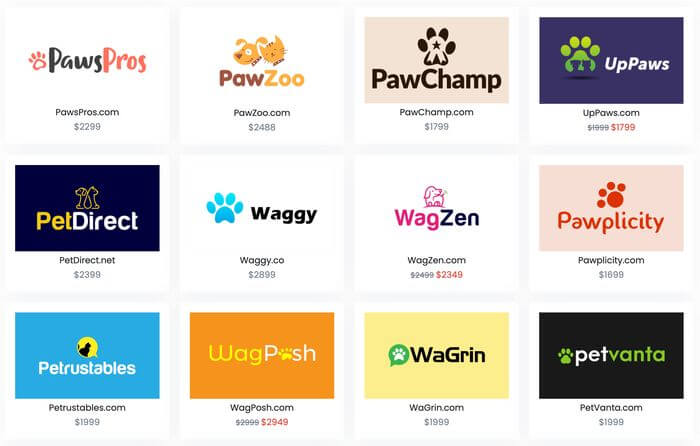 Results were displayed like logos, which helped me envision how they'd work as real brand names. Some of my favorite results incorporated pet themes into fancy-sounding names like "Petsworth" or "Furrbury's."
Review:
Some of the names suggested were clearly generic pet brand names rather than anything specifically related to grooming. However, I saw potential in suggestions like "Tail and Claw," which was original and memorable.
It didn't suggest as many results as other generators, but those suggested were of high quality, at least providing serious inspiration for searchers.
How to use:
There is a search engine for keywords, but I was also able to refine my results by selecting my business type and the style of name I preferred.
Unfortunately, there wasn't a business type that reflected pet grooming. I chose "beauty" as the closest match. I also chose "elegant names" for an upmarket business.
Results: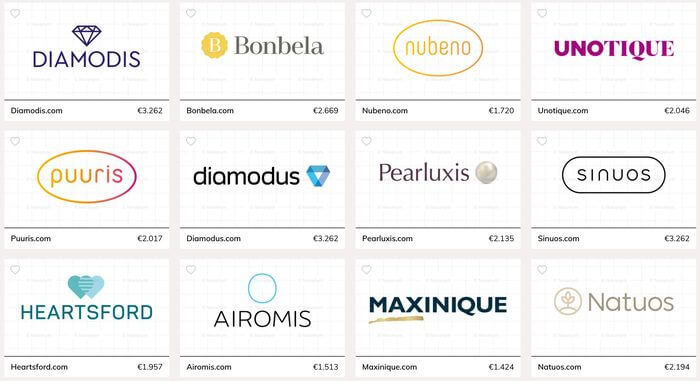 The results I received were abstract; there was no clear connection to the themes of dog grooming or pets that I included in my keywords. Suggestions like "Iqonique" or "Sinuos" would probably function in a range of industries, but they weren't clear enough for my purposes.
Review:
Although the suggestions provided were plausible brand names, the algorithm didn't seem to pay much attention to my keywords.
This would be a useful brand name generator for someone looking for inspiration for a modern, one-word brand name, as long as they didn't want anything especially specific.
How to use:
This generator permits you to add keywords separated by commas. It also asks for an industry, so I selected "Pets and Animals."
Results: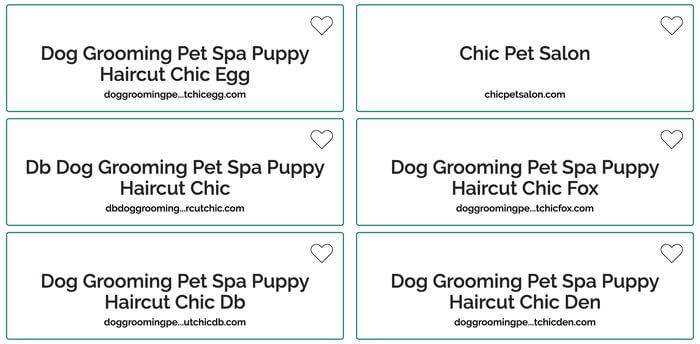 This generator was like others that simply remixed my search terms into different combinations. It also added prefixes like "ex," "un," and "re," which weren't particularly useful.
Review:
You may find some ideas using this generator, but you'll have to edit them to make them work. For example, one result was "Jet Pet Puppy Spa Grooming Chic Haircut." Although this is ridiculous on its own, there may be the seed of an idea to be found in "Jet Pet Spa."
How to use:
This is a basic generator, and you're only able to search based on one or two keywords. I chose "pet grooming."
Results: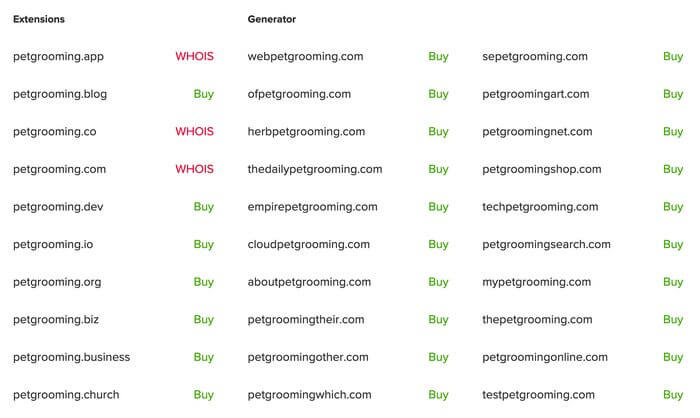 Results are displayed as potential domain names.
It is clear that, no matter what I searched, this algorithm was going to input my keywords into certain established structures. For example, one result I received was "thedailypetgrooming.com" and another was "mypetgrooming.com."
Review:
Once you have a brand name, this may help you find a suitable domain. However, it's unlikely to suggest a unique and interesting brand name for your business.
How to use:
Again, it's suggested that you search using only one or two words. I tried "pet grooming," and found that you could choose a specific industry on the results page to further refine the suggestions.
Results: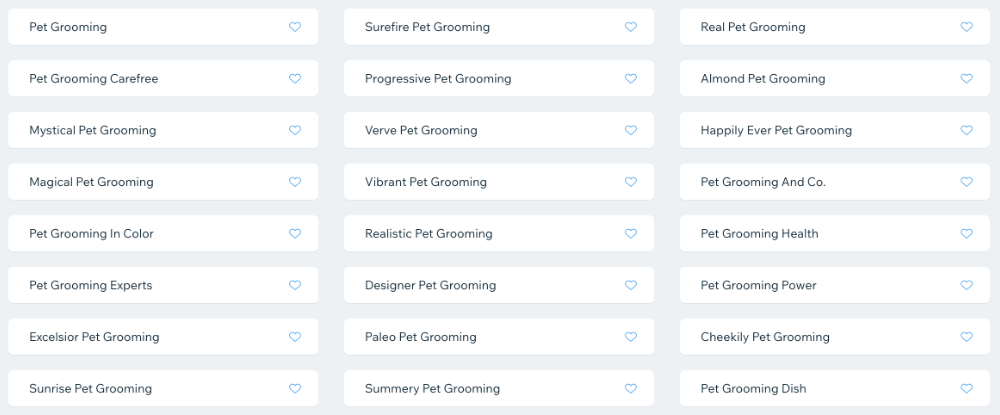 Many of the suggestions given were nonsensical, such as "Pet Grooming Ify" or "Pet Grooming Tor." From the first page, the most credible brand name was "Pet Grooming Hub," but it wasn't particularly inspiring.
Review:
This generator will combine your keywords with other letters, words, and expressions. As so few of the results make sense, it will probably take a lot of work on the part of the searcher to find something suitable.
Which brand name generator should I use?
Following that thorough investigation, the brand name generators that gave the most specific, memorable, and usable results were Namelix, Business Name Generator, Biz Name Whiz, and Squad Help. You should see what they suggest for your business!
Once you have the perfect brand name, why not use Printify to sell custom products online? Printify has an extensive product catalog, and it's compatible with popular eCommerce platforms like Shopify and Etsy.
Printify makes it easy to create your own brand. Production and shipping is handled entirely by them, so all you have to do is design your product line! Their print-on-demand model means you won't pay a thing until you've received your first order.
Make it happen today!
The post Choosing a brand name: The top 12 free brand name generators online appeared first on Printify.
Please follow and like us: