With summer being the peak wedding season, say yes to success by promoting personalized wedding gifts and merchandise in your online shop.
From engagements to weddings, offer personalized wedding-themed items for the big day and other events surrounding it.
Personalized Wedding Gifts and Merchandise for Every Occasion
When you're thinking about personalized wedding gifts and merchandise, don't limit yourself to just the wedding day itself. There are so many occasions and events leading up to that one special day, and you can use all of them for your online promotions.
Take advantage of this potential demand and offer a vast selection of wedding-themed products. From accessories and apparel to decorative knick-knacks, drinkware, and memorabilia from a once-in-a-lifetime celebration.
Keep in mind all the events leading up to the wedding day, such as proposals, bachelorette parties, bachelor nights, bridal showers, afterparties, honeymoons, the mornings after, and more.
Fact: Each year around $19 billion is spent on wedding gifts in the US alone. Grab your slice of this money pie and sell personalized wedding gifts happily ever after!
Create customized wedding gifts, invitations, decorations, gift bags, party supplies, and just about anything else that comes to mind when thinking about the happy couple and their day.
Table of Contents
Personalized Wedding Decorations
Let's start off our list of wedding-themed goodies with personalized wedding party decorations. Set the perfect mood and create unique memories for the newly married couple and everyone else attending this wonderful event.
Balloons are a classic, evergreen decoration for every occasion and event. From children's parties and date nights to anniversaries, weddings, and just about anything else. A personalized balloon will add a festive touch to the wedding decor and put a smile on everyone's face, young and old.
Good for indoor and outdoor use
Made from coated mylar
Comes with a stick
Air-only
Printed with waterproof ink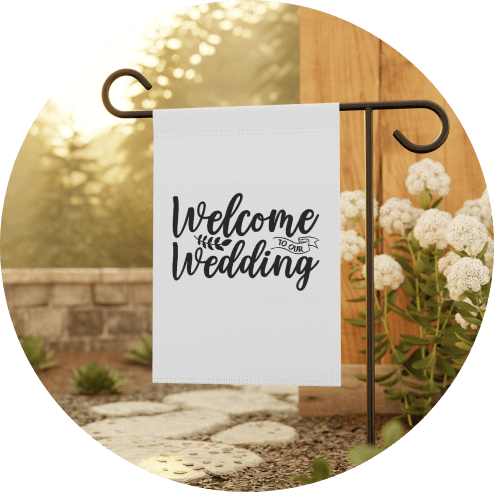 Add a royal flair to a wedding by promoting custom garden and house banners on your site. A banner will be the best personalized gift for those who appreciate a unique touch to their homes and personalities. Allow the newlyweds to make a statement with elegant and quirky house banners with initials, symbols, the wedding date, and other unique designs.
Top sleeve for standard flag poles
All-over print
Pole not included
Durable fabric
Print on both sides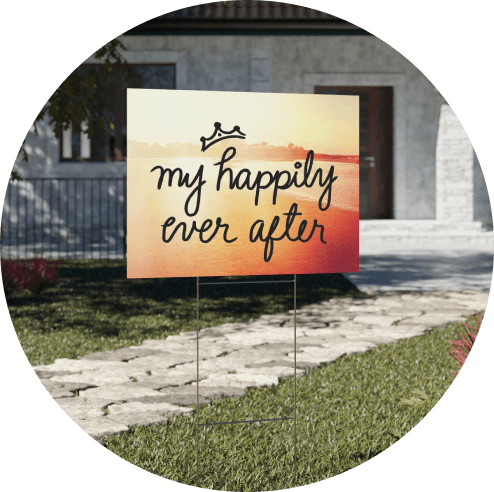 A personalized decorative yard sign will make every wedding memorable and fun, bringing joy and unique touch to the big day. Customize yard signs with last names, well wishes, lovely or quirky sayings, or simple directions. "Just Married", "Mr. & Mrs.", "Food Court", "Groomsmen", "Bridesmaids", "Bridal party", "Family", "Photo Booth", and more.
Print on both sides
Made from durable plastic
Comes with a metal H stand
Bright and lasting colors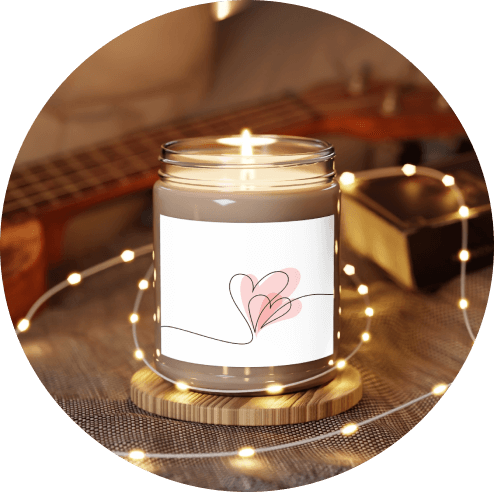 Set the perfect mood for any wedding-themed event with personalized scented candles. These make the best wedding gifts as well as regular items for wedding decor. Surround the wedding party with wonderful aromas and create a unique feeling for the bride and groom with custom designs on their special day.
Made from 100% soy wax
Burns for 50-60 hours
3 scents available: vanilla bean, comfort spice, sea breeze
Eco-friendly
Non-toxic
Reusable container
Bright label colors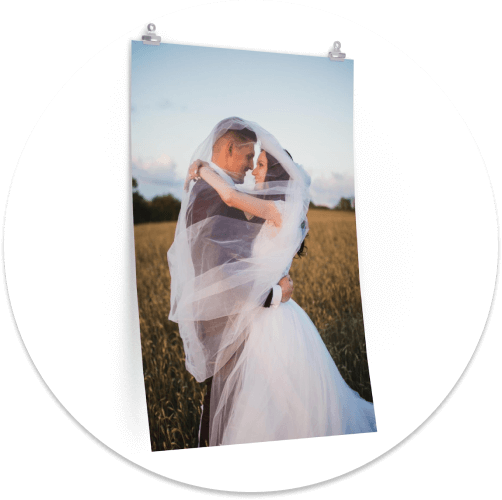 Posters are great as a wedding gift and decoration at the same time. Display some lovely memories of the engaged couples, well wishes, or custom artwork for their future home decor.
The happy couple will appreciate fun or lovely posters that will lighten up the mood, remind them of their journey so far, or wish happiness for their new life together. Wedding posters can cover just about anything.
Matte finish
Various sizes
Indoor use only
Museum grade paper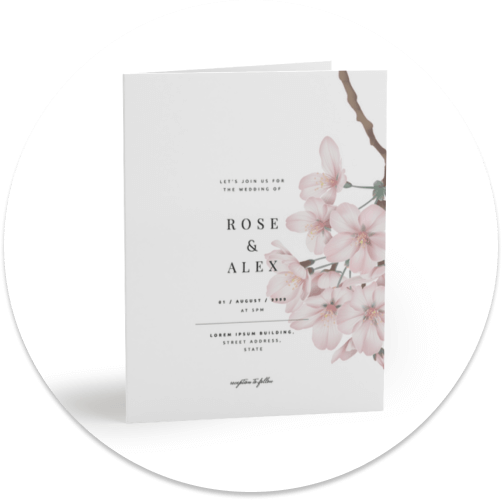 Custom greeting cards will come in handy at any wedding for their multi-purpose use. Perfect as a personalized wedding gift for the new couple wishing them love and happiness, or great as invitations or thank you cards for the families and favorite guests.
Once a wedding date is set, these greeting cards will make the perfect invitations with personalized designs, or they can be sent as a thank you card for aunt Linda for her thoughtful wedding gift. Whatever the use, custom greeting cards will be in demand around the wedding date.
Envelopes included
Outside and inside printing is available
Matte finish
Practical Supplies for Wedding Parties and Events
We've made up a small list of practical party and wedding supplies to make the special day a little more unique. Remember, while these are practical items for the wedding itself, these products can just as easily be good as personalized gifts for future parties and events.
With the happy couple starting a new life together, practical items make the best wedding gifts as they can be used over and over. Let's take a look at some useful gifts for a wedding and the future to come.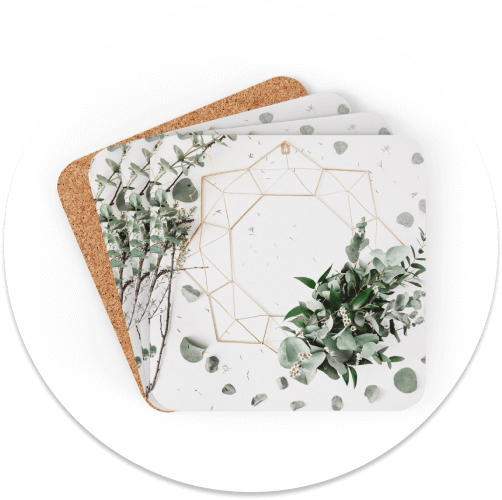 Personalized coasters are a must-have in your online shop. From a useful item during the wedding to the perfect wedding gift – this set of four will be a great addition to every household and party. Personalize the coasters with wedding-themed symbols, "Mr. & Mrs.", the wedding date, "Bride & Groom", guest names, and other custom party designs.
Glossy finish
Top-quality print
Four-piece set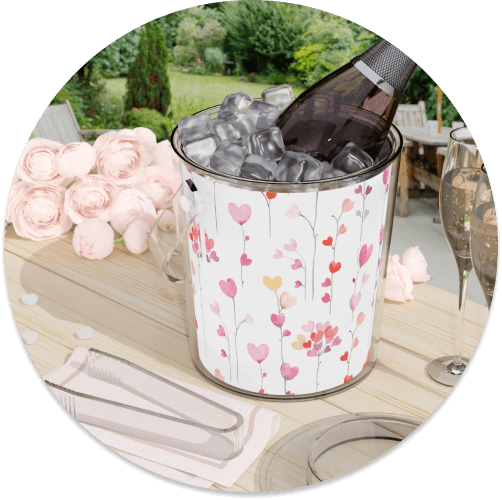 Frosty beverages for a hot summer wedding will be a hit with this custom ice bucket. While the wedding party can use this personalized centerpiece, it will be the perfect wedding gift for the couple to cherish after the party is done. Put a custom wedding-themed touch on the designs and provide a cool atmosphere for the wedding and events to come.
Tongs included
Ice stays frozen for 3 hours
Wraparound print
Convenient lid and handle
Design is placed in a water-tight insert area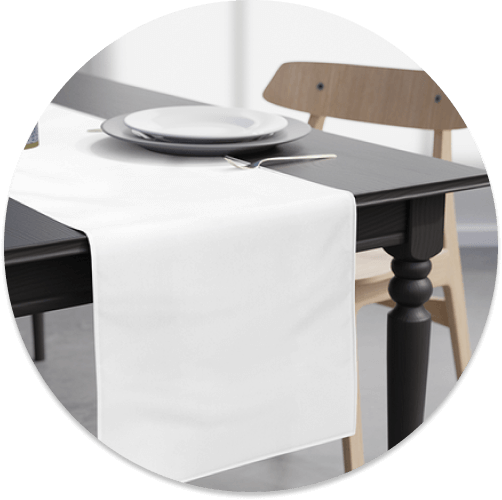 A personalized table runner is a perfect addition to any outdoor wedding. Those home decor items cover long tables in one setting, making the setup process simple, fast, and easy. A custom-made table runner will be useful for weddings and wedding-themed events. Stylish, simple, and practical, it's a must-have item for every online store and household.
All-over print
Water-resistant
100% polyester
Hemmed edges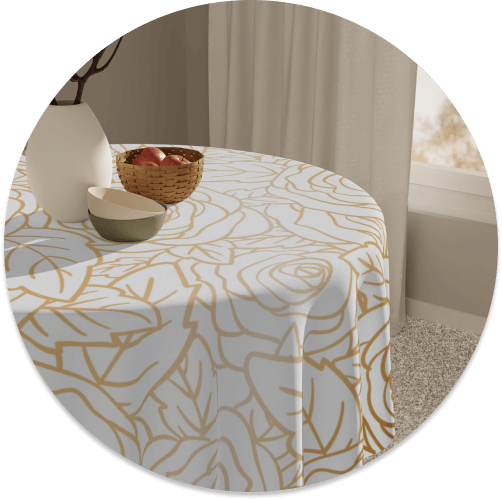 For a smaller wedding or weddings with multiple smaller tables, a personalized table cloth will add the perfect touch to the love-themed decor. Not only that, a table cloth might be one of the best personalized gifts of all. It is a beautiful and practical wedding gift to pass on for generations to come. Always in demand, always practical, always beautiful.
Soft and light material
Edge-to-edge print
One size (55.1″ × 55.1″) (140cm × 140cm)
Bright colors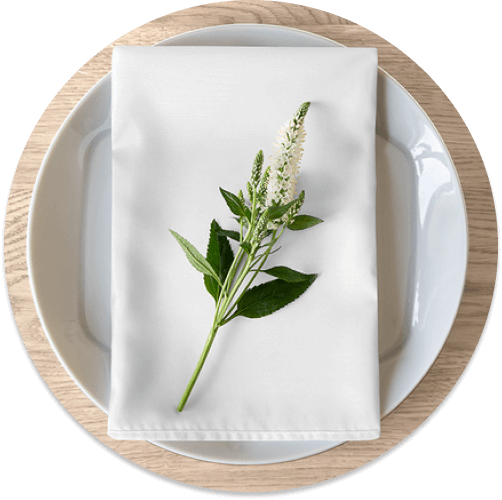 Nothing adds a personal touch to a wedding more than personalized napkins. From names, initials, wishes, the wedding date, and symbols, to other wedding-themed designs, custom napkins are a unique way of letting the guests know they are welcome, appreciated, and thought of.
Four-piece set
Soft material
One-sided print
Vibrant colors
Custom Wedding Drinkware
A wedding cannot be imagined without drinks. From badass toasts from a best man or a bridesmaid to that one uncle who always has "one too many". Drinks – of all kinds – are an integral part of a wedding. And with that – drinkware as well.
Offer personalized wedding-themed drinkware on your virtual stock and bring a wedding family together with unique designs for their beverages. From glasses to wine tumblers, can coolers, and more. Complete the wedding decor with personalized drinkware.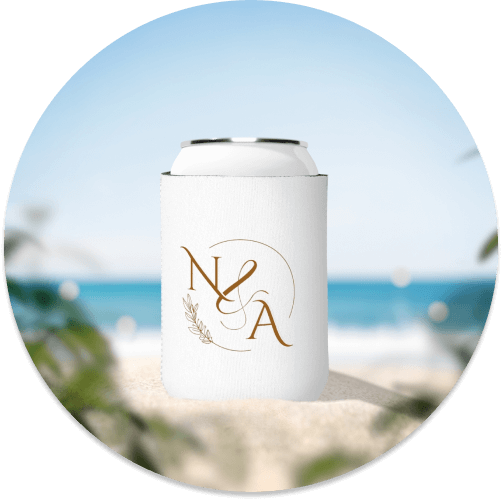 Cooler sleeves can be one of those wedding favors everyone will appreciate when no drink will go warm during the event. When it comes to personalized wedding gifts, can coolers are a gift that keeps on giving. Dress them in wedding-themed designs and give the world a chance to keep their drinks cool during and after the wedding.
Anti-slip
Durable neoprene material
Easy to store
Keeps drinks cool for hours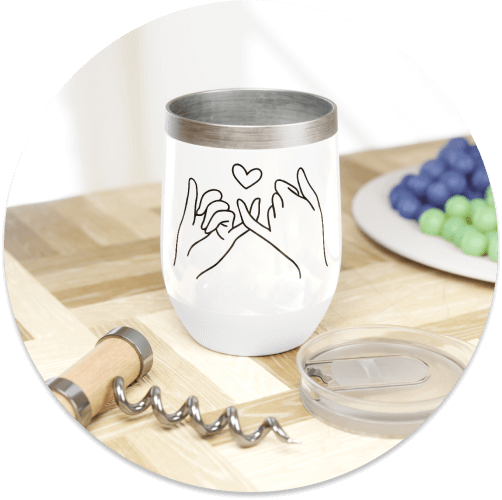 Ensure spill-proof wedding celebrations with our stainless steel chill wine tumblers. Or give these wine glasses as the perfect wedding gift for the happy couple. Unique designs will add a special touch to this wedding gift, making it not only practical but memorable as well. Keep the memories stored and the wine cool.
Comes with a lid
Keeps beverages hot for 12h or cold for 24h
Wraparound print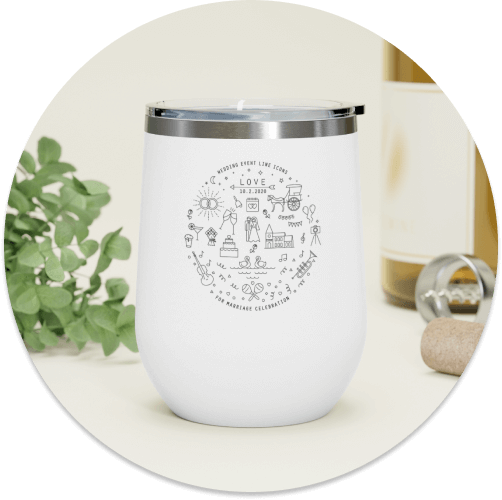 Take the wine game to the next level with insulated stainless steel wine tumblers. Create wedding-related designs with initials, quotes, the wedding date, pictures, or symbols and promote these personalized wedding gifts on your eCommerce site.
These wine glasses are perfect for a wine-loving family or newlyweds who enjoy their beverages on the go.
Lightweight stainless steel
Comes with a plastic lid
Keeps drinks cold for 24h or hot for 6h
Front side print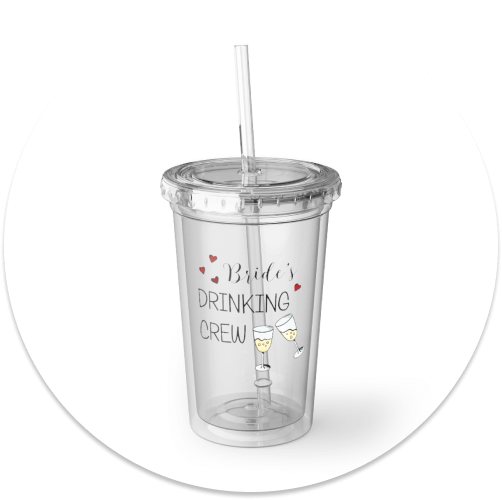 Our acrylic cups will make the best personalized wedding gifts for those happy couples who enjoy drinks on the go. Whether grabbing a cold brew on their way to work, making an ice tea for a picnic at the park, or taking water along on a walk or a hike, these cups will be the perfect companion and be a great wedding gift for future use.
Safe and BPA-free
Plastic lid and straw included
Wraparound print
Spacious and convenient: 16oz (0.473 l)
Keeps liquids cold for 24h and warm for 12h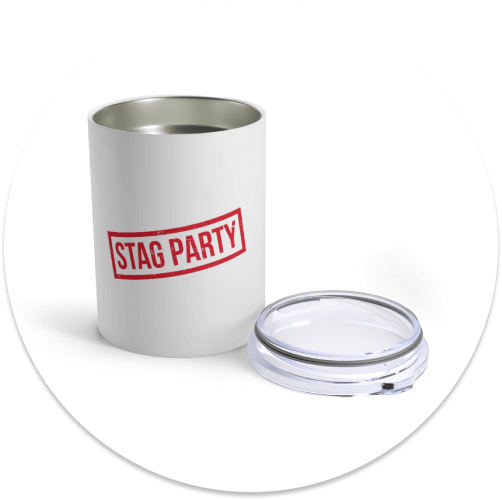 These super cute 10oz (0.30 l) tumblers with wedding-themed designs are a must-have for every online store. Creative and practical, these wedding gifts will be loved by the bride and groom. Fit for every beverage and occasion, these family-friendly glasses will lighten the mood with lovely designs and keep the drinks cold or hot, whatever the preference.
Plastic lid included
Stainless steel
Wraparound design
Dishwasher safe
Blankets & Pillows for Outdoor Wedding Events
From engagement gifts and wedding gift ideas to personalized wedding accessories, blankets and pillows are must-haves for your eCommerce business. Whether it's the wedding guests who need more comfort and warmth, or the bride and groom themselves. These unique and practical items make the perfect wedding gifts for couples and the best family-friendly accessories for any wedding-related outdoor event.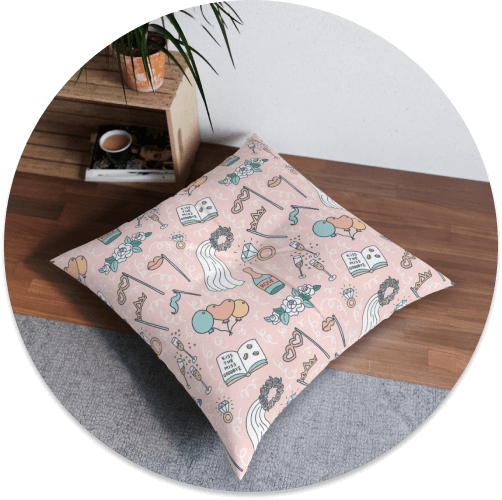 For cozy outdoor weddings, nothing sets the perfect mood better than cute custom pillows paired with the above-mentioned scented candles and a couple of balloons. Shopping for wedding-themed pillows is a year-long trend. Use it to your advantage and come up with design ideas for square-shaped pillows for the happy couple, friends, and family.
Double-sided all-over print
Two sizes (30″ × 30″ – 26″ × 26″)
Square shape
Made of and filled with 100% polyester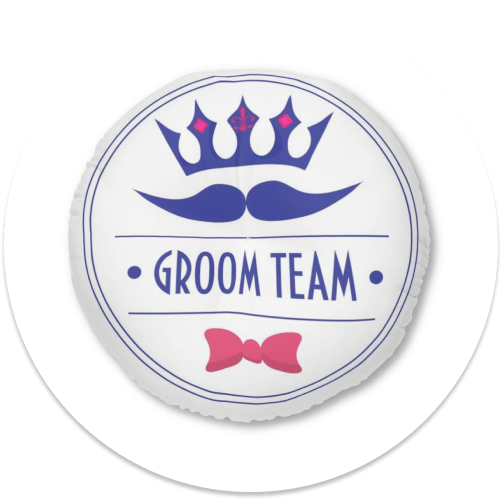 If a square-shaped throw pillow doesn't quite fit the wedding decor, offer your customers a slightly different option – round tufted floor pillows. Those will not only be a sign of caring for the guests and their comfort but add a cozy touch to the entire wedding setup.
Even more, these pillows can serve as personalized wedding gifts for the newlyweds. Customize them with the wedding date, write names, initials, design symbols, pictures, and other wedding-themed ideas and spread happiness with every purchase.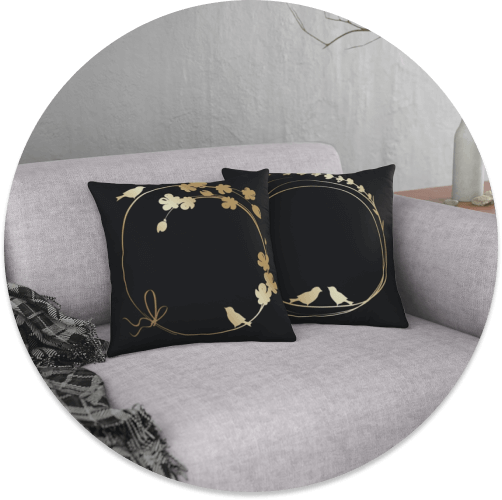 Keep the comfort and wedding setup safe from spills and rain showers with our custom waterproof throw pillows. From a personalized gift for the bride and groom to a one-of-a-kind wedding decor, these pillows will provide comfort and style to any setting.
Removable filling
Zipper enclosure
Water and oil resistant
Four different sizes
Durable material
For indoor and outdoor use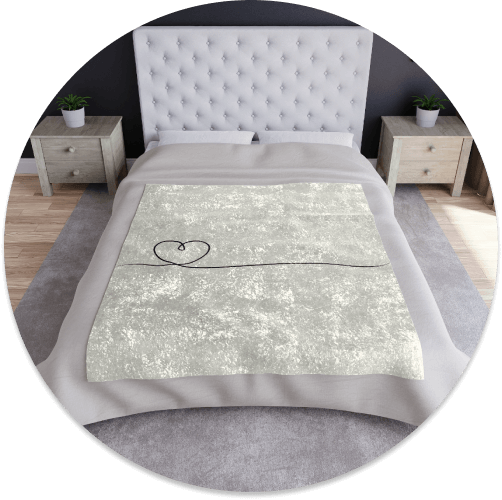 What would an outdoor wedding be without cozy, soft blankets? Sherpa, fleece, hooded, polyester, and even baby swaddles. While blankets provide a cushy setup and warmth to the friends and family during the wedding, they also make the perfect personalized wedding gifts.
Keep the newlyweds warm throughout their new life together and ensure a wonderful memory is stored within this snuggly wedding gift. Add the wedding date, initials, pictures, and other wedding-themed design ideas, and list this personalized wedding gift on your eCommerce site.
Personalized Apparel for Bachelorette Parties
One of the most popular events leading up to the wedding is the bachelorette party, where free-spirited ladies come together and celebrate love and the upcoming celebration. Because of their popularity, bachelorette parties are great opportunities for merchants to promote related products.
From champagne flutes and custom wine glasses to silly accessories, knick-knacks, and, of course, apparel. While purchasing matching bachelorette shirts is a tradition on its own, we've compiled a list of apparel for fun and creative bachelorettes.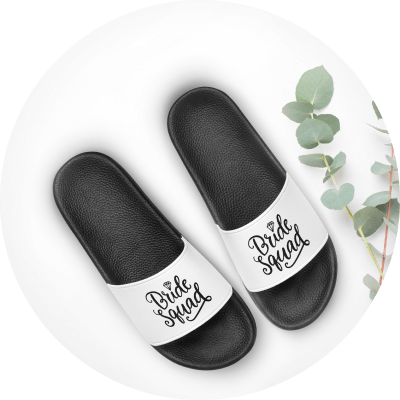 Customized slide sandals for an outdoors bachelorette can be a great surprise and an even better pre-wedding gift. Let the bride-to-be drop the uncomfortable heels and exchange them for comfort and style with wedding-themed designs.
Printed strap
Eight sizes
Easy-to-clean
Durable and comfortable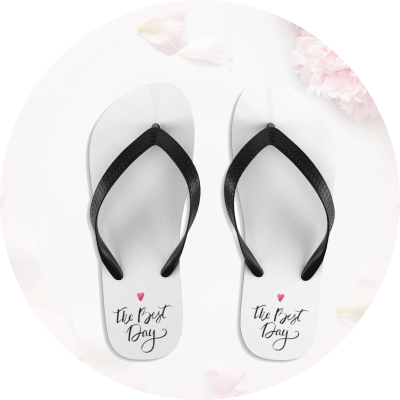 If your customers planned the perfect bachelorette party on the beach, this romantic setting and picture frame-worthy sunsets will be more enjoyable in comfortable bride-themed flip-flops. From a personalized wedding gift to a practical accessory, every future bride will appreciate a pair of flip-flops with unique designs to commemorate the most important day of their lives.
All-over print
Four sizes
Slip-resistant sole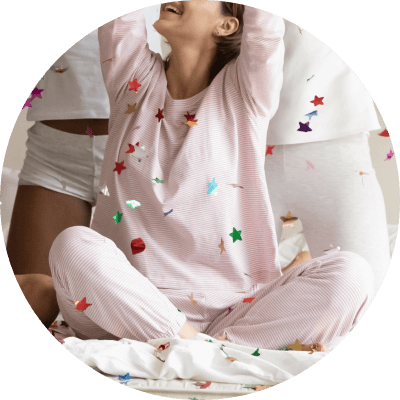 Bachelorette parties don't always have to be loud and crazy. For those future brides who appreciate a more quiet – but still fun – time with their closest friends, a bachelorette sleepover will be the next best thing.
Custom bride-to-be pajama pants will be the perfect personalized wedding gifts to offer on your store page. Comfy, cozy, yet stylish and memorable, paired with a bag of cookies and hot chocolate. No merchant can go wrong with these wedding gift ideas.
Relaxed fit
Soft and comfortable
Six sizes
All-over print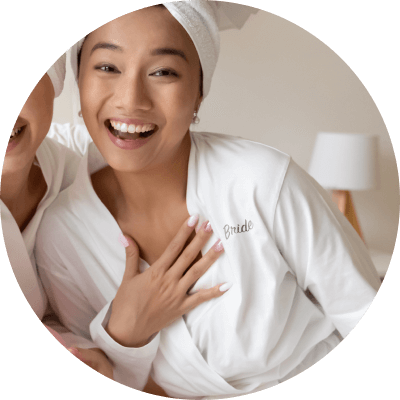 For a more sophisticated bachelorette sleepover or pool party, a custom Kimono robe will be the perfect gift. Fashion a design for the future Mrs. and rank among the top-selling Etsy merchants in no time with a unique personalized wedding gift in the shape of a Kimono robe.
Flattering shape
100% polyester
Smooth feel
Six sizes
Personalized Wedding Accessories
When the bachelorette party has been a blast, the wedding decorations are set, and the perfect attire is set aside, it's time to choose the accessories. From useful items every future bride should have to unique wedding knick-knacks, everything can be a gift with the right design.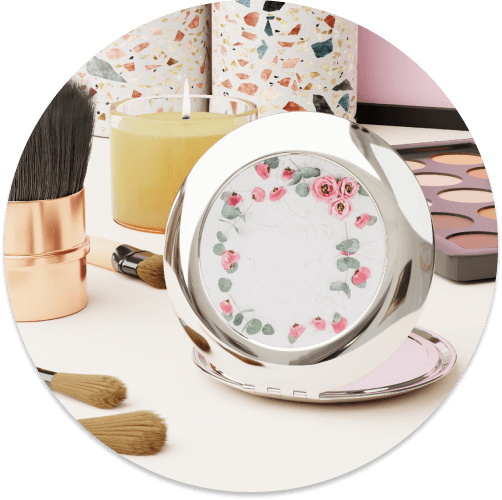 A personalized travel mirror is a must-have not just for your online store, but also for every woman's purse, especially on her wedding day. The fear of messy hair, smudged lipstick or something going wrong during the celebration can be eased with a compact travel mirror. Always at a hand's reach, practical, and unique with custom designs. A gift that will be much appreciated.
Secure snap closure
Metal case
Glossy surface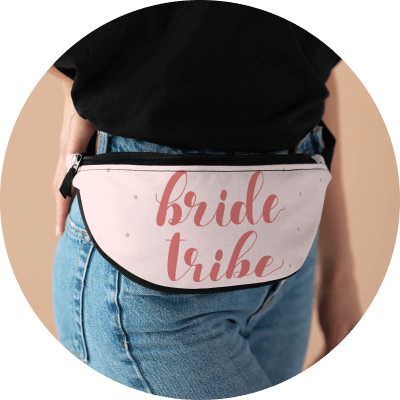 A fanny pack will be appreciated not just by the bride-to-be but also by her maid of honor, who has to make sure nothing goes wrong on this special day. A custom fanny pack can contain all things necessary in case of an emergency. And a wedding-themed design will make this accessory fit in well with the rest of the attire.
One-sided all-over print
100% polyester
Adjustable strap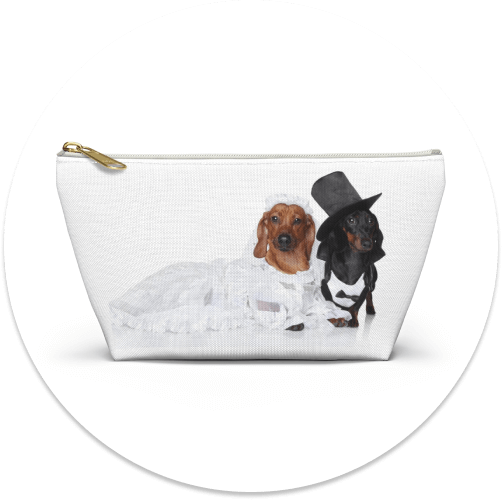 If a fanny pack doesn't match the style of the wedding, shopping for a pouch can be the next best thing. Offer variations for your customers for all tastes and styles. Keeping emergency solutions to just about any wedding-related crisis in a pouch is practical, convenient, and cute with the right design.
This pouch can be the perfect gift after the wedding, as a sign of appreciation and support from the bridesmaids or maid of honor. The future bride can hold on to it afterward and forever remember her perfect day when nothing went wrong.
Laminate inside
Two sizes
All-over print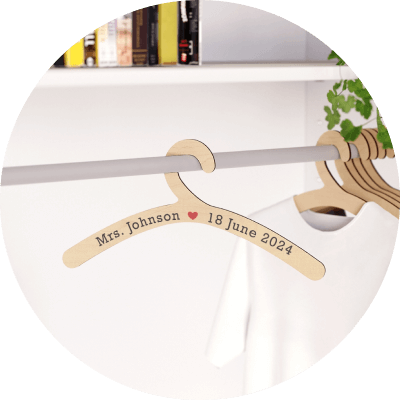 Add a splash of uniqueness to weddings by offering personalized wooden hangers in your store. Decorate them with the special date, initials, "Mr. & Mrs.", and other wedding-themed designs for the lucky couple and their magical wedding attire. A custom hanger for the gown and tux will be a gift to cherish happily ever after, always reminding them of their special day.
Made from birch plywood
All-over print
Eco-friendly
Start Selling Personalized Wedding Gifts With Printify
Fill your store with personalized wedding gifts and merchandise for wedding-related events and skyrocket your sales during the peak wedding season. From a custom yard sign and picture frame to wine glasses, slippers, or cutting boards, unique wedding gifts make the day extra special.
Create and sell various products with wedding-themed designs and become the go-to seller for personalized wedding gifts all year round.
Make It Happen Today!
The post Best Personalized Wedding Gifts & Merchandise to Sell in 2022 appeared first on Printify.