Ask & ye shall receive!
New month means brand new catalog additions and our plan to create the biggest collection of print-on-demand products, is kicking into high gear.
Thanks to your feedback, we're expanding our catalog with highly requested items – more than ever before – and there's still so much more to come!
Refresh your stock with new products, find your winner for an explosive Q3 & Q4, and expand your online presence with profit-raking choices.
Click on "See New Arrivals" to see all our new products or check out our handpicked list of custom goodies below.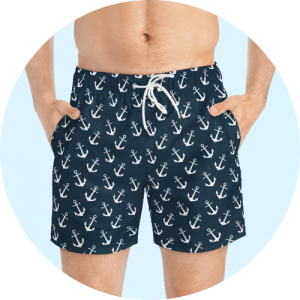 Given our increased travel activity, this product is enjoying a timely introduction. Your customers can show off on the beach or at the poolside wearing high-quality swim shorts printed with an all-over custom design.
These 100% polyester shorts are super light and quick-drying. That means they're easy to pack and easy to wear. Customers can adjust the drawstring waist and achieve a comfortable fit. They'll feel good as well as look good!
Nautical products are very fashionable right now in menswear. Why not say "hello, sailor!" and print these swim trunks with anchors or boats to take advantage of the trend? Your customers will surely get on board with this style!
During the lockdown, many of us rediscovered the simple pleasure of completing a puzzle. This product's ongoing popularity proves that jigsaws are here to stay! They're a fun way to spend screen-free time with the family. So why not design and sell your own
Your jigsaw can have 120, 252, or even 500 pieces. You decide how hard it is! No matter how many pieces you choose, each one will be made of durable chipboard and printed using the latest sublimation techniques for rich vibrancy.
People want challenging designs, and they often like to display their jigsaw once it's completed. You might consider using a city sunset scene, then — one with lots of pretty colors and intricate details!
Lots of your customers will be gradually returning to their workplace, and they may have mixed feelings about that. You could offer a little home comfort to take with them. A coffee mug is an office must-have, and this one is conveniently microwave and dishwasher-safe.
The accent style of this product is especially attractive. The contrast with the color inside — which you get to choose — can make your design even more impactful. You decide if you want to coordinate or clash!
Make the most of the current mood with a funny slogan. How about "working remotely or not remotely working?" or "Monday = camera off!" People will love making colleagues laugh at their team meetings!
A can cooler sleeve is a versatile product. It keeps beverages satisfyingly cold, and it can be equally used on the go as it can be on the sofa! This particular product is made of neoprene, which is very effective and durable.
Customers might buy this for themselves or as a fun novelty gift for a loved one. Increase its appeal further by tailoring your design to a specific audience. Think about who is likely to use a can cooler and when.
Keen campers or fervent fishers might appreciate a can cooler that reflects their passion. You could cater to them and customize it with an outdoorsy theme.
Custom t-shirts are nothing new, but we're excited to bring this modern, fashion-forward model to the market. Sellers have responded enthusiastically to this stylish clothing option, and your customers will too.
What makes it such a desirable piece? Probably its combination of light fabric and a flattering, flowy fit. This makes it a classy crop top that any woman could wear. It reveals just enough to look chic and relaxed. How you customize it will determine who it attracts.
One design option would be to embrace the hippy tie-dye trend. Your crop top could become a hit among the festival crowd! Add a peace sign or flowers for maximum good vibes.
With the rise of freelancing, remote work, and the "digital nomad" culture, more and more people are working from diverse locations. They need a product that will protect their laptop on their travels — whether they're heading abroad or simply to the coffee shop on the corner.
And why shouldn't that product also be stylish? Easy to carry and easy on the eye? This smooth neoprene cover is available in a range of sizes; it's lightweight, and it has space for a cool design to be printed on one side.
How will you make yours stand out? Abstract prints are predicted to remain hot on the catwalk. Bold shapes in bright colors will certainly make for an eye-catching accessory.
This product is enjoying excellent activations at the moment, and perhaps that's to be expected. After all, it's becoming slowly safer to invite friends and family over again. A corkwood coaster set with a custom design is good for impressing guests. It's a low-cost way to inject some style into your interiors.
This is a 4 piece set with a high-gloss MDF top. Whatever design you apply, it will shine and stand out. Its cork backing makes it a practical product, too. Thankfully, these coasters don't slide around on surfaces!
Cottagecore is a huge homeware trend in 2021. That's right: your Grandma's style is suddenly haute couture. You can get in on it by offering cutesy, kitschy, floral-print coasters to your customers.
It seems like everyone uses AirPods these days, right? The little buds offer amazing sound quality, but the fact that they're so small and loose necessitates smart storage to keep them safe.
Enter the AirPods case cover! Your customers can look after their AirPods by popping them in this protective box. Then, they can enjoy peace of mind. They won't have to worry about scratches, bumps, or drops.
Of course, anyone using cutting-edge technology like AirPods is likely to invest in top-of-the-line storage too. You could offer your customers super-cool, music-inspired designs that reflect their tastes.
Everyone loves a cool, cozy hoodie — and this model is even cooler and cozier than most! Its medium-heavy fabric consists of ringspun cotton and recycled polyester, so your customers can be both stylish and sustainable.
The comfort of this hoodie is a huge selling point. It's soft and stretchy, and it has a convenient kangaroo pouch. In fact, the only thing that could improve this product is an awesome print. That's where you come in!
Hoodies have long-standing streetwear associations that you can exploit with your custom design. Why not be inspired by graffiti, skating, and hip-hop culture? You could add a little edge to this cuddly cover-up.
Ask around — many women have been living in their leggings of late. And it's easy to see why: leggings can really do it all! They're appropriate for exercise, lovely for lounging, and they can even be dressed up to make a fashion statement.
These spandex leggings are fully customizable. Their durable, stretchy material functions as an ideal canvas for a high-impact design. The flexible fabric used provides freedom of movement and a flattering skinny fit. Fashion meets function here!
You can get the most out of the all-over-print option on these leggings by adding a striking design. A funky newspaper print could make headlines, for example…
Stickers are such a fun and versatile purchase. The customization potential of this product is limitless! Where will your customers place theirs? In their diary, perhaps? Or maybe on their laptop or cellphone?
That's their decision. What you need to decide are the designs you'd like to offer them. You can add multiple designs to each sticker sheet, so feel free to make it varied and attract customers with different options.
Each sticker will be printed on water-resistant vinyl with a matte finish. Schools are now back in session, so you could always target teachers. They'll be attracted to unique reward stickers. Make them full of color and compliments!
Have you noticed that 90s fashion is back in a big way? Maybe that's why the cropped hooded sweatshirt is taking off with Printify sellers. Women can achieve a fun and funky girl-band look with this product.
The cropped fit makes this a little more feminine than the typical hoodie. It could be paired with leggings, baggy jeans, or even a mini skirt to an amazing effect.
One obvious but effective way to make this hot product even hotter would be to add a slogging full of attitude. Try "BAD GIRLS CLUB" or "GIRL GANG FOREVER." What would the Spice Girls wear?
New to Printify?
Printify offers an extensive catalog of customizable products to launch your online store or to treat yourself to unique items. We offer something for every taste, to suit any kind of customer, and thanks to our print-on-demand model, there's no upfront cost to add items to your online store.
That means sellers like you are free to develop an extensive line of products. You can offer your audience new and exciting options whenever you like!.
Since there's no upfront cost to design and add new products to your store, there's no excuse for letting your stock get stale! Keep it current for your customers.
Remember, you can stay up to date with what's new in the Printify catalog by regularly checking out our latest arrivals.
Make it happen today!
The post Top 12 new products for your store appeared first on Printify.
Please follow and like us: