Try your hand in eBay advertising and promote your listings to 159 million active eBay users with creative, click-worthy, and eye-catching eBay ads. Claim your place among the top-ranking eBay sellers with cleverly promoted listings and raise your traffic, sales potential, and brand awareness all at once.
In this article, you'll find everything there is to know about eBay ads. How to promote listings on eBay, what to include, when to promote, and how to create your first eBay ad to claim success. We'll cover it all.
How to Create a Promoted Listing on eBay
Let's dig deeper into promoted listings by looking at the different types of eBay ads, allowed product listings, and the creation process to help you make an informed decision for the benefit of your online store.
eBay Ad Formats
Promoted Listings Standard campaign is an eBay advertising tool that helps you get your listings in front of millions of active eBay shoppers searching exactly for the products you offer. The Standard campaign is a great way to try your hand in eBay advertising, as it is low-risk and convenient.
Main benefits of the Promoted Listings Standard campaign:
Pay-As-You-Sell. Pay for this campaign only after making a sale. You only get charged for the promotion if an eBay shopper clicks on the promoted listing and purchases the product within 30 days.
Raise Awareness. Boost your visibility and sell more products by placing them in front of the shoppers. The Standard campaign boosts your store and product visibility up to 36%.
Set Up With Ease. The Promoted Listings Standard plan comes with guidance tools showing you all the tips and tricks on getting started, calculates the ad costs, and suggests products for promotion.
Get Reports. The Standard campaign provides sales reports and essential metrics and indicators to monitor the performance of your eBay ads and help you make adjustments accordingly.
Promoted Listings Advanced is an eBay campaign that helps merchants reach bigger audiences by providing the top slots in search engines. With the Advanced plan, if you're among Above Standard and Top-rated sellers, use budget and keyword controls to drive eCommerce sales for your eBay listings.
The Promoted Listings Advanced plan works according to the cost-per-click (CPC) model, meaning your pay for your promoted eBay listings each time a shopper clicks on your eBay ads. As people tend to click on the top searches more, place your products in front of them with the Advanced campaign plan.
Main benefits of the Promoted Listings Advanced campaign:
Control Your Budget. You choose the price per click and set a daily budget eBay will never go over. The enhanced budget control allows you to set your advertising costs and manage your ad spend.
Boost Visibility. The Advanced campaign plan places your eBay ads in the top slots on search results on all other eCommerce and search platforms. Place your offer in front of the right audience with the Advanced plan.
Boost SEO With Keywords. Pick the right keywords from the list of suggestions to help the shoppers reach the product they're looking for. Bid on important, relevant search terms to boost your sales and help you reach the campaign objective.
Promoted Listings Express is the perfect campaign tool for reaching more bids and audiences for your auction listings. The Express plan provides up to 48% more views on your auctions than on deals that are not promoted. Boost your auction game and eCommerce sales with the Express plan.
Within the Express plan, the promoted auction will also appear on similar pages with similar listings. That means your eBay-promoted listing will reach a bigger audience of shoppers searching for that product. With the Express boost, gain more views and bids for your promoted auction listings.
Main benefits of the Promoted Listings Express campaign:
Easy Set-Up. Promote your auction with just a few clicks. Go to My eBay Active Listings and click the Promote it button. Simple, easy, convenient. That's the Express plan for your auctions.
Bigger Reach. Generate more traffic and bids on your promoted listings by showcasing your auctions in front of more eBay users and shoppers actively searching for products.
Transparent Costs. These are promoted listings with one flat fee. Each auctioned item gets its own up-front promotion fee with no surprise costs and fees afterward. Follow your ad spend, and promotion costs with the transparent Express plan.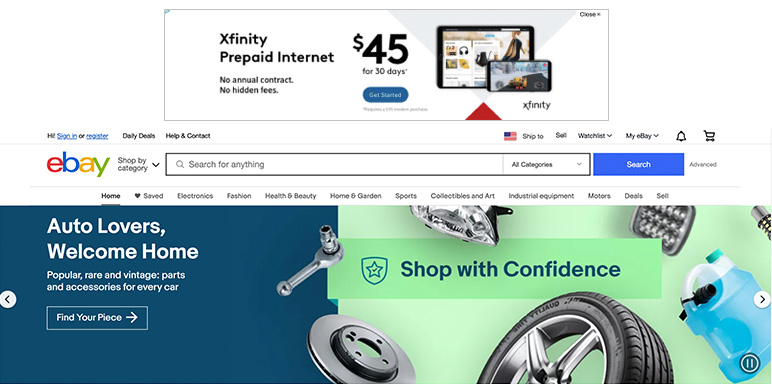 Boost your brand awareness and perception with display ads. You know those creative little banners around the eBay platform promoting great deals, products, or services? Those display ads draw your attention, encourage a click, and maybe even generate a purchase.
Attract customers with creative visuals. While securing the top spots for your promoted listings helps your business greatly, display ads are another way of reaching your audience. To target the right crowd, display ads use such criteria as
Previous behaviors
Keywords
Subcategories
High spend on different parts of the site, and more.
Boost each eBay listing of your choice with display ads and target the right audience in specific categories. Become the go-to eBay seller even for those not searching for your products.
Expand your eBay advertising options with more than just search results. Promote listings with display ads and reach further than just the regular shopper searching for your products. Grab the attention of potential buyers with targeted banners.
Classified ads and the rules that apply differ from any other ad format eBay offers. Like Google ads popping up here and there, these eBay ads are for businesses and sellers who want to use eBay's vast audience but sell their products or services on a different platform.
Classified ads are an option for the following categories:
Specialty services
Travel
Business, office, and industrial
Real estate
Here's how Classified ads work:
You list a product through eBay Classified ads
You set the price for the product
eBay displays your ad within the platform
An eBay shopper clicks on the ad
eBay puts you in touch with the buyer
You and the buyer negotiate the deal and finalize the sale outside of eBay.
The total price for a Classified paid promotion depends on the category and duration of your campaign. But with Classified eBay ads, you only pay for the ad. No selling or listing fees apply since you don't have to be an eBay seller to place Classified ads. But, keep in mind that you will also miss out on protection policies existing eBay sellers get.
What Can You Promote?
Promoted listings on eBay boost your sales potential and customer reach by showing your listings on top of the eBay search results. Advertising on eBay can generate more sales, but not all products or services are fit for eBay ads.
Be a responsible campaign manager and educate yourself on eBay advertising from A to Z to make your promoted eBay listings rise above the competition.
Fit to promote falls under such categories as
Bestsellers
New listings
Seasonal items
While it is easier to be specific on categories that are not fit to promote (Classified ads being the exception):
Real estate
Travel
Vehicles
"Everything Else" category.
Promote fixed-price listings and auction buy with eBay advertising to skyrocket your traffic and customer reach. Promoted listings work, and we'll explain how to create eBay ads to show on top of search results.
Let's Create an eBay Ad
Let's go through the process of creating a promoted listing step by step. From setup and creation to dominating the search results. Have your eBay ads up and running in five easy steps.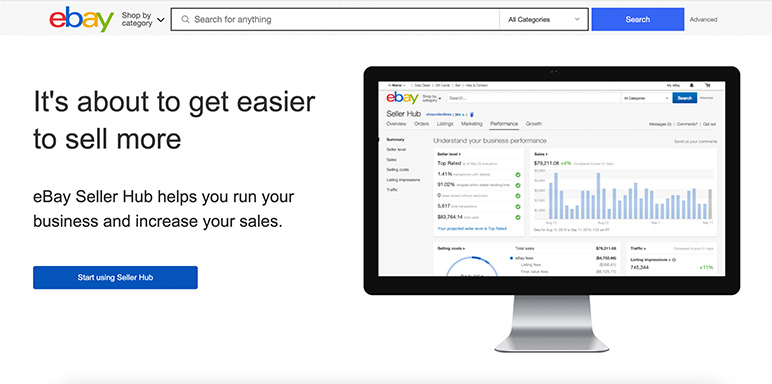 1. Visit the Seller Hub
The Seller Hub is where all your promoted listings begin and end. To start the process of creating an ad campaign on eBay, you must visit the promoted listings dashboard inside the Seller Hub.
To do so:
Log in to your eBay account
Go to Seller Hub
Click on Marketing
Navigate to Promoted listings on the left side menu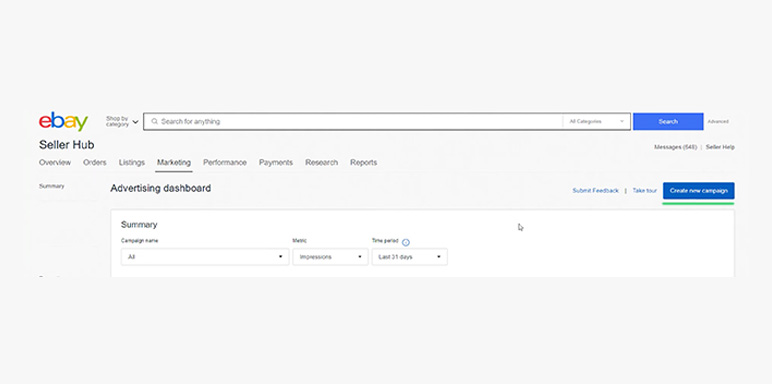 2. Create a New Campaign
If this is your first time in eBay advertising, you will be prompted to Create your first campaign. However, if you're already advertising on eBay, just scroll down to Campaigns and click on the big blue button that says Create a new ad.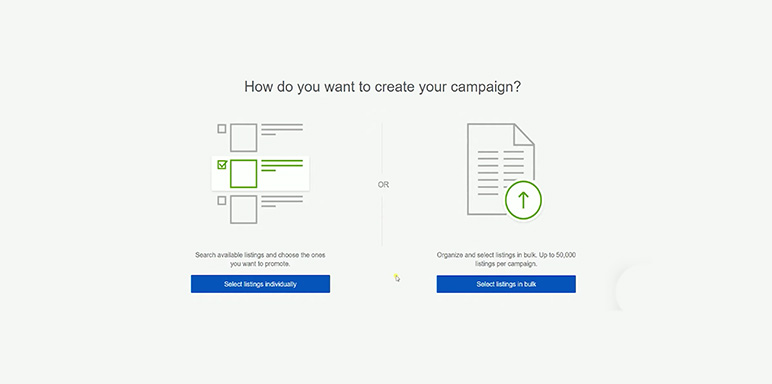 3. Select Listing Type
This is the part where you have to choose – promote multiple listings or generate more sales with individual listings on eBay. Currently, you can create your eBay campaign with
Simple Listing Selection. Manually select individual listings from your product pages. Single product listings are best for sellers who want a guided experience with recommendations and flexibility.
Bulk Listing Selection. The bulk option is for sellers who prefer to promote their product listings in bulk using a CSV file or selecting multiple categories. Bulk listings prioritize cost management and secure consistent inventory.
Rules-Based Automation. Develop a set of rules, and eBay will automatically promote products accordingly. From seasonal items, hard-to-find products, or any other existing product listing all the way to future newcomers. Quick, easy, and automated.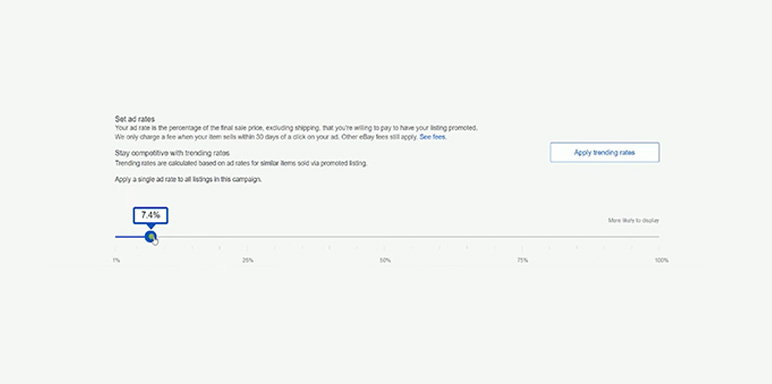 4. Pick an Ad Rate
The Ad rate section is where you choose how much to spend on your eBay campaign. Ad rates take form of a specific percentage of your total sales value, so choose wisely.
For merchant convenience, eBay displays the current trending ad rate below each ad rate toggle as a recommendation. While the current ad rates are a good place to start, you can slide the bar as high or low as you want – anywhere from one to 100% of your sales value.
Here's how the ad rate for promoted listings works – if a user clicks on your promoted listing and buys the product within 30 days from the beginning of the campaign, you'll have to pay the set ad fee of the final sales price.
5. Give It a Name and Give It a Go
The final steps of creating eBay Ads are naming the campaign and setting the duration. Pick a relevant name for the campaign to track the progress and easily navigate to it. Keep in mind that only you see the name of the ad campaign, so keep it relevant for yourself.
Finalize the campaign by choosing a start and end date for your eBay ads. Once it's done, check the Terms of Service box and click Launch. Congratulations, your eBay ad is good to go.
When Is It Worth Using eBay Advertising?
Not everyone needs to try their hand at promoted listings on eBay, however, it's an excellent way to stay on top of the competition and raise brand awareness for an additional fee.
eBay ads are great for
Extra Visibility. Promoted listings show up for more people than regular searches, reaching a higher count of targeted customers.
High-Competition Items. If your products are high in competition, rise above the competitors with promoted listings and creative ads.
Low Search Results. If your products are one of hundreds and show up too low in searches, place your promoted listings in the top slots of search results.
How to Win With eBay Ads
Here are some useful tips for creating killer listings on eBay that will drive in customers, generate sales, and make all the other sellers green with envy.
eBay Recommendations. Let your business grow with a little help from eBay itself. eBay gathers data to suggest products that will most likely generate sales from promoted listings.
SEO. Choose the right keywords in your product titles, listings, and product descriptions to reach the right audience.
Click-Worthy Titles. Come up with a product title impossible to resist. Generate clicks and eventually sales from your promoted listings with killer product titles.
High-Quality Images. The primary photo and description create your product's overall feeling and look. Make sure to list quality images to boost your promoted listings.
Monitoring. Keep an eye on your progress and review your promoted listings, important metrics, and KPIs to track the ad's success. Make adjustments accordingly.
Sell On eBay With Printify
If you don't have an online business yet but are considering starting one, pick a reliable, helpful partner who is always there to help every step of the way. Luckily, Printify ticks all those boxes.
Transparent Company. Start your online business with no hidden costs or surprises. Printify gives you a full overview of our products, production and shipping costs, time, delivery, and more.
Product Scope. Our vast product catalog has over 700 white label products, perfect for every occasion, taste, and online store. Pick the best merchandise for your brand and business, and customize it to perfection with our free Mockup Generator.
Reliable Network of Printing Partners. Printify collaborates with more than 90 printing partners from all over the world. Create various products and expand your sales opportunities by shipping orders worldwide with trustworthy print providers.
Beginner-Friendly POD Platform. Save time, money, and some nerves by working with a platform that is easy to use and doesn't require extra training or knowledge. Have your products up and running with striking designs among other sellers in minutes.
Top-Notch Support. Gain access to not only excellent customer support but experts as well. Our Experts Program will put you in touch with successful sellers for help and advice, while our merchant support agents will have your back 24/7.
Make It Happen Today!
FAQ
How much does it cost to advertise on eBay?
eBay promoted listings cost differently for everybody. The ad fees are based on the ad rates sellers select. When creating an ad campaign, merchants choose their own ad rates to apply for the campaign. Most sellers opt for the trending ad fee, while others choose their own rate (1-100%). Either way, that percentage is what you'll pay for your ads.
If you create promoted listings and a user clicks on them and buys the product within 30 days, you will have to pay your set percentage from the value of the final sale. That will be your eBay ad cost.
How to advertise an eBay listing?
Visit the Promoted listings dashboard inside the Seller Hub
Create a new campaign
Select listing type
Pick an ad rate
Name your ad, and your promoted listing is good to go.
Are eBay promoted listings worth it?
Yes. And here's why. Over 109 million users browse the eBay platform for epic deals on the same product every month. Advertising on eBay helps sellers boost their products on the search results and showcase them directly to the right audience.
Even more, you choose your own competitive ad rate and pay for your eBay advertising only for the items sold through clicking on your ad. Set the advertising costs, choose relevant keywords, show up on top of the search results, and boost your sales by advertising on eBay.
Ready for eBay Ads?
Setting yourself apart from your competitors on eBay can be tricky but not impossible. With such a high amount of competitor sellers and items, it's important to have a trick or two up your sleeve.
Use the tools, tips, and guidance mentioned above to boost your product visibility, traffic, click-through rate, and sales. Once you've created your eBay promoted listings, review the progress and adjust accordingly to lead your business to success.
Do some research on promoted listings
Create an eBay ad campaign
Set your ad spend
Launch the campaign
Monitor results
Choose the right strategy for your promoted listings, track metrics and performances that matter, and lead your eCommerce business to success together with Printify and your eBay team.
Make It Happen Today!
The post How to Promote Your Listings With eBay Ads appeared first on Printify.
Please follow and like us: