Custom backpack, tote bag, beach bag, fanny pack… I'm not bragging about my bag collection here. It is but a small portion of a variety of custom bags found in the Printify catalog. There's a lot of them. Seventeen, to be exact. But from what I hear, there are even more blank bags coming in the imminent future. All of them highly customizable, some of them embroiderable (is that even a word? I looked it up; it's not. But you get the idea: an embroidered bag. That's beautiful!). There's even a vegan leather clutch for you to customize!
There can never be too many custom print on demand bags
Everyone needs a bag of some kind. For some people, a bag is kind of a personal assistant: it knows and holds everything that they need — the phone, glasses, tablet, wallet, planner, laptop, camera, even spare shoes and a change of clothes. For some, a purse is but a mere lipstick holder. The global handbag market size was valued at $47bn in 2018 and is expected to observe significant growth in the future. Some people invest thousands and tens of thousands of dollars in luxury designer handbags, and there's nothing wrong with that, but they kind of all look the same.
You have a fantastic opportunity to offer custom bags of all shapes and sizes for a fraction of a luxury bag's price to those who wish to truly stand out from the crowd. And when a beautiful and unique bag or purse costs, say, thirty dollars, your customers can order one for every occasion, outfit, and need. Be it a personalized fanny pack for walking their dog, or a canvas diaper bag, or even a giant shopper to carry groceries in style.
With Printify, you can start selling custom bags with no down payment. Blank bags come starting from $6.37 (or even lower if you're a Printify Premium subscriber).
What custom bag styles does Printify offer?
In the Printify catalog, there are currently seventeen different types of custom bags of all shapes and sizes. And all of them are highly customizable with unforgettable prints and eye-catching embroidery, from such classics as canvas totes to brand with your charming little bakery's logo to a duffle bag for hitting the gym in style. Design a custom toiletries pouch for yourself or create a line of backpacks and laptop sleeves to sell in your online storefront. But first, let's late a look at each of the custom bags in the Printify catalog.
Change and sudden shocks are a part of life as we have all seen with the coronavirus pandemic. Technology is always changing so there is no need to panic about the changes. The answer is to prepare and adapt to these changes.
Tote bags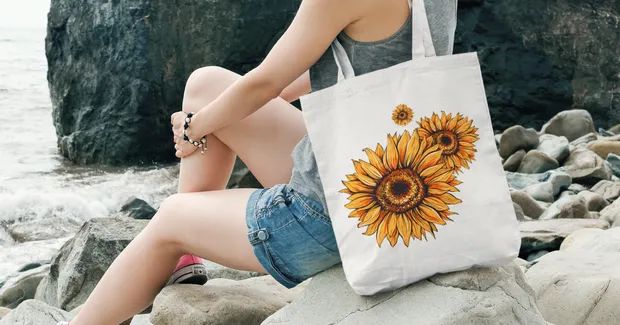 According to the Collins English Dictionary, the tote bag is "a large and strong bag." Its versatility makes the custom tote bag a practical and stylish handbag option. In our catalog, there are four different styles of custom totes to add to your eCommerce store. Let's start to review them.
AOP tote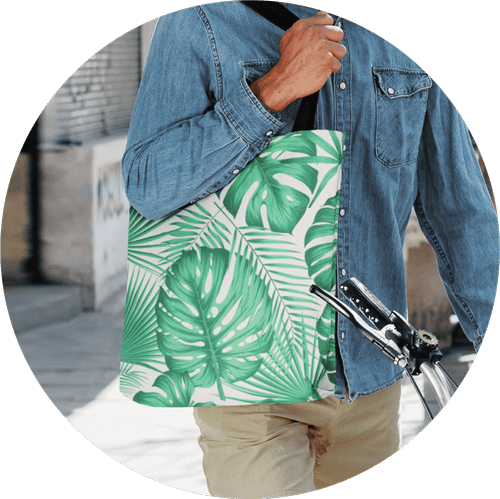 AOP stands for All-over-print, which means you can adorn this versatile tote from seam to seam with jaw-dropping graphics. It's made of 100% polyester, which makes it durable, but most importantly – it lets the designs truly pop. Its cotton handles guarantee comfy and sweat-free carrying. It comes in three sizes to suit your customers' every need, so no wonder this is our best-selling bag. The tote is made and printed in the USA and starts from $10.60.
Start designing custom AOP tote bag
Cotton tote bag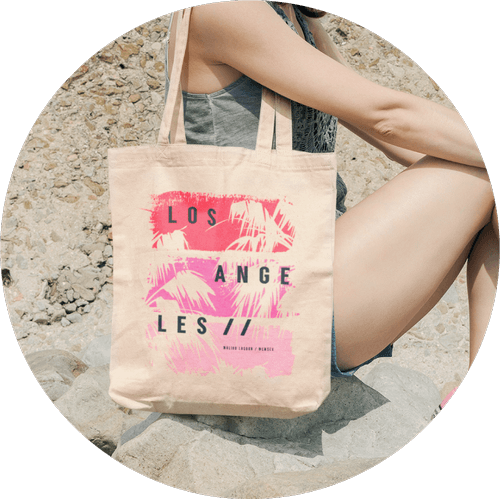 Custom tote bags have become the go-to product for reducing single-use plastic shopping bag usage, not to mention becoming a must-have fashion accessory. It's made of 100% cotton canvas with reinforced straps, which makes it virtually indestructible. This custom canvas tote is one of the most versatile and popular custom bag styles out there. It's unisex, spacious and oh so good for our planet. Bye-bye, plastic; there's a new bag in town.
Start designing your cotton tote bag
Cotton tote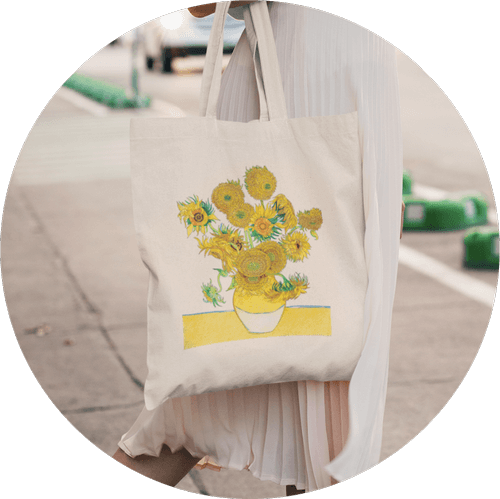 We have another tote. This one is the classic flat-cornered rectangle we all know and love. It is a more lightweight and affordable alternative for the cotton tote bag mentioned earlier. Made in the Czech Republic, it will please your European customers with its minimalistic design, long handles for hassle-free carrying around the town.
Start designing your cotton tote
Shopping tote (embroidered)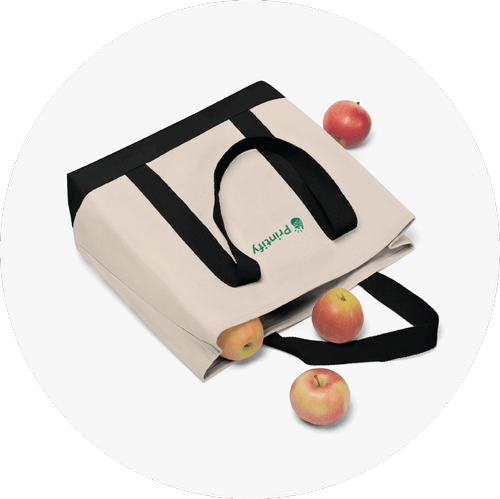 Long-lasting and durable, the shopping tote is perhaps the most common use for this type of bag. Don't be fooled by the name, though; this custom printed tote bag can be used for multiple applications. Featuring large cotton web handles and a deep exterior pocket, this custom tote bag has everything your customers need for a trip to the shops or farther afield.
This custom tote bag also features embroidery, adding an extra level of both quality and longevity. The boxed corners make this cotton bag extra spacious to carry all your groceries at once.
Start designing your shopping tote
Small accessories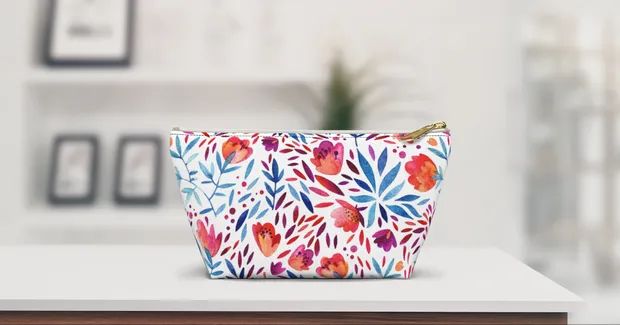 The best way to keep the things organized and neat is with the help of various smaller bags and pouches. Design fanny packs, laptop sleeves and pouches of different sizes to cater to your customers' needs.
Vegan leather clutch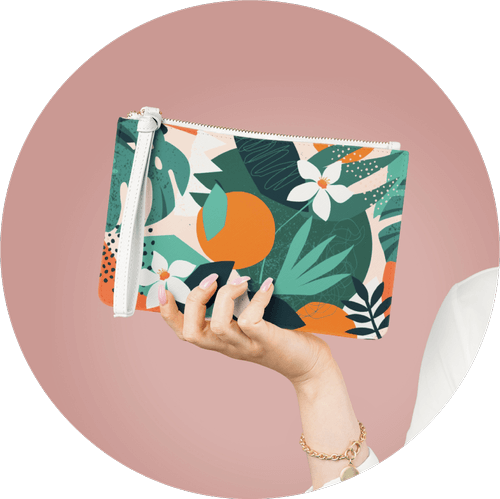 One of our latest and most fashionable additions to our catalog, this Saffiano-finished vegan leather clutch won't go unnoticed. With its modest price point at under 16 dollars, it's a bargain with a touch of luxury, especially when accented with your design from seam to seam. It features a black fabric lining and a small pocket to hold your treasures with a gold-tone zipper and loop handle for all the fashionistas out there. Did you know that Saffiano leather finish was invented by Prada? I mean, if that doesn't scream luxury, I don't know what does, then.
AOP fanny pack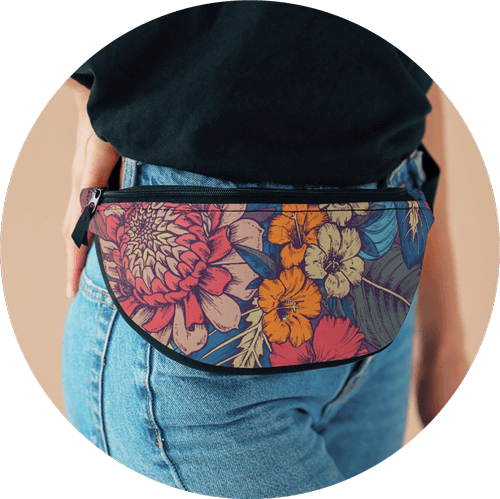 This small and versatile bag is known by many names: bum bag, fanny pack, belt bag, crossbody bag. The one found in the Printify catalog is made of 100% polyester, and boy, does it look fine when that gorgeous all-over-print has been smacked all over it! Wearable around the waist while being out and about in the city, or walking your pupper, or if you want to be even more trendy, use it as a crossbody bag and stash your phone and chapstick always to be camera-ready for that stunning Instagram shot. The fanny starts from 18.93, and if you play your cards right, it has the potential of becoming your online store's bestseller.
Start designing AOP fanny pack
Laptop sleeve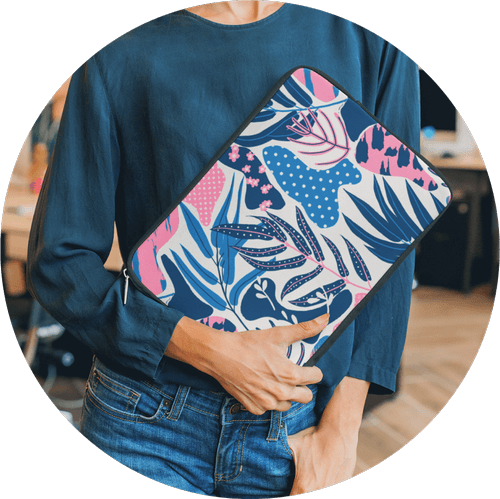 When it comes to laptop sleeves, people are usually very particular. It needs to have good support, decent padding, and it certainly needs to look nice. And this is where the Printify laptop sleeve delivers. I have been using one for over a year, and it has been with me through thick and thin. It protected my MacBook when it fell from the roof of my car. It has protected my laptop on lengthy bike rides in my little basket. This custom laptop sleeve is lined with a soft fleece-like material, padded with foam for extra protection; its zip closure hasn't failed me once. The printable area is covered in synthetic material that lets the artwork stand out. It's easy to clean and comes in three sizes. The price starts from $22.39, making this laptop sleeve a fine addition to your eCommerce store.
Accessory pouches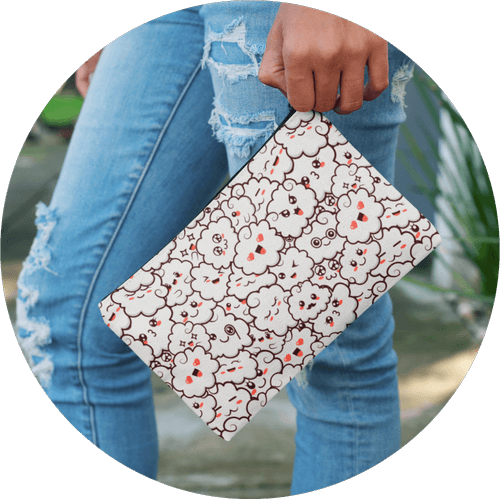 In our catalog, we have two types of pouches: t-bottom and flat-cornered. Both are made of durable polyester for vivid all-over prints, and both come in various sizes for various needs. These custom pouches can be used for pretty much anything: they make for excellent pencil cases and cosmetic travel bags. Made from durable polyester and equipped with a sturdy zipper, a pouch prom the Printify catalog will surely last for years. They start from $6.37 and are very fun to design, and can be a surprising addition to your online store.
Start designing accessory pouches
Backpacks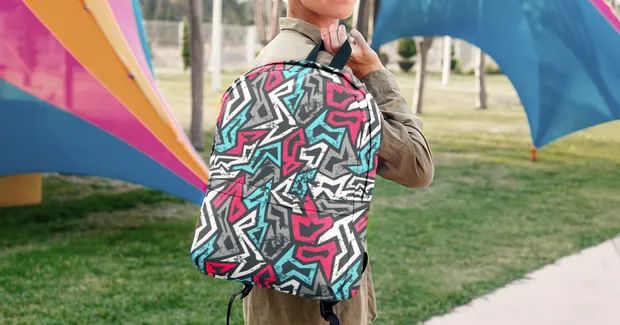 Backpacks are so practical! Custom backpacks are often preferred over handbags for carrying heavy loads, such as books, equipment, various gadgets, etc. In the Printify catalog, you will find six different backpacks to design and add to your online storefront – from nylon to PU leather to make your designs pop.
Drawstring bag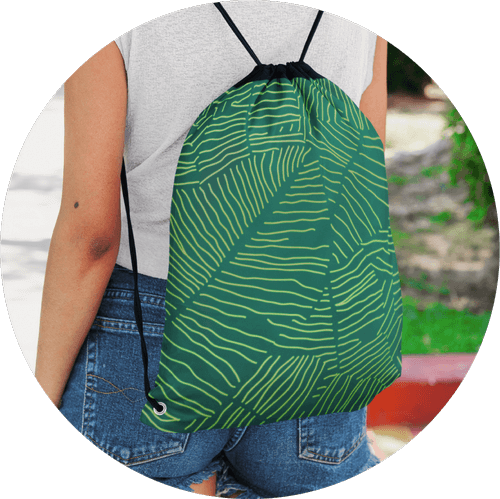 I've been using this custom drawstring bag for my gym shoes. And my little niece for all her knickknacks and toys. Smack a skull on it, and you have yourself an edgy everyday baggy; adorn it with flowers and butterflies, and suddenly it's a kids bag! This drawstring bag isn't one of those cheap-looking single-layer ones. It's fully lined in black fabric and has an inside pocket for your wallet or phone. With the all-over-print technique, you can make this bag look sweet or badass from seam to seam. It starts from $27.90 and is worth every cent.
Start designing drawstring bag
USA-made custom backpack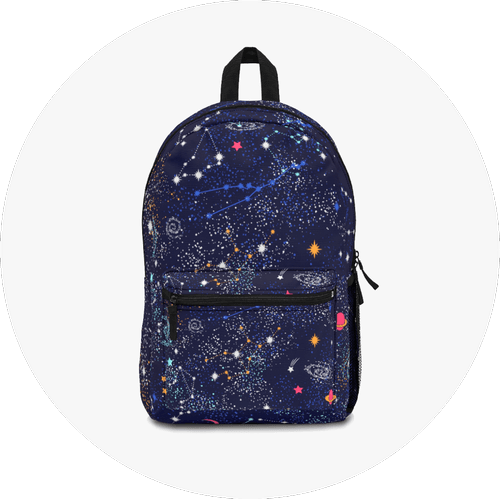 This all-over-print backpack was born in the USA. With its lightweight and waterproof shell, this bag is a perfect companion for students and professionals alike. With this custom bag, you will have room for everything, as it is spacious and has many extra compartments for all the everyday tchotchkes. 100% polyester means it's extremely strong and durable and retains its shape, as well as dries quickly. The price starts from $37, which is rather fair considering the quality of this custom backpack.
Start designing custom backpack USA
China-made custom backpacks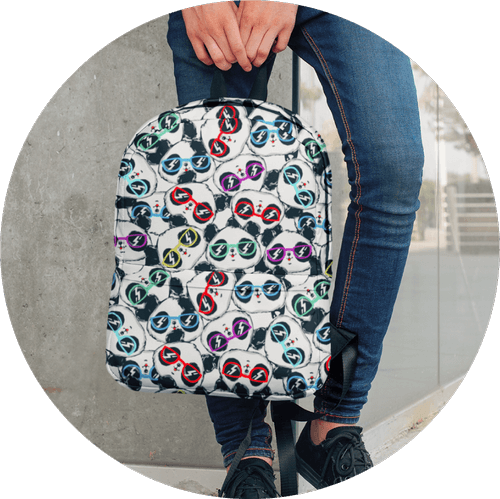 Four different backpacks come from Printify's printing partner ArtsAdd in China, but don't fret; their overall rating within the Printify ecosystem is stellar: 9.7, which means the quality and production time does not disappoint. And also – shipping prices from China-based suppliers are unbeatable.
These four bags are very different regarding their style and material. There's a soft nylon canvas AOP backpack with two large zippers. Then from the same material, there's a classic rounded top backpack with one zipper. Both of them padded for your comfort, both come with a spacious front pocket. These both you can print seam to seam top to bottom.
Next, we see my personal favorite, the unisex casual backpack made of durable Oxford canvas. It has two slip interior pockets and one laptop sleeve in the main compartment, a front zipper pocket, and two side pockets. It looks very stylish, and I get compliments wherever I go from both guys and gals. This custom backpack comes in a classic shape with a front flap design that you can adorn with your beautiful artwork.
And last but not least, there's a PU leather backpack that lets the printed area truly shine. An irreplaceable practical bag for school or everyday usage, this backpack provides ultimate comfort and protection. It comes in three sizes to fit all body shapes and needs. This custom bag also features a padded back and laptop sleeve, as well as comfy handles.
These ArtsAdd backpacks start from $32 with an average production time of 2.4 days. When it comes to the shipping time, it varies based on your location, national holidays, etc. I received mine within eleven days since placing the order. Like I mentioned before, working with China has its perks, one of them being the splendid service, and shipping prices. As well as if you need 300 PU leather backpacks, they totally got you, because they don't fear bulk orders.
Start designing custom backpacks
Other bags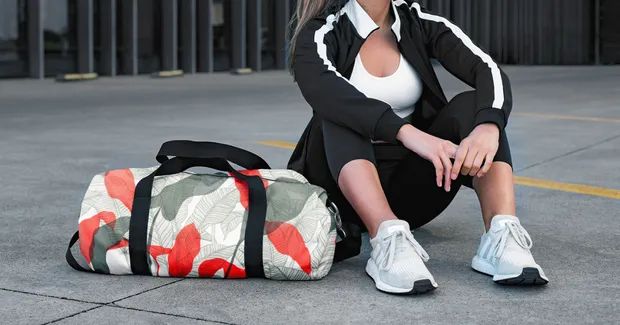 Here are two more custom bags for those who need to hold it all. Spacious, durable, good-looking and oh so printable, our custom holdalls will please your customers whether they're planning a night away, a beach getaway or hitting the gym in style.
Weekender bag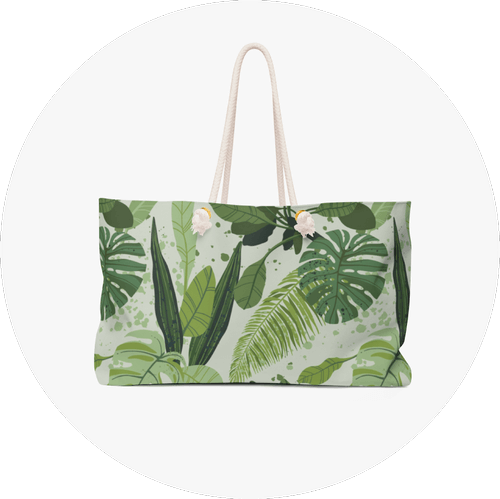 The summer is approaching, and you better be ready. Printify's oversized Weekender Tote is perfect for your weekend at the beach or in town. This durable, wide-mouthed bag holds an extensive amount of items and has a laminated lining for easy cleaning, and thick rope handles that would compliment a nautical-themed print. Or whatever you like, I'm not here to tell you how to design your bags. This bag was a huge hit last summer because the print area is huge, and you can really let your designs pop here! Made in the US, this bag starts from $25.
Duffel bag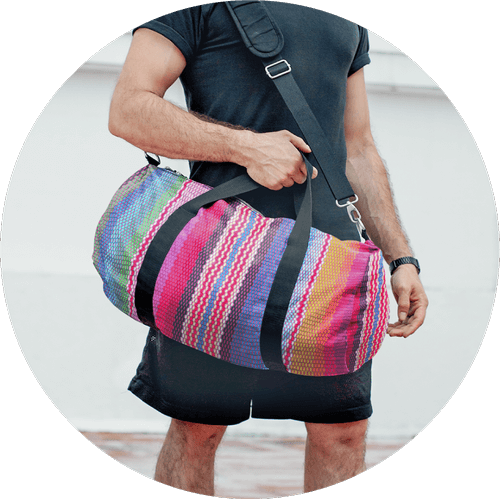 Another crowd-pleaser here. This duffel bag comes in two sizes to fit all needs. Because of its all-over-print surface, everyone who carries it oozes style and uniqueness. Forget generic, zero personality name brand gym bags. The Printify duffel bag is perfect for the gym, a day-trip, or for any other mobile storage need! Easy to carry with you in your hands or around your shoulders, made of 100% Oxford canvas, which means it's lightweight, tear-resistant, super soft, and comfortable.
Why add custom bags to your store
Custom bags are becoming increasingly popular among dropshipping eCommerce stores. By utilizing a print-on-demand platform, like Printify, store owners can create their own designs to make custom bags, totes, and small accessories for their website.
When your customer orders a custom bag, our printing partners handle order fulfillment and shipping, letting you concentrate on design and advertising.
Printify offers multiple ways of customizing the bags in their catalog. The first way is the direct-to-garment (DTG) method to apply to two of their canvas totes. The second method is all-over-print (AOP) that works with most of the bags in their catalog. Then, there's embroidery, where you can have your logo embroidered on the upper part of the canvas shopper, which would serve as the perfect promotional material, as embroidery always brings that extra oomph to any garment and accessory.
Printify custom bag fabrics. Where's the difference?
While looking at each custom bag individually, I've mentioned a couple of different types of fabric used. Let's take a closer look at each one of them and pinpoint their strengths and weaknesses.
Oxford Cotton

Oxford cotton fabric has a fine texture and is slightly heavy in weight. Its basket type of weaving gives the fabric durable and breathable properties – which is perfect for Printify custom duffel bag. Oxford canvas ages extremely well and gets softer with every use. This type of fabric is also naturally resistant to wrinkling and tearing. Downsides – only one: it's not water-resistant, however, it's thick enough to protect your belongings even during heavy showers; it just will take a while to dry.
Cotton twill

Cotton twill is a popular weave pattern with characteristic diagonal lines on the face of the fabric, like the ones you see on the Printify custom shopping tote—cotton twill results in a sturdy fabric. Twill is a plain-weave textile that dates back to antique times. The fibers are packed very closely together, resulting in a robust and thick material you might recognize from your jeans. So, this heavyweight fabric is perfect for jeans, pants, and sturdy bags. The downside? This material is not printable; instead, you can add an embroidered logo front and center, which will look beautiful against the 'vintagy' white canvas.
Nylon

Two of Printify's custom backpacks are made of soft nylon canvas. It's extremely lightweight, highly printable, and waterproof. It's pretty much the perfect material for a backpack, considering how we tend to throw ours everywhere, so it's necessary for it to be sturdy and dirt-repellent. Cons? Keep away from fire, for nylon melts like snow on a warm spring day. But on this note, you should actually keep all your bags away from fire.
PU leather

PU leather is extremely printable and the end products look gorgeous, as the area is smooth, silky, and even, and lets the design pop. Also, PU or faux leather is very easy to clean – just grab a wet cloth or paper towel and rub the first away. On the downside, PU leather is not the most durable of fabrics and tends to peel with time.
100% spun polyester

Spun polyester is a very durable and long-lasting synthetic fabric that looks and feels like cotton. It doesn't have the same softness, though, and for some people, it can feel a little 'cheap', which is alright for a $30 beach bag. Then again, spun polyester handles like cotton, folds like cotton, and even absorbs like cotton, and is very printable, making the end product look and feel absolutely gorgeous.
Create and sell custom bags online
Bags are always in. And one can't underestimate a good bag, but an amazing custom bag can become so much more. Creating custom bags with Printify is so easy and fun. You do the designing and advertising; they produce and ship to you or your customers. Printify custom bags have no order minimum, so order a single bag for your personal use, or open an eCommerce store that sells personalized custom bags and accessories.
Btw, don't forget that custom bags make for dashing promo materials. And today, promo gifts are all about their usefulness. Forget about unsightly and useless tchotchkes; Instead, create personalized promotional bags with Printify. Give them as gifts to loyal customers, or attract potential ones – your brand will get a bit more recognizable whenever someone carries one of your personalized custom bags.
Make it happen today!
Start selling
The post Custom bags: Everything you need to know appeared first on Printify.