The primary goal of any eCommerce business is to increase its online sales. It does not matter if you run a small Etsy business, or own an eCommerce business model the size of Amazon, increasing sales will always be a major concern.
Increasing sales to your online store looks easy on paper but hard in practice. There are hundreds of tips on the internet on how best you can increase sales conversion in your online store. Many of them are legitimate and proven to work for others, but some may be difficult to implement.
When choosing strategies to increase your sales conversion, ensure you pick those that are a great fit for your business.
Every online store owner wants to increase their sales, but not many know how to do it. Perhaps you got a lot of sales in the past and suddenly you experience a drop in sales. What you need to increase your sales is a total revamp of your marketing strategy in some cases. In other cases, just a few testing and adjustments here and there and you start to see increased sales conversion.
In this article, you will gain insights into the 17 best ways to increase sales conversion in your online stores. These methods work for any eCommerce model (physical goods, digital goods, or services).
Let's get started.
Best ways to increase sales conversion in your online store
1. Use high-quality images and videos
Your product pages need to have high-quality images and videos to convert your visitors. Think about the kind of images and videos that you see when shopping online that prompt you to make a buying decision.
Since your customers cannot touch your products online, the next best experience is to see your product through detailed images and videos.
Showing clear and high-quality images and videos for your products lets your customers know what they are getting. It helps them better visualize your product and reach a buying decision faster.
You can use graphics, infographics, logo maker, and video-making software such as RenderForest, Instasize, Canva, and other Canva alternatives. Alternatively, you can hire a photographer and videographer to take quality images and videos of your products for upload on your store.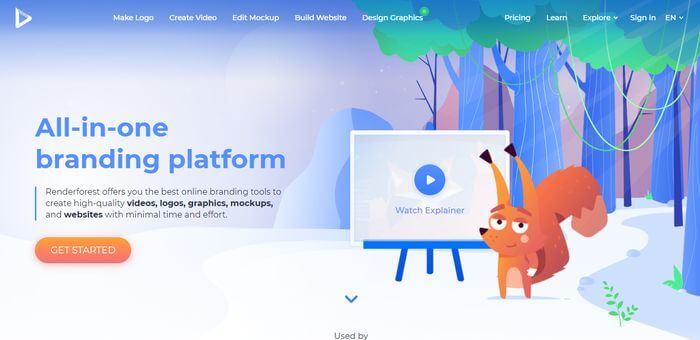 2. Work on your copy
Your copy is the words you use to describe or sell your products. If it does not have to be a page long, it can be a few words long. An engaging and interesting copy can boost your sales conversion in your online store.
When using copies for your products pages and landing pages, do not make false claims that you can not defend. Never underestimate the intelligence of your store's visitors, they can see through the dishonesty in your copy.
An honest copy enhances your eCommerce business reputation and builds trust among your visitors. You can easily get repeat customers by using honest and straightforward sales copy for your online store.
Using honest copies is not just for your eCommerce website, it should also be a principle that guides your email marketing campaigns, social media campaigns, and others.
If you are running a small eCommerce store, it can be counterproductive to sound like a multinational enterprise. People can see through your bluff, and it instantly damages your brand's credibility and repeals them off.
Instead, take pride in your small eCommerce store and write a compelling copy that will make your visitors want to purchase. Many people today are turning to smaller businesses because of their personalized offers.
You do not have to write your copy yourself, you can hire a copywriter from freelance job sites such as Upwork, Fiverr, Freelancer, and Guru.
3. Offer free shipping
The good old free shipping offer is a great way to increase sales conversion in your online store. Online customers have come to expect free shipping with any offer they see online. You can blame Amazon for that or you can decide to copy the same method Amazon used to build its trillion-dollar empire.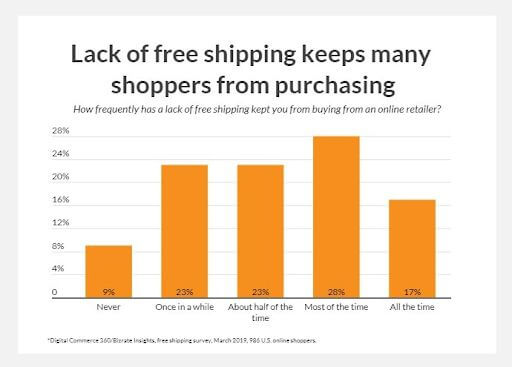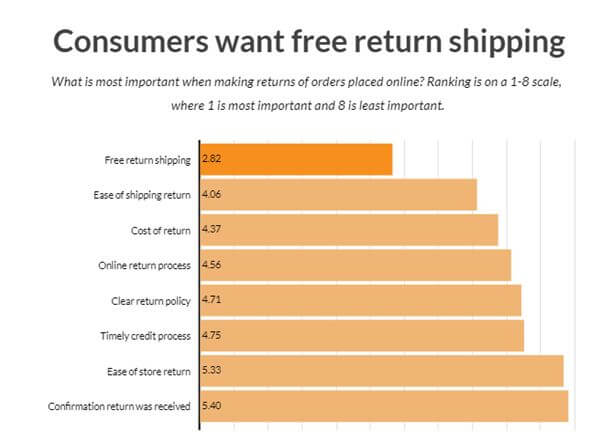 Offer free shipping to your customers and you will get more sales. Customers want to get the best value for their money. Take away the shipping cost and doubting customers will buy your product. Include shipping cost, and your customer will pick you to go to your competitors that offer free shipping.
Free shipping is not negotiable if you want to sell well in today's market! People love to pounce on opportunities except for free things.
Now the question on your mind is how can you offer free shipping and still make a profit. The answer is you can. Free shipping is first and foremost a psychological game. Your customer will pay for the free shipping. Instead of charging them separately for the product and then the shipping, you charge once.
You increase the price of your products to accommodate the shipping cost and then offer the product for free shipping. Your customer will still pay the same price they would have if you charged shipping costs separately from the normal product price. The difference is that you get more sales when you offer free shipping (even though in reality, the customers are the ones paying).
4. Create a sense of urgency
Creating a sense of urgency in your prospects is an excellent way to increase sales. No law dictates how you create a sense of urgency, however, you want to be honest and transparent about it. The purpose of creating a sense of urgency is to cause more customers to buy.
There are numerous ways you can create a sense of urgency. You can create a limited product offer or time-sensitive offer. You can also offer discounts or free shipping for a particular period to drive more sales.
5. Leverage the power of customer testimonials
Positive customer feedback left on your online store will help you increase your sales conversion. When a customer wants to shop for a product in your store, after the images and description of your product, the next thing they check customer reviews.
If there are lots of positive and impressive reviews or testimonials from real customers, they get encouraged to make the purchase. However, if the reviews are negative, they will most likely abandon their purchase.
Customer testimonials are a valuable weapon that every eCommerce store owner should leverage on. Testimonials from satisfied customers assure the interested customer about the quality of the product more than any sales copy.
Ensure you include the best testimonials and reviews about your products on the first page if you have multiple reviews. Customer testimonials can convert doubting prospects and make them make that purchase.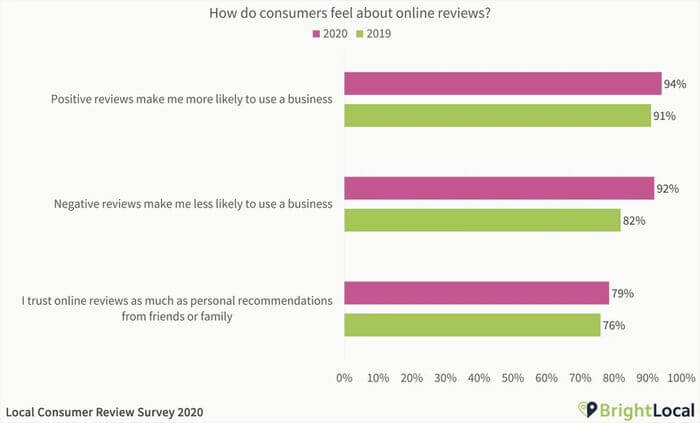 6. Set competitive prices
One of the major reasons why many online stores struggle to make more sales is because they get their pricing policy wrong. You cannot offer the same products as your competitors, and then set a higher price than them. Your customers will easily ignore your products and buy from your competitor at cheaper prices.
Remember your customers are always after the best value. You do not have to always set a lower price than your competitor, but if you are to set a higher price, sell them at a higher value.
If you are selling a product that has many sellers, it is advisable to set your product price either lower or on the exact price point your competitors are selling for. Lowering your price can instantly increase your sales conversions.
7. Simplify your eCommerce checkout process
A complicated and time-draining eCommerce checkout process is one of the reasons why you are not making sales in your online stores. You lose a lot of customers when you do not have a simple eCommerce checkout process that makes it easy for customers to buy your products.
You should test and tweak your eCommerce checkout process to ensure a smooth customer experience. Optimize your eCommerce checkout process for your customers to enjoy more sales in your online store.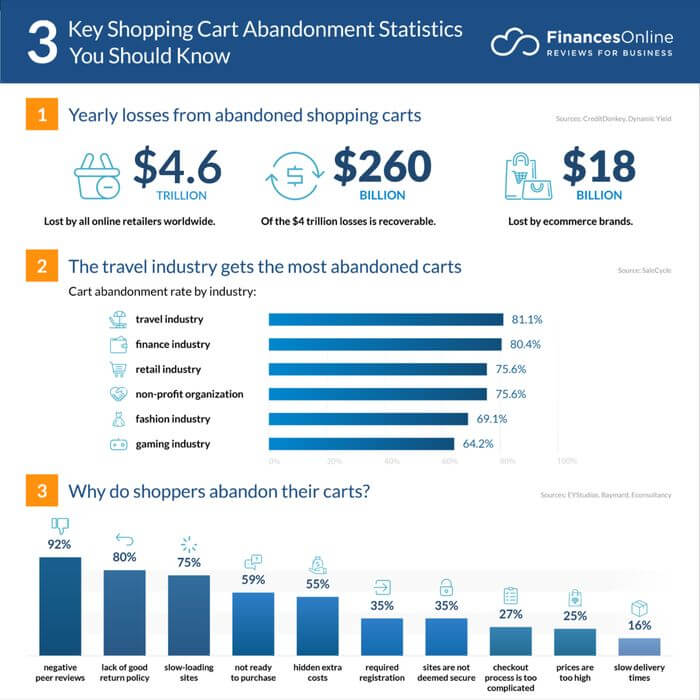 8. Use cart abandonment software
Cart abandonment in eCommerce refers to when a prospect puts an item or multiple items in a cart but ends up leaving your online store without closing the deal.
If you receive a high number of abandoned carts, it could likely mean there are some gaps in your conversion strategy. Use cart abandoned software to help you track your abandoned carts. Many eCommerce platforms such as Shopify and BigCommerce offer cart abandonment tracking services to their users.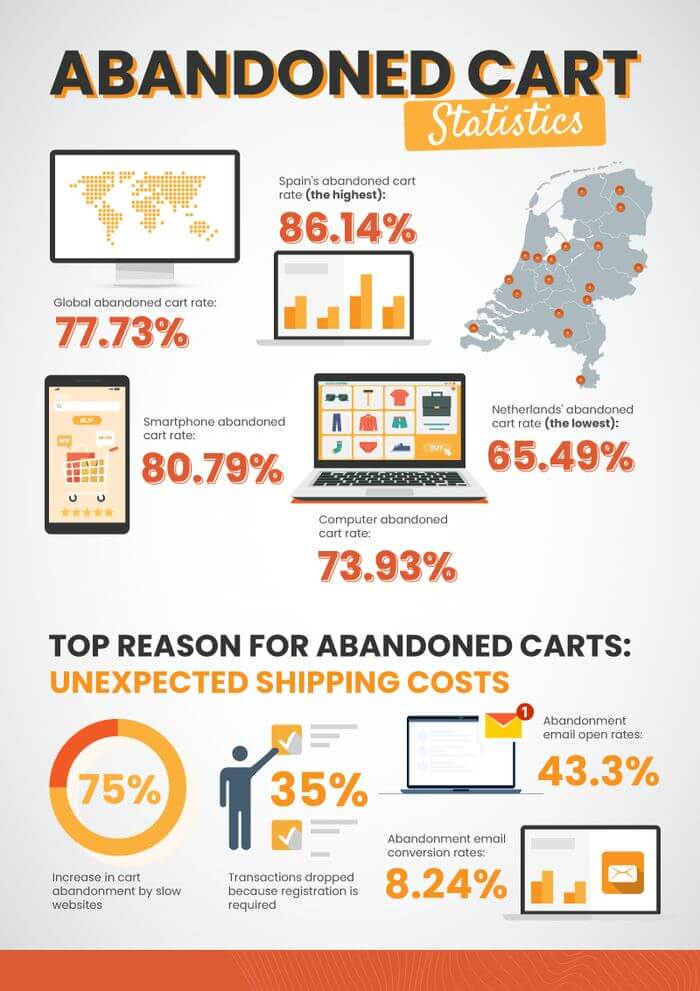 You get information about your prospects who abandoned their shopping carts such as email addresses and other details they entered before they departed your online store. You can create follow-up emails to retarget these prospects. Offer them some sort of incentives such as a limited offer discount or a free trial.
With cart abandonment software, you do not have to involve yourself in the process. You can automate the action or series of actions the software performs.
Decreasing your cart abandonment rate will mean a higher sales conversion rate for your online store. Test your store regularly to find out the reasons why your cart abandonment rate is so high. It may be as a result of a complicated eCommerce checkout process.
9. Offer a bulletproof money-back guarantee
If you can convince your customers that your product will not be a waste of their money, you will get more sales. It is that simple. Customers are risk aversive and always want to avoid a potential loss. You can claim to have the best product but if you do not offer any guarantee, you can easily lose the sale.
One of the best guarantees you can offer a customer is a money-back guarantee. Including a money-back guarantee for products in your online stores helps support the claims you made about them. Many skeptical prospects will happily make the purchase based on your money-back guarantee.
It is a win-win situation for both you (the online store owner), and the customer. You get an increased sales conversion rate. The customer significantly reduces their risk of losing money from buying a less than satisfactory product.
Offering a bulletproof money-back guarantee offer on the purchase of your products will help crumble their objections. Take away your customers' fear of incurring a loss from the purchase of your product, and you will get sales.
10. Use live chat software
Live chat software can help you increase your sales conversion. If you are not available to respond to your customer questions, live chat software can respond on your behalf. Having a customer care team available to answer your prospect questions can prove instrumental in closing more sales.
It allows you to respond to your customers on-demand or to reply to customer queries through a chatbot. There are numerous live chat software in the market. Some of the best live chat software includes Proprofs, LiveChat, Tidio, Milkshake, Jivochat, Facebook Live Chat, LivePerson, and SnapEngage.
11. Prioritize the security of your eCommerce store
One way to increase sales conversion in an online store is to let people know that your online store is safe. It may seem like a little deal but it is something you have to treat as urgent.
Thanks to hackers and the prevalence of cyber threats on the internet, customers are now more careful about which sites they enter their credit card details into. Even internet browsers like Google Chrome and Mozilla Firefox give advanced warnings to users when entering a suspicious site.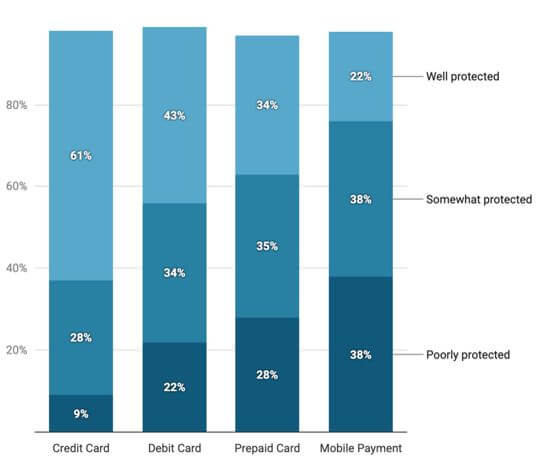 Prioritizing your eCommerce store's security will prevent you from losing customers who only want to deal with a legitimate store. If your online store reads "not secure" on any browser, your customers will be skeptical about buying from it.
You can improve your on-site security by implementing industry-standard security measures such as the use of SSL certificates. This security mechanism is the same used by mega financial institutions to protect users' information from hackers. It will assure your customers that they can safely enter their credit card information at checkout.
You can also open active accounts with cybersecurity services such as GeoTrust and McAfee. Display their security badges on your online store to prompt fewer objections and more sales.
12. Provide multiple payment options
There is nothing like offering too many payment options. You should have all the major payment options available on your online store. The more popular payment methods available, the more sales you close.
Some examples of popular payment methods you can use include credit cards, debit cards, Stripe, PayPal, Payoneer, ApplePay, Bank Transfer, American Express, Google Wallet, and others.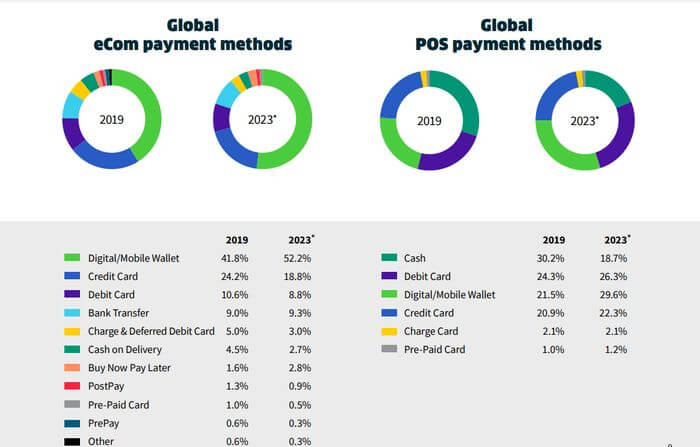 Your various prospects will have their preferred payment options. Some will prefer American Express, some PayPal, and others Stripe. Having all major payment options helps you convert more customers even with their different payment preferences.
Always make it easy for your prospects to buy your products. You can also go ahead of the vast majority of online stores by accepting payments in Bitcoin, Ethereum, and other cryptocurrencies. It gives you an edge and allows you to target a unique demographic.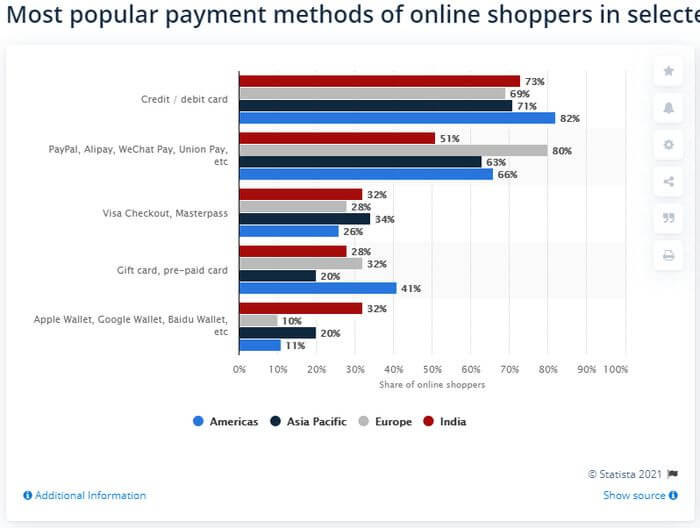 13. Optimize for mobile devices
It is 2021, no online store should ignore mobile and expect to have a good sales conversion rate. A lot of buying and selling of goods and services online takes place on mobile devices.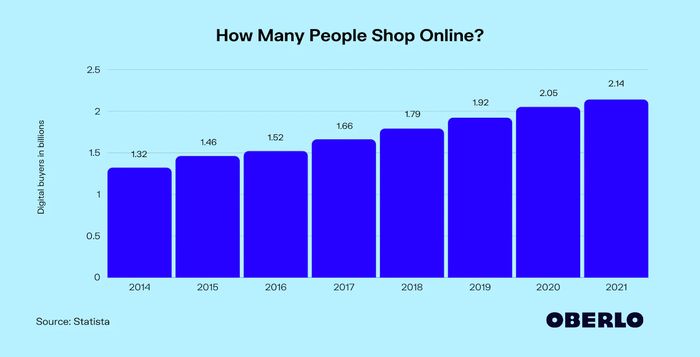 Mobile searches consistently outnumber desktop searches. Ensure that your online store is optimized for mobile devices. If you do a great job generating traffic, and users click from mobile phones and find your website not optimized for it, you are going to miss out on a lot of sales.
Optimizing for mobile devices simply means making it easy for mobile buyers to purchase your products or services. Your checkout page and process will have to change to make it more suitable for mobile devices. To avoid confusion, you can open a separate mobile site.
Two key elements to pay attention to when optimizing your online store for mobile devices are navigation and user experience. A well-designed and mobile-optimized online store make it easy for your prospects to find products on your store and pass through the payment processes easily.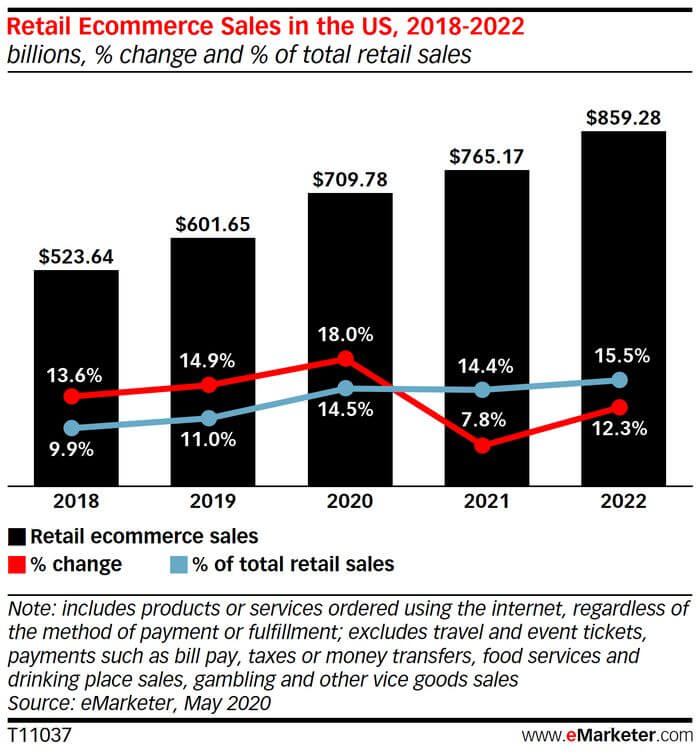 14. Fast page loading speed
Slow loading speed is one of the reasons why your online store is not converting as much as you expect despite the efforts you put into it. Improving your page loading time by a single second can make your prospects stay longer on your online store, and proceed to make the purchase smoothly.
Ensure that you use a quality web hosting service that guarantees you 99.9% uptime. How fast your page matters a lot to your sales conversion rate.
Imagine you want to buy a wristwatch from an online store, and the page takes time to load. Then it takes so much time to navigate through the sections. You click on checkout and it takes time to load. In the middle of these slow page loading speeds, you will most likely get frustrated and exit.
To boost your sales conversion rate, ensure your online store has a fast page loading speed. You can change your web hosting provider from one that is unreliable and has lots of downtimes, to one that is fast, reliable, and rarely has downtime.
If you use WordPress, you can easily fix a slow WordPress site by better optimizing your plugins, images, videos, and database.
15. Provide valuable content
A solid content marketing strategy is one of the best ways to increase your sales conversion rate. Content creation that converts is all about delivering useful and valuable content that helps sell your products.
When you provide insightful and valuable content to your customers, you build a long-term relationship with them. People will always prefer to buy their products from the online store that provides them more value.
Which online store will you purchase from? Is it the store that gives you free tips on choosing phone cases and then sells you one, or one that just sells phone cases? Your answer is going to be the former simply because of the valuable content provided before selling.
There are numerous platforms you can use to provide valuable content to your customers. You can write valuable content on your product landing pages, and even your blog. Delivering valuable and SEO-friendly content can also help increase your organic Search Engine Optimization (SEO) traffic.
16. Capture emails to build your email list
The majority of the visitors that visit your online store will not make a purchase the first time they come in contact with your store. Some will not purchase until later after a substantial time has passed.
You need to capture emails of visitors and use them to build or expand your email. Capturing emails allows you to continue the conversation via your email newsletters. In this way, you get to close more sales.
Capture the emails on your prospects through pop-ups or a landing page. Offer a gift such as a free eBook to your prospects in exchange for their email. If the gift is valuable and useful, you will get more prospects to drop their emails.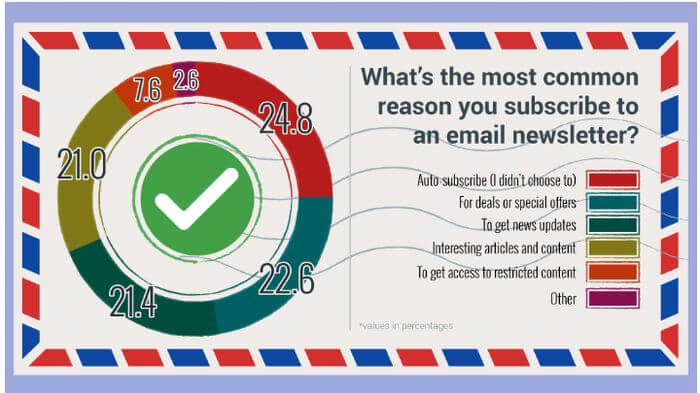 Sending emails one by one to your prospects is difficult to manage especially when you have a long email list. Use mass email services such as Mailchimp, Mailchimp alternatives, ActiveCampaign, and ActiveCampaign alternatives to send emails faster and to automate the process.
17. Testing
One of the best ways to increase your sales conversion in your store is to consistently test different ideas to see which work best. A/B testing should be your friend. Use tools like Google Optimize to carry out tests on your online store.
Boosting your sales conversion rate for your online store
Increasing your sales conversion in your online store is a function of you knowing your audience and providing what they want. Before you implement any of the 17 best ways to increase your sales conversion, ensure you have a great product or service.
None of these 17 ways will result in long-term sales relationships if your products and services are not great.
Some of these best ways include using high-quality images and videos, offering a money-back guarantee, offering free shipping, optimizing for mobile devices, providing valuable content, capturing emails of prospects, and many more.
Your user experience has to top-notch and a smooth ride for all. Your prospects should easily navigate through your store to find products and make payments without any difficulty. If you consistently implement these 17 best ways, you will increase your sales conversion.
Make it happen today!
Start selling
The post 17 Best ways to increase sales conversion in your online store appeared first on Printify.
Please follow and like us: